Blog Entry baxus gathered more than 260 links on blogs. I wonder whether pay attention to this letter the traditional media?
Actually letter:
... 14 July 2009 in my private life, my family's life, there was one unpleasant event: the main passenger ambulance was taken (along with my mother, of course) in Gelendzhik city hospital. With severe poisoning, a temperature of 38, constant diarrhea and vomiting.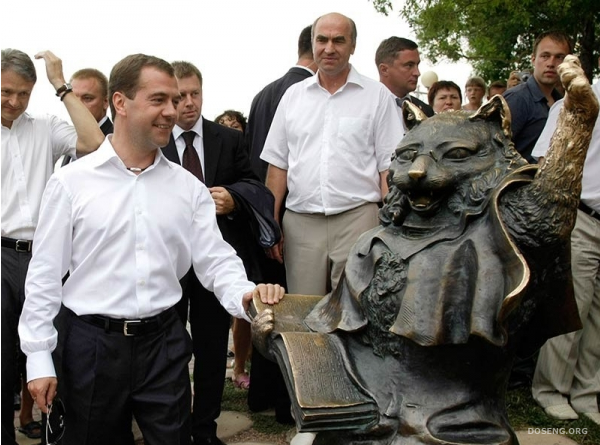 On that day in hospital Gelendzhik were delivered many babies of similar age (by year and slightly above) with the same symptoms. Many were even worse. In hospital beds in the corridors ... The doctors explained they found such an influx of some E. coli in the coastal water. Someone dropped a powerfully somewhere in the sea a large amount of feces, well, here they are in free drifting and moored in the end, to the point of bathing. Average, unfortunately, the case in our (and not only our) sea ...
We are, incidentally, still lucky - we have at least brought to the hospital and had a very competent, timely and correct medical care. If it held out little squaw is longer - would not see us to the hospital.
... Because in this day happened another event on the scale of at least the entire Kuban: Novorossiysk, and then - in Gelendzhik, came to our all, our President of All Russia, Dmitry Anatolyevich Medvedev ...
... I thought we had him almost to the edge of light escaped - not reach. But no - personally bestowed without scruple. Dohnal-I found. And along the waterfront walk, and cat scientist something they lost, and "simple local residents' ease spoke and tearfully recalled his childhood in. He de-with their ancestors, then 10 years as a child every summer vacationing, our umnichka.
... The first time I hear about such a fool / a dope see the guys. FSO's just stupid, blocked the entire city. Not the street without embankment without entrances to the sea - just EVERYTHING!
Do not miss one: ambulance, public transportation, taxis, private transport about I finally silent. Missed phenomenon Medvedev Gelendzhik citizens were not allowed even on foot in their legal pensions, the private sector, health centers, and other concentration nice resorts.
Because our all to walk if you please. On the waterfront ...
Dmitry Anatolyevich! I want to ask you. I, unfortunately, was not able to go in any moderated your blog: severe modernizing prevent unpleasant to hear Your Majesty, take care of your nerves. And yet: tell me a commoner, why, why block the road for 50 (!) Km of your precious body ?! Especially if other roads - not ?! Why during your visit egozlivogo route Novorossiysk - Gelendzhik - Novorossiysk Your security is just close to the more than half a day any movement around the Black Sea coast from Anapa to Dzhubga ?! That's almost 200 kilometers !!! Why, until you contemplating an cannon at the site near Novorossiysk, thousands of people have to stand in a huge traffic jam in Anapa and Dzhubga ?!
And somebody from your protection keeps statistics of how many people in Gelendzhik were left without health care, with its heat stroke, heart attacks, heart attacks, stroke, food poisoning? How many children have complications? I very much hope that no one, at least, is not dead, but know exactly what I can not do!
... My wife, after staging a two-hour baby dropper, after the enema, and all other necessary procedures - refused hospitalization. First, doctors convinced her that everything should be fine, slapped a bunch of recipes, secondly, as the above mentioned conditions at the hospital, after all, is much worse than at home, well, etc.
She went with a year-old child in her arms (carriage to take an ambulance is not realized) in the flooded heat outside (it was 16 o'clock in the afternoon), and ... found that nothing moves, and get her to the house (13 km. From the city hospital, I zasekal on odometer), holding a child in such a hot weather - not on anything at all, and on foot - is unrealistic.
4 hours. Four, tin, You are our dear Dmitry Anatolyevich, hours! She hid with her baby in the shade, because even some edalni conditioned to go was difficult - almost everything was closed, apparently in order not to embarrass you smells southern cuisine!
... And you at this time, the Rada on voters, in the company of Governor Tkachev and head of the municipal formation Gelendzhik, ate food in the restaurant "Acropolis". Crappy tavern, by the way, but you do something without a difference, because in any tavern of the world (except for some summits and high doses) you perceive only brought with, tested, prepared food as the brought with him a proven, cook ...
…Four o'clock. In the 40-degree heat. With the weakening of all these swings year-old child. Which future for a couple of days, lost two, and the rehabilitation period is forced to walk through this too - was delayed.
Only very late in the evening, fairly exhausted, they were able to get home. When you finally ate, and tuple rushed to Novorossiysk.
"Thanks," "gratitude" to his you and your Cerberi I can only express such obscene words, that even my battered in terms of vocabulary, a blog - blush.
... To my "gratitude" even more grateful join all those who are left without timely medical assistance. All those corny could not get into them quite legitimately paid vacation spot for several hours. They say, even the Golden bay, hefty water park, do not let people who have ended up paid time. Those who managed to get out - found themselves in the situation of my wife not to go anywhere and on anything.
... And yet thousands of people in the literal sense of the word, who in this wonderful day languishing in traffic in Dzhubga, Gelendzhik, and who are hopelessly late for their trains and planes. You, Dmitry Anatolyevich, and your visit horrible obscenities remember all taxi drivers Black Sea coast, for it is in their machines were these unfortunates. Who was not able to fly away and leave after.
... An employee of the airport Vityazevo confessed to me that on the day side of Moscow and other cities left half empty, though all tickets were sold out. People just do not have time. Because of you. Their beam of diarrhea from them in your karma - I'm even afraid to imagine the thickness ...
... Maybe I slander I lift? Hulu? Maybe you, Dmitry Anatolyevich, and did not know how to organize your visits to the simple and small Russian town ?! Well, Duc then give the brain its "experts" let organize your precious security so that the city is not dying, literally, only one occurrence of the Supreme Vizier! Maybe locals thoughtlessly take the salute at any requirement FSO? How's Maria Gaidar said: "This requirement FSO!" - Period! Universal promise, waved brilliant ...
If you have forgotten, I remind you that during the Soviet period was even shorter and more succinct promise: "That's right!" - Said forcefully appropriate people, it is "so necessary" making it impossible to further questions: who do you want? Why should we? What do you want? - That's right! Magic indulgence to commit any rubbish ...
Asiatic some, honestly ...
... At least it is possible to prevent? Why, when Moscow some Formula 1 is carried out - all have reported that traffic will be blocked. And your appearance is always - suddenly ?! However, this is stupid question: all your power, all today's political system rests on a huge secret, inside of which - a pompous vanity, stupidity and dirty tricks ... If we consider that your official website is still no word on the visit of Gelendzhik and documentary evidence of your visit, I received only from the local newspaper (not counting, of course, numerous short stories), and this is the local newspaper apparently did not have pictures from your press-service, and published pictures ... amateur (I keep it, if that - I present) - it is not clear why such secrecy ...
And another thing, in the end, for my soul, words:
... Well, this is necessary - so afraid of their own people as well? Right funny, honest to God, Dmitry Anatolyevich ... And we're all over Saakashvili peretruhavshim, just now ...
ugorayu
And yet, thanks to you. This time - really. You and your staff, as well as the whole retinue of your overbearing - directly and unequivocally demonstrate the vast number of people who you think of our people, their voters. And where you can see his place. To even the last idiot, your PR charmed no illusions left (I have something and they did not have much never). For this - thank you.
P.S. - And maybe people all - on the contrary? Maybe it is they protect us from him something, not sparing the stomach? So as not to death for Any? What do you think?