The smallest man in the world of Chinese Hui Pingping (He Pingping) died on the 22 th year of life in a clinic in Rome (Italy) on Saturday, March 13. On its title is claimed by 18-year-old Nepalese Hagendre Thapa Magra.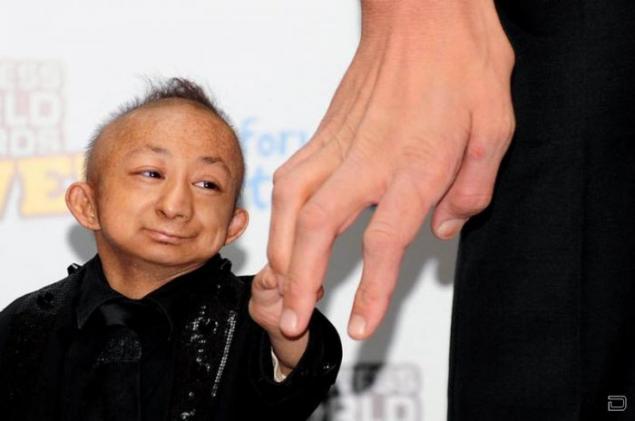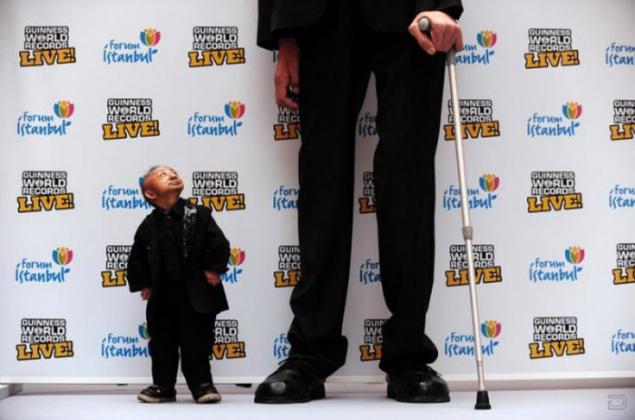 As reported by the Western media, the Italian capital Hee Pingping had come to participate in the filming of the popular television series, but during the recording, he suddenly felt a pain in his chest and he was immediately hospitalized. In the photo: the smallest man in the world Hee Pingping stands next to the tallest man in the world Sultan Kёsenom. (AFP PHOTO / MUSTAFA OZER)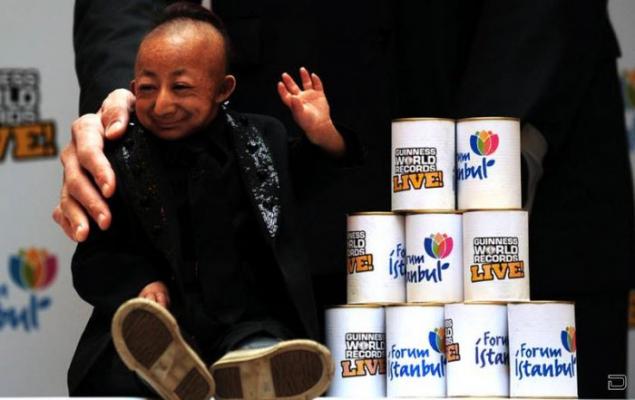 After him, a general examination, he was immediately placed in intensive care, but doctors were unable to help him. The official version of the death Hee Pingpinga - cardiac arrest caused by certain complications. (AFP PHOTO / MUSTAFA OZER)
Xu Pingping, the growth of which was only 73, 6 centimeters in March 2008 at the age of 19 years was officially recognized as the most stunted of people living on Earth, what in the world-famous Guinness Book of Records (Guinness World Records) was made corresponding entry. (AFP PHOTO / MUSTAFA OZER)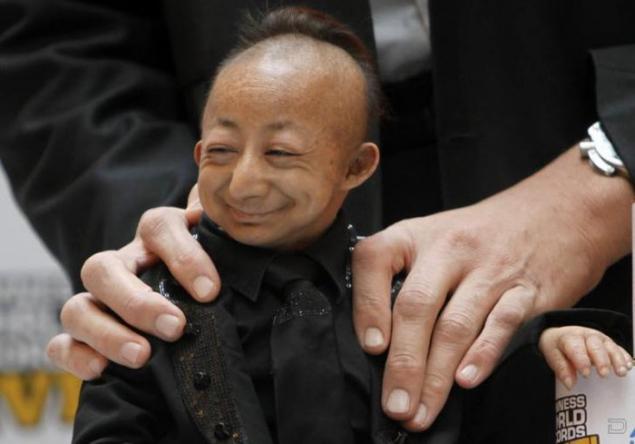 According to one version, he suffered from dwarfism - a disease usually causes damage to the endocrine glands and characterized by abnormally low growth: on average, for men less than 130 centimeters for women less than 120 centimeters. According to another version - low growth was caused by the Chinese specific mutations in the genes.
According to the chief editor of the Guinness World Records Craig Glenday, for such a small man, Pinpin had a tremendous impact on the people. "Its a nice smile and a mischievous character just fascinated others. He did brighten the lives of everyone with whom met and inspired all those who were considered unusual and different from others, "- said Glenday. Photo: Pingping and Svetlana Pankratova - winner of the longest legs in the world during their meeting in London in 2008. (Entertainment Press)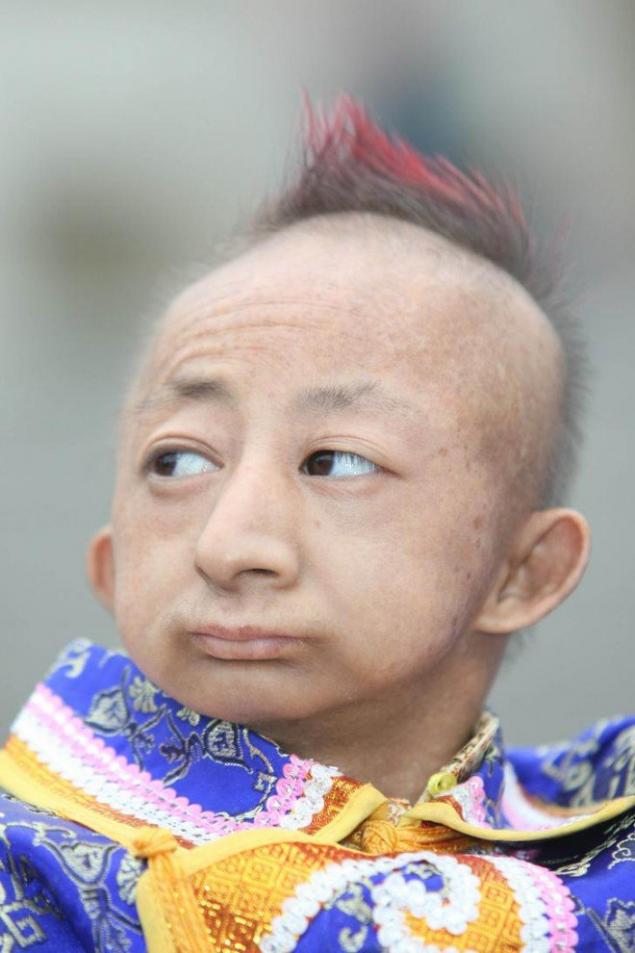 Hee Pinpin was born in Ulanchabu (Inner Mongolia) in 1988. At birth, the growth was smaller than the palm of an adult, and weighs less than 500 grams. (AFP PHOTO / MUSTAFA OZER)
zgchqaeo6oep died the smallest man in the world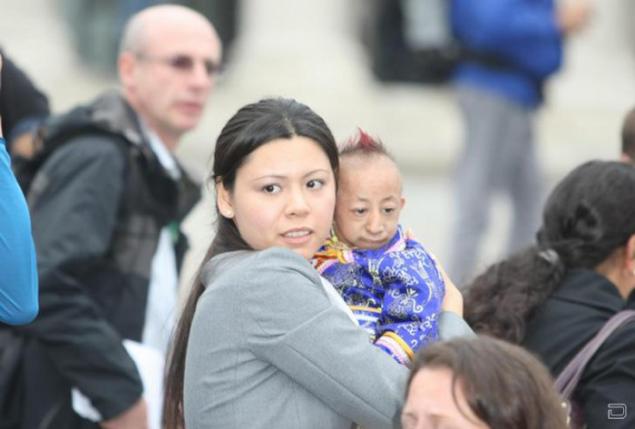 As a child, parents were forced to feed him milk through a thin straw, because his mouth was too small to eat a meal. Walk and talk Pinpin started only 3-4 years. In 18 years, its growth stopped at 74 inches, and weight - 7 kg. (AFP PHOTO / MUSTAFA OZER)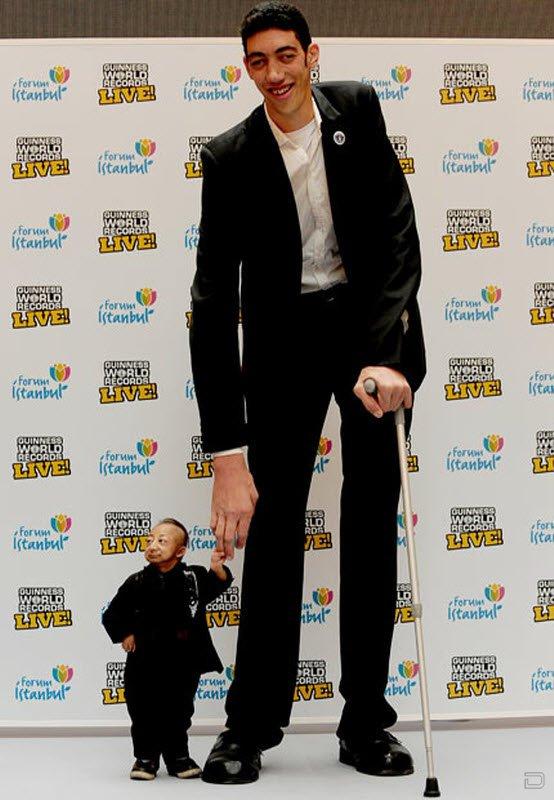 According to the world's smallest man, he considered himself an adult and wanted to marry. According to some media reports, he met with a woman of normal growth. (AFP PHOTO / MUSTAFA OZER)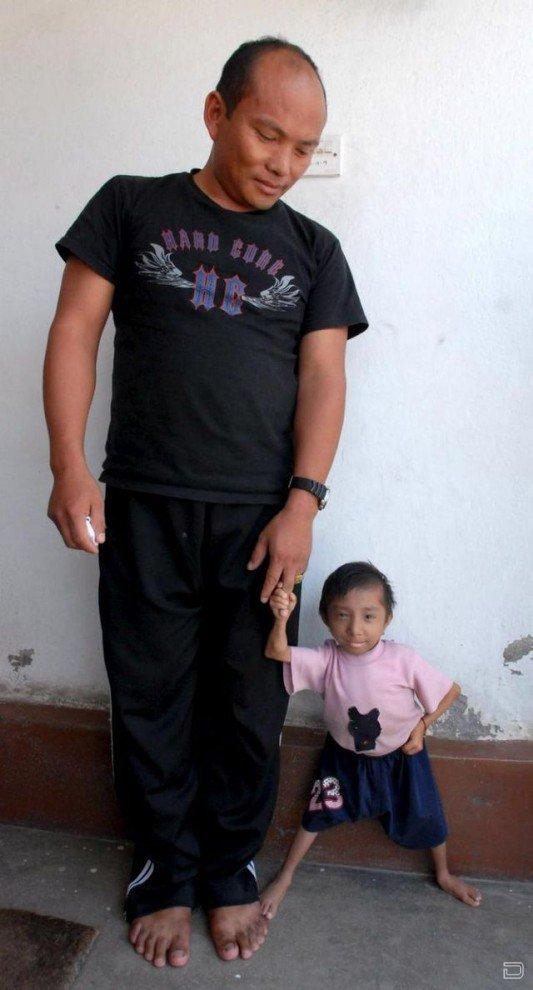 However, as the saying goes, a holy place is never empty, and in the company of Guinness World Records has announced that they will be called the name of the new holder of the title of the undersized of people living on Earth. This photo shows a new contender for the title of the smallest man in the world with a family friend. (Excel Media / Splash News)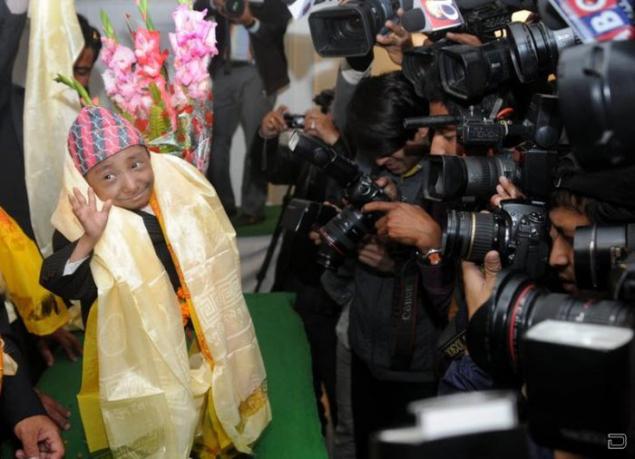 With almost 100% certainty can predict that the new owner of this title will be a 18-year-old Nepalese Hagendra Thapa Magr (Khagendra Thapa Magar) (pictured), the growth of which is according to different sources from 56 to 60 inches, and weighs less than 5 pounds. (Excel Media / Splash News)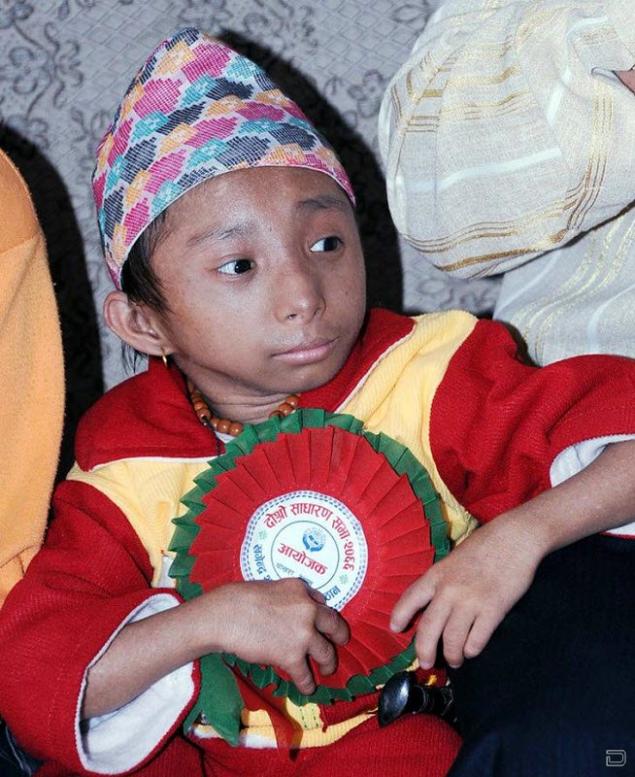 Four years ago, he was denied the award of a world record because at the time of filing Hagendre Magra Thapa went only 14-th year, and according to experts it could still grow. (Excel Media / Splash News)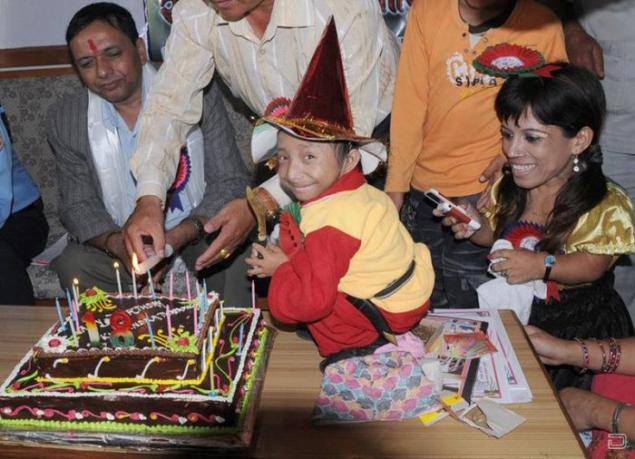 "I want to worldwide recognition and his wife," - said in the day of his age Hagendra Magr Thapa told reporters. (Excel Media / Splash News)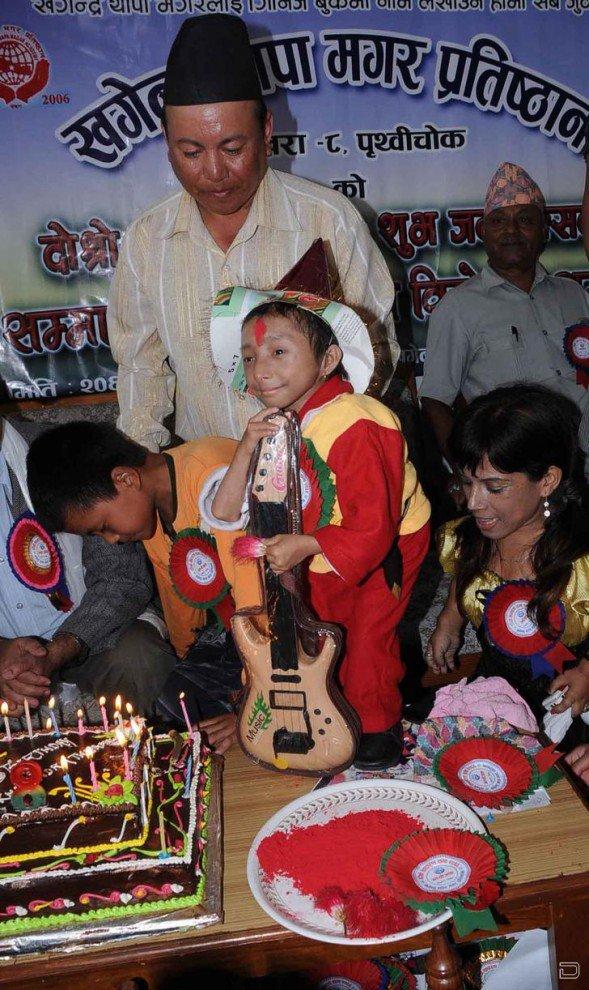 "First, I would like to get into the Guinness Book of Records, and then when I come to me the glory and fame, I think, from those who will not rebound." (Excel Media / Splash News)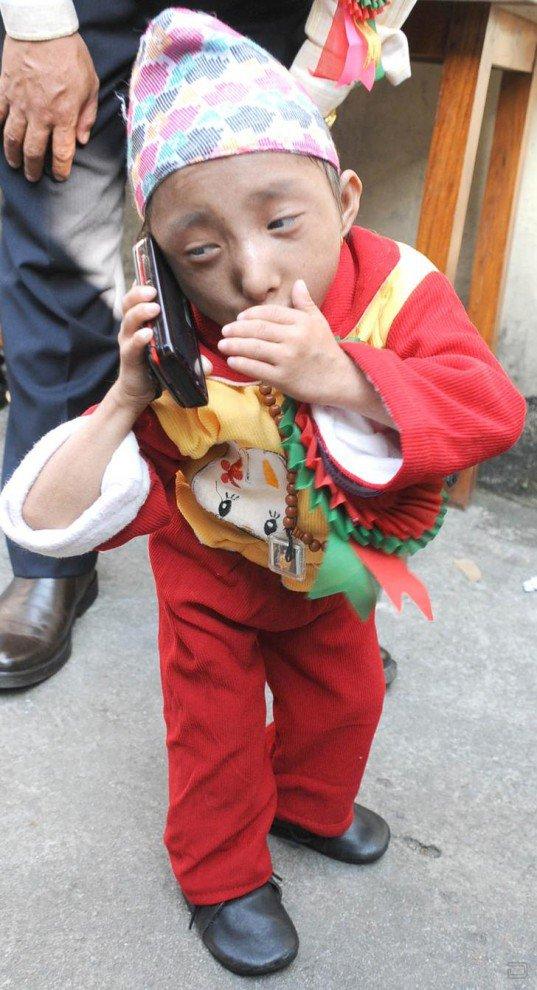 Now, the dream of a world record for a tiny Nepalese - a matter of time ... (Excel Media / Splash News)