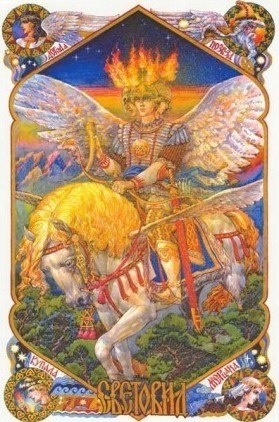 Tuesday is dominated Svetovid - God, "battery" best business skills of people. The presence of red color in your clothes or any items that you frequently use the same color - a necessary condition on Tuesday, as the red attracts Svetovid. It will help you avoid money scams, shield them from attacks on your wallet, bank account, and so on. N., Will support the implementation of monetary enterprise begun long ago. Another condition for receiving aid of the god - financial transactions with the constant presence of 4 digits, which will save you from missteps, unprofitable business will turn into a profitable, cash facilitate negotiations. For example, during the conclusion of the contract, repeat 4 times its main idea or 4 highlight the most important points. Arrange so that important business meeting was attended by 4 people. And paying, give 4 notes (or a multiple number of 4 - 8, 12, 16 and so on. D.), Get paid the same way. Try to negotiate business and financial affairs to be completed by 4 o'clock in the afternoon, then the results will be better and higher profit ...  
"For the capital increase on Tuesday evening spend rite: draw a circle with a diameter of 25 cm, draw in his mid bullet. Left of the email "west", right - "east", the top - "north", below - "south". Then they put a mark on a glass, bowl or other container and pour the red tones in every 4 teaspoons of water. Sit back and looking at the water, make a wish, "west" - the desire for monetary success ...
Doing this, drain the water into a bowl (also red) and drink, saying, "How does this voditsa fast, thicker than water clean, and my desires soon - before the age of reality ..."