In Europe, found one albino 20 thousand people in Nigeria - 1 3000. Their number is always roughly the same - because albinism (lack of pigment in the skin, hair, eyes shell) is transmitted genetically and only just over 10 generations. By the way, the eyes of the albino, contrary to the stereotype, not red, and light and shade just gives a reflection of the light rays.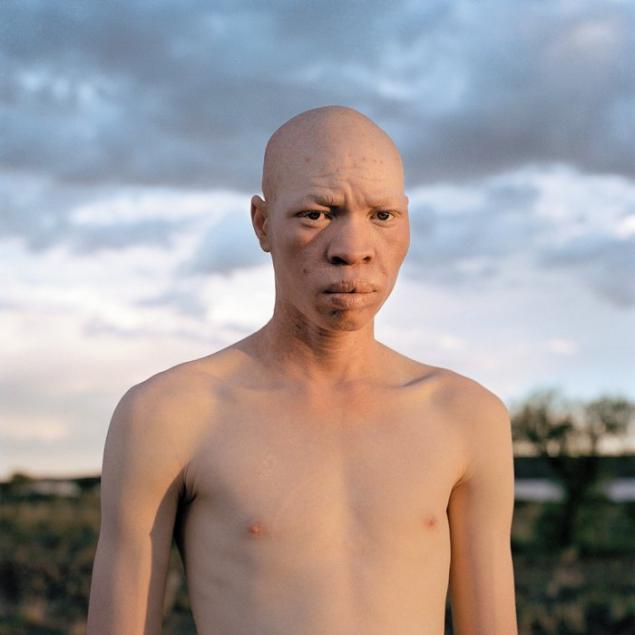 Europeans first learned about people from the stories of Spanish conquistador Hernan Cortes in the XV century. In North America, in the palace of the emperor Montezuma, he saw room for "completely white" people, whom they sacrificed to the gods during solar eclipses.
Just one hundred years ago, people with albinism as a curiosity drove with a traveling circus. Wild attitude persisted even today. In South Africa, there is a belief that albino after death melts into air. And is always willing to check it, killing "colorless". In Tanzania, where strong belief in curses and shamans are highly valued amulets from the body parts of albinos, who supposedly ward off evil spirits and help you find the gold. And life is like albinos in Ukraine?
Lera Rakhmanko designer outdoor advertising from Kiev, 30 years learning to love yourself, relaxing, playing in the theater, and wants to adopt albinosika. "I can understand him like no other - says the girl. - To me, no one could explain why the kindergarten, some guys do not want to play with me. The school classmates released taunts about my dissimilarity with parents. Later I became complexes that can not, like the other girls, fit some external standards: girlfriend, flipping through fashion magazines, experimenting with images, and I usually flesh-colored foundation looked like a wax mask ».
Lera is not yet married, so the output gives love on stage - eight years playing in a small community theater, "There's my unusual appearance at a premium. It is better to me with the role of air Bright Angel nobody handle ».
Taboo in life from Kiev now have as a child: "I do not go to the sea, because the sun will burn immediately. Opt for walks shady alleys and even the hottest summer "worried" in dense trousers and blouses with long sleeves. The hardest thing was to learn to love yourself. Still embarrassed to watch your photos and be photographed, especially pose in front of strangers. Because I feel an unhealthy interest in her appearance. I also avoid bright light, which makes almost blind albino. " Due unimportant view Lera her family almost died: "I was 11 years old, we were returning from a picnic on his" Zaporozhets ". Emitting smoke, but I did not understand it, though, and looked in the rear window. And parents are not physically able to see it - this machine, as you recall, was the engine behind. Finally, the pope stopped by some driver. As it turned out - a minute overheating - and cars would explode. "
Igor Deshko (8 years) of Romney (Sumy region.) Was born not just completely white, but ... with red eyes! "People admired his son, asking for touch hairs, ask them what I bleached - mother says Lyudmila. - The girls in the class find it extraordinarily beautiful. The son of a proud, because I explained to him from an early age that God kissed him at birth, because he is special and that albinos - a rarity ».
However, because of the bad boy of not always goes to after-school activities: "The world sees it differently: we are seeing for integrity, and before it emerges a picture huge space filled with this subject. It takes time to focus on. So in the circus, the theater, he is not often. " But poor vision compensates nedyuzhy smell: "Pleasing food synule not easy: he can smell something that we do not feel. Because with Igorka good shopping - I have it - the detector quality and freshness "- smiles Lyudmila.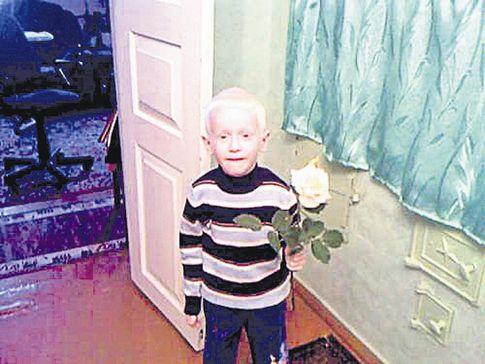 22-year-old Anton Andrievskii from Kemerovo due to albinism had to change the appearance, occupation and city. Now he lives in Moscow and joined albinos, becoming one of the founders of the first Russian site - for two years it registered a few hundred of his "colleagues". "In school, I was referred to as White - says the guy. - It was nice enough, so three years ago I became even hair, eyebrows and eyelashes black paint. But then the new image had to be abandoned: Coal hair in white face looked scary.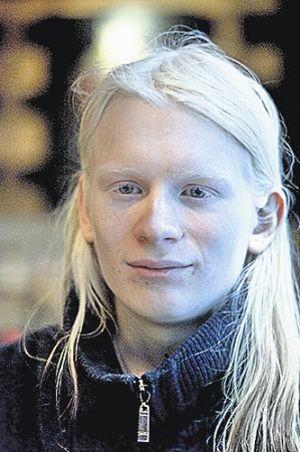 A job where you had to communicate with customers, I did not take. So I decided to get lost in the big city and moved to the suburbs. Enrolled in a technical college here, but studied less than a year - it is useless to go to lectures, if you do not see what is written on the blackboard. Went away and began to study subjects himself: on the internet and books. This knowledge was enough to get a microelectronics plant foreman on repairing equipment ».
But in the privacy of albinism Anton unexpectedly helped: "Girls do not like the fact that everyone was looking at me, and we parted. Two years ago I met my favorite, which, on the contrary, like I always in the spotlight. "