Any specialist in the salon client trusts not only their nails but also your overall health. When it comes to the manipulation of the nails, it is very important to focus on the qualitative disinfection of tools and working area. Honest professionals trying to buy disinfection manicure from trusted brands and only in specialty stores.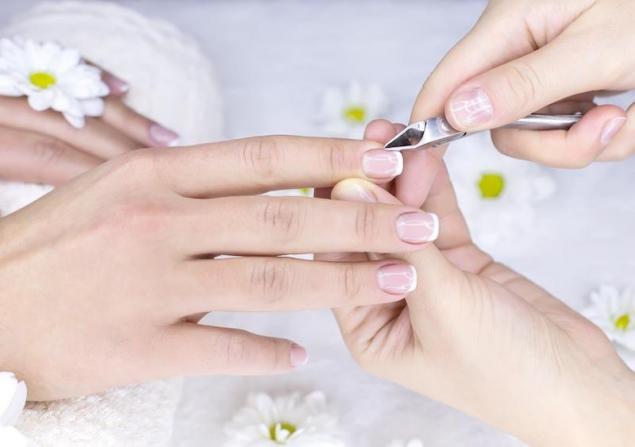 Otherwise, poor cleaning, sterilization and subsequent storage tools can lead to infectious diseases as the master and the client. Lack of treatment leads to viral and bacterial infections; fungus; hepatitis etc.
In specialized shops each expert taught the rules of disinfection. Subsequently, he must faithfully adhere to these sanitary rules.
Overview of disinfection
Times when details were boiling and rubbing alcohol, are long gone. It has been proved that many viruses and bacteria do not die after boiling. In addition, metal tools subjected to corrosion and deterioration, with the result that they blunt.
Today the masters presents modern tools that have an extended spectrum of action and are highly efficient.
Here are some of them:
Lizoformin. Eliminates any impurities, has emulsifying and detergent properties.
Blandas Asset. Chlorine-free composition for final and preventive disinfection. Kills all viruses and infections.
Bacillol AF. Tool for instant processing of metal objects.
Sterillium. Intended for antiseptic cleansing of hands.
AHD-2000 gel. Intended for skin and hands. Has a prolonged effect up to three hours.
Aerodesign. Effectively disinfects any material and surface.
Each tool has its own purpose: for floors, work surfaces, hands, equipment, etc.
Rules for processing equipment in the salon
In the salons not only instruments should be subjected to special treatment, but also the workplace and hands. This procedure must be performed after each client.
The sequence of purification is this:
table, tray and roller;
metal fixtures;
nail files and brushes;
the room (several times a day);
hand of the master, and then the client.
For each of these items has a special disinfectants that can be found in a specialized online store.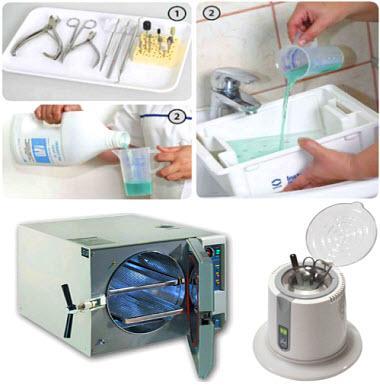 Processing must be carried out strictly in 4 stages:
Purification. Specialist removes the remnants of cream, butter, etc.
Disinfection. At this stage, connect the special tools.
Sterilization. The final stage in the destruction of bacteria by means of modern technology.
Storage. Processed instruments must be stored in special sealed containers or UV sterilizers.
For disinfection should be used, and auxiliary disposable sterile material (wipes, cotton pads and sticks).
Before the manicure, the master must treat the hands with an antiseptic (for example, such preparations: "Sterillium", "AHD-2000 gel", "Hospisept gel", "Neoceptin", "Bacilos", "Mesoderm", "Biolong for hands", "SANOSIL").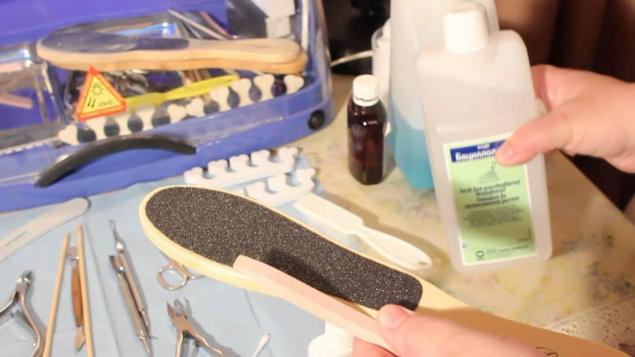 Cleanup rules at home
If You do the manicure at home, the rules for disinfection of hands, instruments and working area are the same. Today, the Internet-shop you can find an effective means of disinfection, and for sterilisation, you need to acquire special equipment.
Even personal manicure set should be each time to handle disinfectants, preventing the growth of bacteria.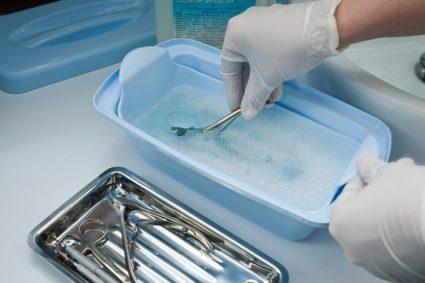 All the disinfectants meet the modern requirements:
kill viruses;
anti-inflammatory effect;
soothe the skin;
protect nails from fungi, even under the coating;
cleanse the nail plate from dust and grease;
are safe product (do not damage the nail plate and does not dry the skin);
For those who care about their health, it is imperative to buy disinfection for nail Polish, without which absolutely impossible to start the procedure. For salon workers is also an additional plus. Because confidence in the sterility of implementation of manicure causes the trust to the master and therefore increases the client thread. Remember, beauty should be safe!