Jeans — clothing that can be easily found in any wardrobe. It seems that the thing more convenient would be impossible to come up with! Jeans are incredibly practical and do not require special care. This garment is so versatile that ordinary jeans can easily go to the store and at a festive event.
So how do you pick the most cherished couple who will become the most favorite and irreplaceable article of clothing? The editors of
the"Site"
shares simple tricks that will help you to easily find the perfect pair of jeans for you.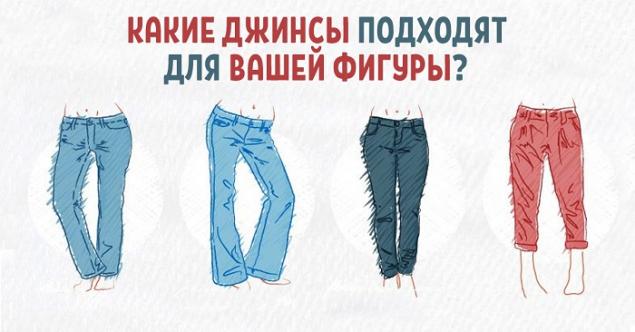 How to choose jeans
Hourglass
Owners of this type of shape stylists strongly recommend to underline the perfect shapes! Jeans with high waist is a faithful assistant in this case. Feel free to choose jeans with a high rise. The width of the leg can be quite different. However, you should avoid flared jeans from the hip — they will significantly increase your hips and distract attention from the wasp waist.






Tall and leggy
Flare jeans this season lead all fashion collections. If you are the owner of long and shapely legs, this style is for you! High ladies these jeans look well, very nice. But little ladies should not experiment with this model, because they simply "eat" 4-5 cm in height, and significantly increase the hip.




Pear
Stylish boyfriend — what you need ladies with appetizing hips. This style is noticeable will hide the volume and will suit absolutely any look. A boyfriend with a high waist and even tummy unwanted hide!




Duimovochka — straight cut!
Straight skinny jeans will help visually elongate the figure, especially if the fabric is in dark colors. Light whiskering at the hips will help give the shape to the desired volume. But you should avoid the ladies not very tall, so it is too wide or cropped, trousers. Wide-leg jeans make the figure more stocky and too short — brazenly steal the length of the legs.




Broad shoulders and narrow hips
Rough and broad "boyfriend" — ideal for this type of figure. They will help to make the figure more toned and balance the top and bottom. Most importantly — choose jeans in a lighter summer shades. By the way, other types of figure boyfriend is not prohibited. They look great on almost all ladies and can be combined with completely different images.



Ladies with shapes
Dark tight jeans, narrow cut perfectly accentuate your figure. But remember, skinny jeans have to be high-rise. Thus the effect of a light density and balance between bust and hips.



Do figure rounded and feminine
This simple trick helps to give the figure a cherished form, emphasizing the dignity. Slim, cropped pants in this case is an ideal option. They are visually rounded buttocks, thereby making the figure well, very feminine. But don't forget that this model is able to significantly reduce the growth of owner. The perfect combination of cropped trousers with high-heeled shoes.





Following the simple guidelines, you can easily find the perfect pair of jeans is indispensable. And several models of different colors and styles will make your wardrobe diverse and unbeatable!
If you liked the article, don't forget to share it with friends.
Now everyone can publish articles
Try this first! To WRITE an ARTICLE the Author

Christina Mironyuk Fan of painting, especially Monet and Klimt. Loves movies, appreciates the music on vinyl. The architecture and sculpture that inspires inquisitive personality round the clock! Christina has been studying digital technology for prosthetics in dentistry. The girl chooses minimalism and simplicity in the interior, and in life. Inspiring mountain view and the book "Twenty thousand leagues under the sea" by Jules Verne — that is necessary for the happiness of our charming author!