Preparing for a bright holiday-the Resurrection of Christ is a special process. The key place is occupied by coloring and
decorating eggs
. Does not matter if you do not possess the skill of drawing, because there are more interesting and relaxing technique.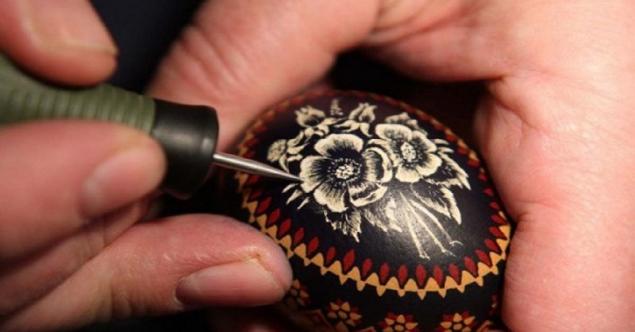 Kapanci, or carapace, are made by vytsarapyvanija pattern on the painted surface of the egg. The design is applied with a pencil, then incised with a thin metal object (needle, knife, nail). The main condition — the background should be a solid color.
In the manufacture of drapanos masters can give free rein to their imagination, and looking at their work, it is impossible not to admire these works of art. The editors of
"Site"
has produced 15 ideas for your inspiration.
Painted Easter eggs
The simplest patterns look very interesting. As you can see, do not have to have artistic talent.




Very beautiful patterns. Such eggs even break up a pity.




Very hard work, but what a result. Delights!




Dye your eggs different colors. Thus, even the same patterns will look different.




Flowers — best spring pattern.



Patterns of birds look very symbolic. Interesting idea.



At first glance, a lot of elements, but really they are all easy to perform.



Painted colors of the same pattern would not look very attractive, but scratched immediately attracts attention.



If you like the artist, you can easily turn Easter eggs into a work of art.



How much soul invested!



Here is another simple pattern that will serve as a great decoration for your eggs.



Thought out every stroke.



With such simple patterns even a child will cope.



Hard to believe it's not painted, but scratched.



Already you see how beautiful these carapace will look in the basket.



If you want to leave your creation on the memory, do not boil the eggs, and after the job is done, make small holes in them. Using a syringe, let the air in one hole. Thus will flow through the second white and the yolk.
Try to do
Easter eggs in the technique of
kapanci and be sure to share the result with us in comments. We will be happy to admire your creation!
Now everyone can publish articles
Try this first! To WRITE an ARTICLE the Author

Oksana Dudnik Loves painting, ready to admire the pictures all the time! Oksana knows a lot about perfumes, well versed in fashion trends and will give odds to many well-known beauty bloggers. Her love of sport supported by sports category in sailing! Xenia prefers meat dishes, can not imagine a day without them. Favorite book charming girls — "the Emperor" Niccolo Machiavelli.