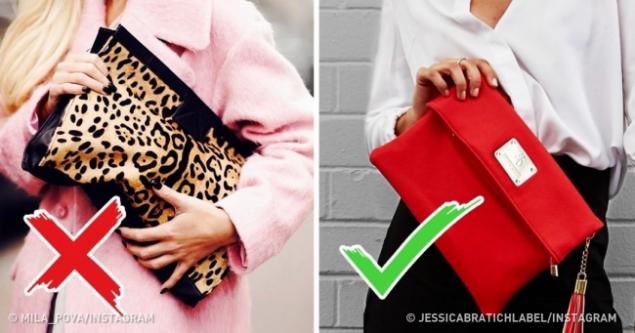 Bag is not only a storage space for keys, cosmetics and other essential things. It is also a separate accessory, which can be a striking addition image. That is why a basic women's wardrobe is not just clothes and shoes, but also from all sorts of clutches, totov.
The website
has compiled a list of bags that will never go out of fashion and are recommended to have every girl. Read and mark the models which you have not yet.
Bag cross body
A small hard bag that can be worn over the shoulder, crossing the chest, located under the opposite arm. This is useful primarily to the fact that the hands are free, but all the necessary things with you.
Where and what to wear:
this model is relevant in almost all situations: shopping, walk, ride. Suited to any style, in addition to office bows. Model with fringe and other manifestations of the ethno-style chic look with jeans.
How to choose:
the main principle of selection of handbags cross body — dimensions. 'The smaller girl, the smaller should be the bag.
Day clutch bag
Soft handbag in an envelope worn by clasping his hand or under his arm. Perfect for those occasions when you do not want to overload the image with unnecessary details, but the phone with keys in hand to hold inconveniently.
How to choose
the optimal size of clutch is the one that allows you to hold his elbow, while not helping hand. For everyday wear better to avoid models made of satin, velvet or patent leather.
Where and what to wear:
clutch looks with a down jacket, knit scarf and other warm clothes. Bag restricts the freedom of movement, so in the store or travel with it is unlikely to be useful. But on the walk or meeting with friends in a cafe bag is what you need.
Tote bag (tote-bag)
Bag rectangular or trapezoidal shape with two practical handles of medium length, which allow you to carry it in hand or on the shoulder. The classic model comes with open-top or at the bottom, but there are options with the lightning.
Where and what to wear:
the tote is designed to carry large number of things, so to walk with him as possible in the shops and in the office. Tote bag looks great with flat shoes or wide heels. But c classic pumps stiletto to wear this bag is not worth it.
How to choose:
if the job you go more frequently than in shopping, choose the model of medium size (to fit a sheet of A4 paper, laptop) and muted colors of leather or a substitute for quality.
Business bag
Hard bags simply design with stable bottom, with two not very long handles, a zipper closure and minimal decor.
Where and what to wear:
any events that are related to the work and are held in the afternoon, can not do without business bags. Handle accessory when worn must be either in your hand or on a bent elbow arm. Not business wear over the shoulder, even if the model assumes the presence of a long belt.
How to choose:
the model needs to choose such that the bag fit a lot of things, but she didn't look three-dimensional.
Evening bag
Small size hard handbag which is worn in hands.
Where and what to wear:
this handbag should complement the image if you're wearing a cocktail or evening dress. The more extravagant the outfit, the more restrained should be the bag design, and Vice versa.
How to choose
evening bag must fit money (card) without a wallet, lipstick, keys. Nothing more. It is better that the colour matched the colour of the decorations, so if you usually wear gold, don't buy a bag with steel zippers.
The Weekender
Multifunctional bag medium or large sizes of a specific shape resembling a lying barrel, with a flat, stable bottom. The main difference from the sports and travel bags — the elegance.
Where and what to wear with:
this bag is irreplaceable in trips on small distances, for walks in the Park, especially with children, shopping. Can be worn with any casual clothes except long wide skirts and sundresses. Of shoes it is better to choose something without a heel.
How to choose:
when you purchase such bags is better not to save and purchase a quality item made of durable material with smooth seams and comfortable handles. Otherwise all the flaws Handicrafts are always in sight, as because of the dimensions of the Weekender always attracts attention.
The purpose of the above tips is to facilitate the selection of the following bags, which will really benefit, and will not just take up space in the closet. But if the happiness you need 3 times more bags or, conversely, one is enough, don't limit yourself to the framework, because each of us is unique, and the rules are made to be broken.
Photos on the preview mila_pova/instagram, jessicabratichlabel/instagram
According to the materials of Reader's Digest, Harper's Bazaar, Huffington Post
See also
1 the secret of how to make a wardrobe in which everything goes well between them
Photographer from St. Petersburg, found out that women carry in their handbags
via www.adme.ru/tvorchestvo-fotografy/fotograf-iz-peterburga-uznal-chto-zhenschiny-nosyat-v-svoih-sumochkah-1403615/