I will not hide: do not consider yourself a master of culinary Affairs. But my grandmother Martha... I can't believe she's almost 90, because it is such a cheerful, catchy and even in this old age to cope with all household chores. She has chickens and a small garden. And prepares grandma's heavenly.
When I visited her in childhood, this
casserole of pasta with egg
was often on the menu. Flavor like no other, this Golden crust and soft oiled noodles... felt like it recently, made, the recipe was wonderfully successful!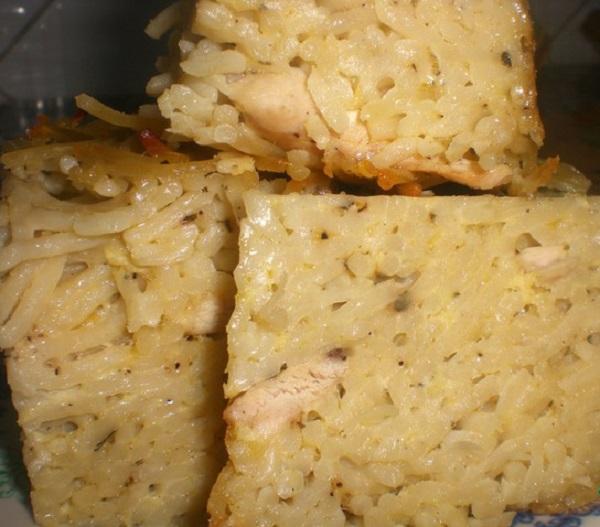 Macaroni casserole in tohokingdom
400 grams of macaroni or noodles
600 g chicken fillet
8 eggs
200 g butter
There is an important point: it is better to use eggs. Grandmother always cooked the noodles itself is also homemade. For us now, of course, like a feat... And maybe, our delightful readers have
an easy recipe homemade noodles
? I will be glad to discover such a treasure in the comments!
Cooking
So, boil the noodles. Thin or short home. You can use other pastas, casseroles tastes will vary, but will not become worse. Many variants of this dish you can create!




Melt 50 g of butter, mix it with cooked noodles.




Chicken fillet! Thanks to this ingredient casserole turns out to be very satisfying. Tell you a secret: you can cook without it, as you like it.




Slice chicken into thin strips, salt, flavoring and obzharivaya for 15 minutes.




You beat the eggs, but quite a bit. It is better to use a whisk, not a mixer.



Mix noodles with beaten eggs and chicken. Season to taste and salt in the casserole appropriate ground black pepper. Aromatic herbs may be unnecessary to change the taste — they better not overdo it. Generously grease a baking dish with butter, for this case you need to use 100 g of butter! Best for baking macaroni grandmother to take a cast iron cauldron, but if you don't have that value, take the usual form.





Put the noodles in the form or cauldron, on top place the pieces of butter. Brand grandmother bake 20 minutes at a temperature of 230 degrees, then 20 minutes at 200 degrees.



Let the pasta casserole to cool slightly, take out from the mold. For this you just need to flip the — and here it is, rosy!



The grandma slice neat pieces and serve to the table. Delicious!



Casserole of pasta with chicken
is a traditional dish in my family. This wonderful recipe can be varied to your own taste: add vegetables, cheese and herbs. There are people who love the sweet noodle casseroles, but I like it so... I would be happy if you need a recipe!
Now everyone can publish articles
Try this first! To WRITE an ARTICLE the Author
Alexander Klimchuk Since childhood, interested in medicine, grew up in a family of doctors. Knows how to make a fancy Breakfast out of nothing, is not afraid to experiment in the kitchen, making pies without flour, low-fat mayonnaise, healthy sweets. Never give up and believes that people are created to help each other! In all its domestic Affairs the assistant to the son Sasha. Alexandra's favorite book — "the Art of loving" by E. Fromm.