Hellebore are beautiful plant that was popular in the middle ages: it was believed that hellebore protects from witchcraft, evil eye and evil spirits, that is why it is planted near the entrance to the house and yard.
Today, of course, appreciate it just for other quality, about them and about the secrets of growing hellebore in this article.
Did you know that hellebore is also called "Christmas rose" and "flower of Christ"?
The legend about it says that learning about the birth of the Savior, Bethlehem, the shepherds decided to bring him gifts. All gathered who I could, and just a shepherd not managed to find a worthy gift. Very angry, he wept, and in the place where he fell, his tears, grew a beautiful flower, which was a gift to the Christ child —Christmas rose.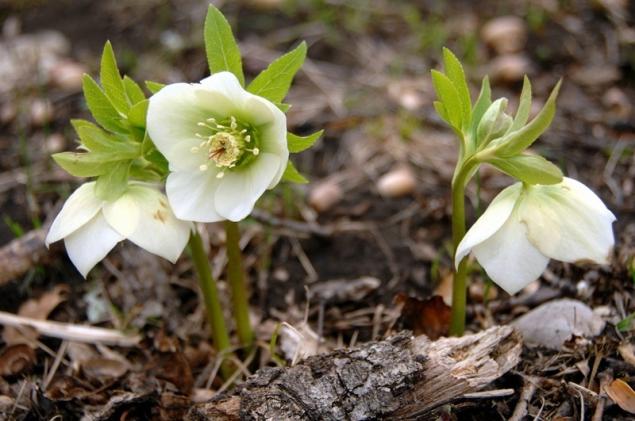 A little lost its popularity in Russia, hellebore again became a favorite of gardeners in just 10-15 years ago when it was talked about as the miraculous healer who can cure various diseases. This refers primarily to the Caucasian hellebore, it is perfectly cleanses the body and gives a slimming effect. Today it can be found in many gardens in our country, he adorns them with gorgeous flowers.
Quite often there are thickets of hellebore in nature — on the edges of mountain forest in Central Europe, the Mediterranean and Western Asia.
Hellebore, or, as more commonly called, Helleborus, belongs to the family Ranunculaceae and, like all Ranunculaceae, is also poisonous!
Being evergreen, hellebore not only cold-resistant but also drought resistant, and bloom in the middle zone begins in March when our flower beds haven't dressed up in bright colors of annuals.
Flowers Helleborus very beautiful, a bit like the lanterns hanging and large enough in diameter up to 8 cm
Planting of hellebore:
Before you choose a place for planting of hellebore, keep in mind, the plant is painfully aware of frequent replanting, but in one place can grow for about 10 years!
Helleborus not particularly demanding on the soil, but they grow best amongst the bushes and trees in partial shade where the soil is moist-drained and loose. I plant the hellebore in a permanent place under the large spreading Apple-trees, in the end, in the summer they are in the shade, and in winter, when actually in bloom hellebore, given enough light. This option of landing there is another use for the leaves of Apple trees serve as a natural mulch that improves significantly the fertility of the soil, which supplies the root system of hellebore nutrients.
So, back to planting — planting already grown plants hellebore or delenki prepared in pits approximately 25x25x25 cm, with a distance of about 30 cm from each other, half-dressed with compost.
During landing neatly adhered hellebore in the landing pit with one hand, filling all the free space around the earth, stamped it and pour a landing spot.
After landing for the next three weeks, the plants watered abundantly.
Now a few words on the aesthetic side — to plant hellebore better groups, so it is most advantageous to look at the background of snow-covered garden.
Hellebore can be planted around the crown of the tree and the foreground — any analogicznie (tulips, crocuses, etc..), such a joint landing also look very nice.
Reproduction of hellebore:
Hellebore as propagated by sowing seeds, and dividing it by the old bushes. General guidelines are as follows: seeds need to be sown seedlings immediately after their collection (they do not remain viable),loose, moist, humus earth, their closing up to a depth of about 1.5 cm Shoots of Helleborus will appear in March next year, and bloom the seedlings only 3 years later.
A little grown seedlings that have already managed to acquire a couple of real leaves, dive into slightly half-shaded place, for example, I dive down into the flowerbed under the big spreading Apple tree, the crown which is not much thickened.
On a constant grown hellebore can be planted only 2-3 years, it is desirable to be transplanted in September.
If you want to hellebore propagated by dividing the bushes, and so it reproduces very simple, it is necessary in the spring, as soon as he Bud, just divide the root into several pieces and planted in prepared pits.
The intricacies of the reproduction of its different varieties:
Now, black hellebore, or, as it is called, the Christmas rose is best propagated in spring by dividing the bushes. Stinking hellebore is very easily propagated by self-seeding and, in contrast to the black hellebore, absolutely can not tolerate division of rhizomes. Oriental hellebore is easiest to propagate by dividing the rhizome in early autumn.  
Caring for hellebore:
Hellebore is very responsive to fertilizer application and thank you for taking care of lush and beautiful blooms. Hellebore I feed small handfuls
of bone meal
, make it about every 3 months.
After flowering, the soil around the plants is mulched with compost, it helps to hold in soil moisture and serves as an excellent fertilizer.
Pests and diseases of hellebore:
The most dangerous pests of hellebore are snails, slugs, mice and the ubiquitous aphid.
Occasionally hellebore may be affected by temprado hop, caterpillars that completely eats the roots of plants. I struggle with this scourge using insecticides.
Sometimes the leaves of hellebore appear dark spots, constantly increasing in diameter, it is a sign of defeat of plants by fungal infection Coniothyrium hellebori. Most active in this disease is spreading in damp and warm weather, so the hellebore will have to look after it withered.
To combat infection by Coniothyrium hellebori need to cut off all the affected leaves and plants treated with fungicide, it will help to stop the disease.
And finally, remember that the disease primarily affects the weak plants! So try to observe agronomic practices and continuously improve "living conditions" of your "wards": feed them, water time, etc., only with proper care hellebore will reward you with abundant blooms!
Species and varieties of hellebore
One of the most beautiful hardy species of hellebore, in my opinion, of course, is the black hellebore — Helleborus niger.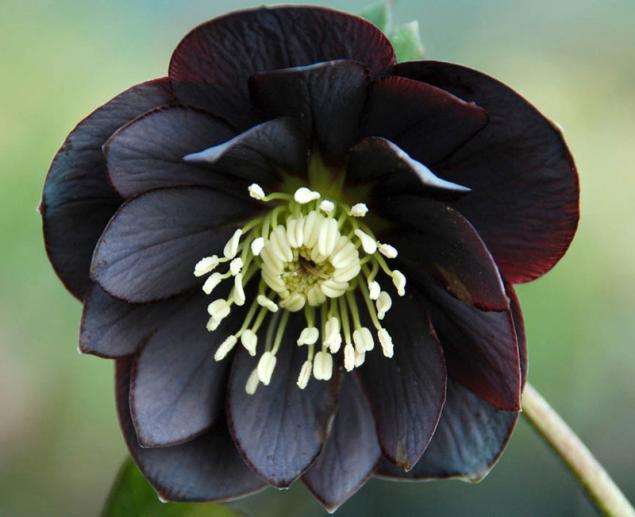 Black hellebore (Helleborus niger)
Black hellebore in Central and southern Europe can be found in the wild, it blooms from late December to February, snow-white, sometimes pale pink flowers are not drooping in diameter up to 8 cm
We have, in the middle lane, black hellebore blooms a bit later — after the snow melts, around the beginning of April. Just nature, there are several varieties of hellebore black, the most interesting being a sort of Potter's Wheel with white, the largest in the genus, the flowers, reaching a diameter of 12 cm, and the variety Praecox, pale pink flowers which bloom in late November, when the bed becomes dull and empty.
Hellebore East (Helleborus orientalis)
Very impressive and hellebore Eastern flowering which begins rather late, in comparison with the other types — in the middle of March — April. Oriental hellebore blooms white, pale pink, cream and purple flowers, sometimes with specks inside.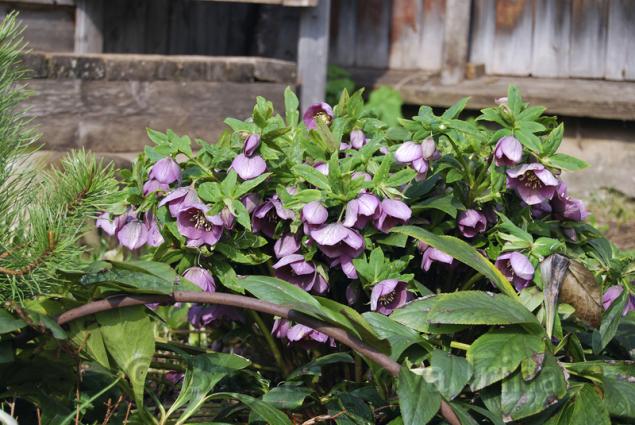 Stinking hellebore (Helleborus foetidus)
Stinking hellebore, as you probably have guessed, exudes a very pleasant aroma, but its multiple flowers of an unusual pale green color not losing its appeal. Decorative stinking hellebore, by the way, not only for its unusual flowers. It is a compact plant, reaching a height of only 0.5 m, decorated with bold deeply lobed, leathery leaves that are very exotic look.
The Caucasian hellebore (Helleborus caucasicus)
Another type of hellebore Caucasian, meet in the nature in the Caucasus mountains, cannot boast of particularly beautiful flowers, but its remarkable foliage retains its decorative all summer, and sometimes when the winters with little snow, even in winter. However, I will never dare to plant in my garden hellebore Caucasian, despite the fact that he looks to me very much, because it is highly poisonous, be careful! published  
P. S. And remember, only by changing their consumption — together we change the world! ©
Source: vk.com/public47900340?w=wall-47900340_283395