Species roses, or wild roses, a nice early flowering and fragrance, attractive look and elegant foliage, and autumn song are the fruits. We can recommend the most ornamental of the species roses.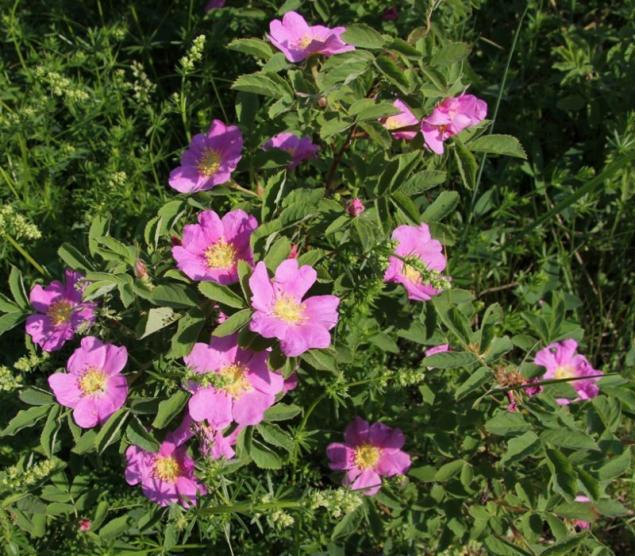 Rosa cinnamon.
A very ornamental shrub c rod shoots covered with reddish-brown bark. The name of the rose cinnamon received for the similarity of the color of bark the color of cinnamon.
Rose of the may.
Found in the European part of Russia, the Caucasus and Siberia. In the suburbs clumps may rose often can be seen near human settlements. Peduncles short, massivnye. Flowers up to 6 cm, crimson or pale red, fragrant. Blooms early, in late may — early June. The petals used to make cordials, jams, vinegar.
Great may rose can brighten any garden area: double pink flowers size 4 cm on drooping branches look fascinating. This rose is known since 1596 and, according to experts, are very common. Rare European nurseries offer seedlings of this rose and they are more expensive novelties.
Rose of nitid.
Known since 1807, the area of its distribution — North America. A small and very dense shrub, with a height of about half a meter. The branches are densely covered with short bristles, spines thin, length 3-5 mm. rose is remarkable for its foliage. The leaves in the number of 7-9, elliptic — oblong, strongly shiny on top, dark green, autumn brown-red. Flowers small, usually solitary, pink. In autumn the bushes are luxuriously decorated with small scarlet-red fruit. Amazing decorative plant that grow up with dignity in the most conspicuous place.
Rose of glauca.
It is also called gray or red for festive foliage. Shrub up to three metres with dark red or purple branches with bluish-bluish tinge. The flowers are very small (3 cm in diameter), pink. The fruits are small, bright red, on long stalks, very decorative. Rose undemanding to growing conditions, hardy. Fertile material for landscape designers, especially good and spectacular rose of glauca in mixed borders.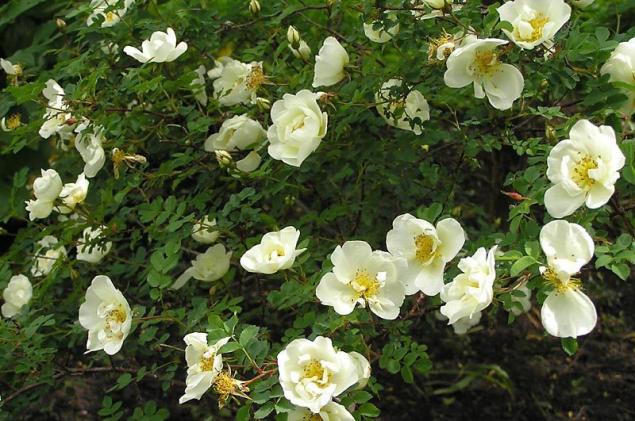 Rose pimpinellifolia or berezovitsa.
Known since 1600, in Russia it is widely distributed in the European part and Western Siberia. Shrubs up to two meters thick, with fine Lacy foliage. Blooms earlier than other species and cultivars during two weeks. Flowers solitary, up to 5 cm in diameter, white-cream. Very hardy and disease resistant. Decorative, used for hedges. In the suburbs spread berezovitsa rose with semi-double creamy-white flowers, very decorative during the mass flowering, flowering but once.
Rosa Carolina.
Attracts the attention of a dense branching Bush, and decorative foliage. Leaflets in a complex leaf usually 5 (7), elliptic, bright green, glaucous below. Flowers pink, solitary, about 5 cm in diameter. Bush height of about 1.5 m.
Rose rugosa or wrinkled.
In the wild form is widespread in the far East. Wrinkled named rose because of the peculiarities of the leaves, the veins are recessed and lightly tightening (wrinkle) the sheet. They are not to be confused with other species of roses. The bushes are large, but compact, up to 2 m. the Flowers are fragrant, large (up to 12 cm), usually purple, although there are pink, white and even creamy yellow.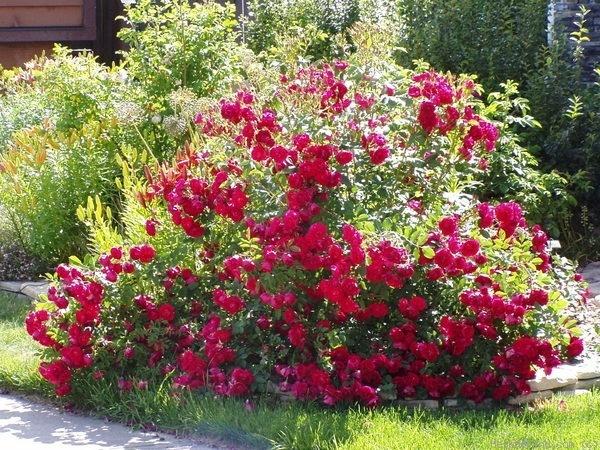 Flowering begins in early June, flowers appear all summer, and in autumn the bushes are decorated with large and bright fruits, which persist on the plants until spring, attracting birds. These roses are extremely hardy and are used extensively in Park plantings, although in private gardens today do not meet often. From the flowers and jam and jelly, prepare the flavoring for tea and stuffed them fragrant sachet. The fruits are edible, contain ascorbic acid and provitamin a (carotene), they are eaten fresh, dried, cooked syrups, marmalade and jam.
In the late nineteenth century rose rugosa became the object of selection, and in the beginning of the next century there were many hybrids of rugosa. Some of them, due to the increased frost resistance, has withstood the test of time and still grown in Russia and other Northern countries. But some require a light cover for winter.
Rose "Pink Grootendorst," the rose "Dagmar Hastrup" Rosa rugosa "Foki" rose "Henry Hudson"
One of the favorite of many gardeners hybrids rugosa "Pink Grootendorst" ("Grootendorst,1923") with small pink flowers resembling a carnation, winters often with damage, but quickly recovered and impressive flowering.
Proven "Dagmar Hastrup" (Hastrup, Denmark, 1914) blooms continually until frost, the fruit are decorative, overwinters well. Flowers pink, solitary, simple, with a pleasant aroma.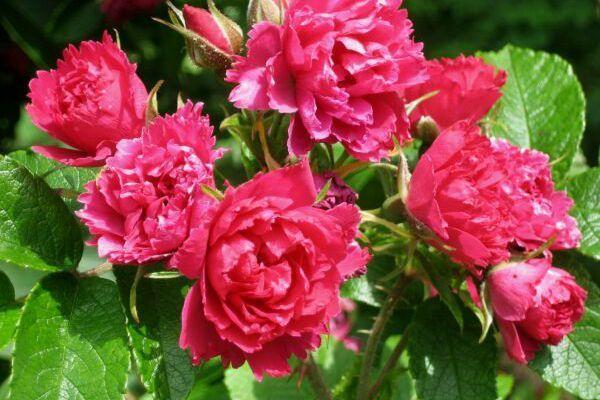 Rosa rugosa "Foki" (1989), a descendant of the "Dagmar Hastrup", not only inherited the advantages of the parent strains (resistance and profusion of fruiting), but also showed their own. Its semi-double purple - pink flowers are fragrant strong flavor and are easy to clean. This rose is perfect for low hedges (up to 60 cm).
Another low canadian rose breeding "Henry Hudson" (Svedja, 1976), which can be recommended on the grounds of good winter hardiness and high decorativeness. White flowers with showy yellow stamens, medium size, with a strong flavor.published  
P. S. And remember, only by changing their consumption — together we change the world! ©
Join us in Facebook , Vkontakte, Odnoklassniki
Source: www.sadovoda.ru