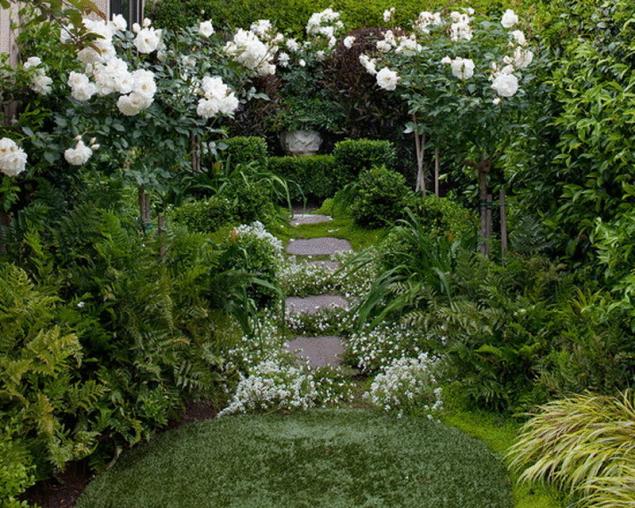 The white flowers of roses, like a cloud, hovering over the green bushes. They are the very embodiment of elegance, romance and purity. But rose with pure white flowers — a real rarity! In your or your neighbor's garden you will find flowers cream, greenish, pink. But "snow white" still need to look... But we will not allow such gaps, right? So let's get acquainted with the wonderful "belokurye" beauties.
Lead the parade delicate damsels of the rose varieties
'Schneeflocke' ('Schneeflocke'), 'Schneekönigin' ('Secenegin') and 'Schneewittchen' ('Schneewittchen')
.
Schneewittchen '
Schneewittchen
' is one of the most famous roses with white flowers (which, alas, does not smell). However, it is not particularly resistant to black spot, therefore, it is desirable to process special means, which promote plant health.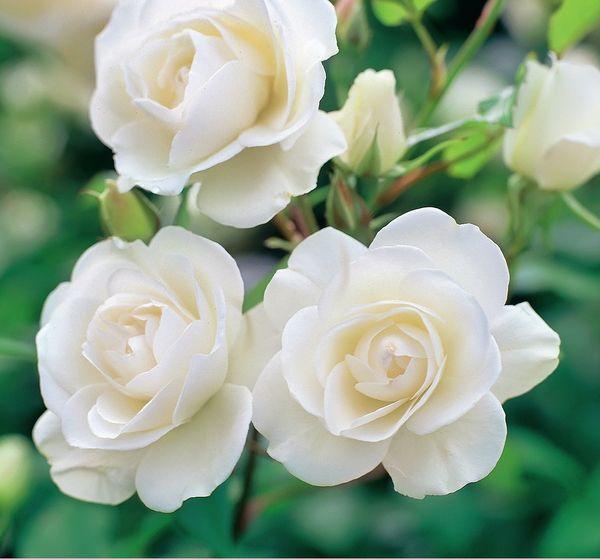 Collection of 'snow white' (this is translated the name of the rose in this class), has recently expanded and climbing
'Climbing Schneewittchen' ('Klayming, Sneewittchen')
c shoots with a length of 3-5 m. It is well-suited for planting near the fence as once blooming rose 'Snowflacke' ('Snowflake').
'Snowflacke' ('Snowflake')
– Rambler bred in 1922, grows to 3-5 m. it Blooms once a year, but the flowers are very fragrant.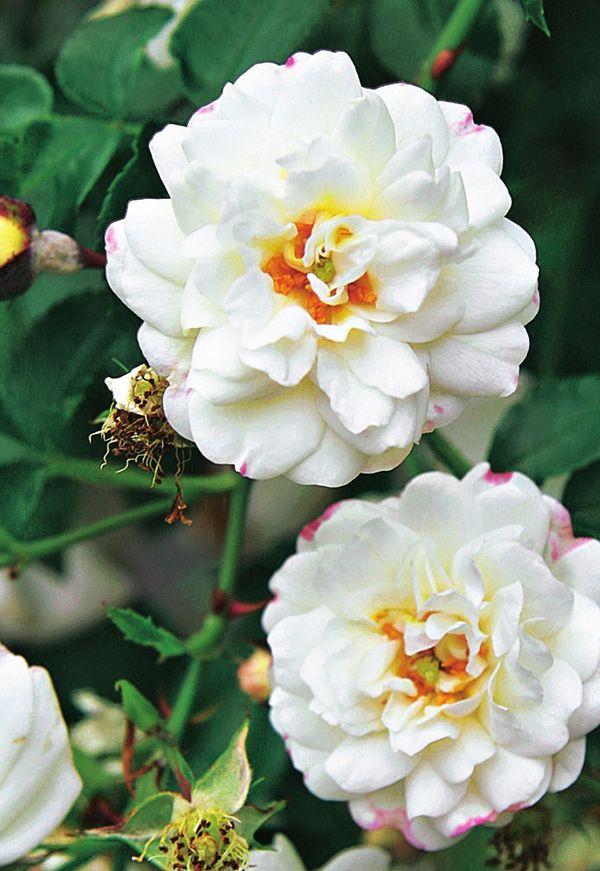 Remontant 'Schneewittchen' can be grown as a Bush or on the trunk. In the photo below between the standard roses 'Schneewittchen' because of a low hedge look delicate bushes of kalimeris incised (Kalimeris incise), which is richly studded with white flowers from July to October.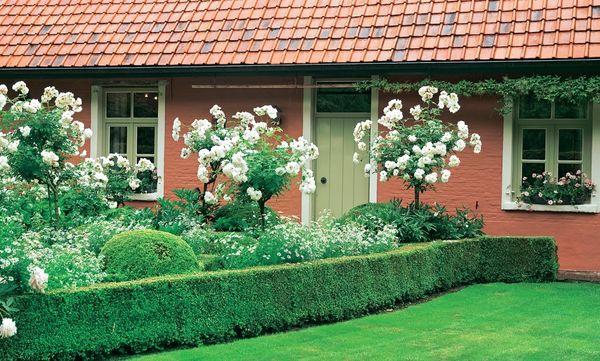 There is an option for planting on slopes,
groundcover 'Escimo' ('Popsicle'), 'Schneekönigin' and 'Schneeflocke'
. These roses are very hardy and provide an excellent opportunity to admire the delicate flowers from late June until the first frost.
Schneekönigin
'Schneekönigin' ('Secenegin')
— groundcover remontant rose. Her creamy-pink buds, opening becoming pure white. Semi-double flowers 4-6 cm in diameter and with a delicate aroma adorning the shrub 50-70 cm until late autumn. Resistance to powdery mildew and black spot average.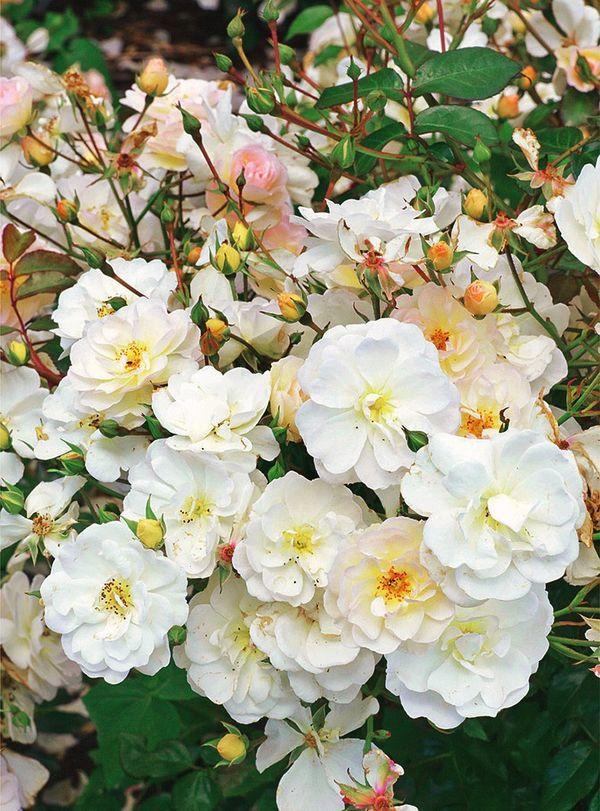 Schneeflocke
'Schneeflocke' ('Schneeflocke')
is a groundcover rose remontant height of 40-50 cm with good health. The flowers are very fragrant and resistant to rain. Landscape designers suggest planting 4 plants of this variety per 1 m2. The rose is also grown as a standard.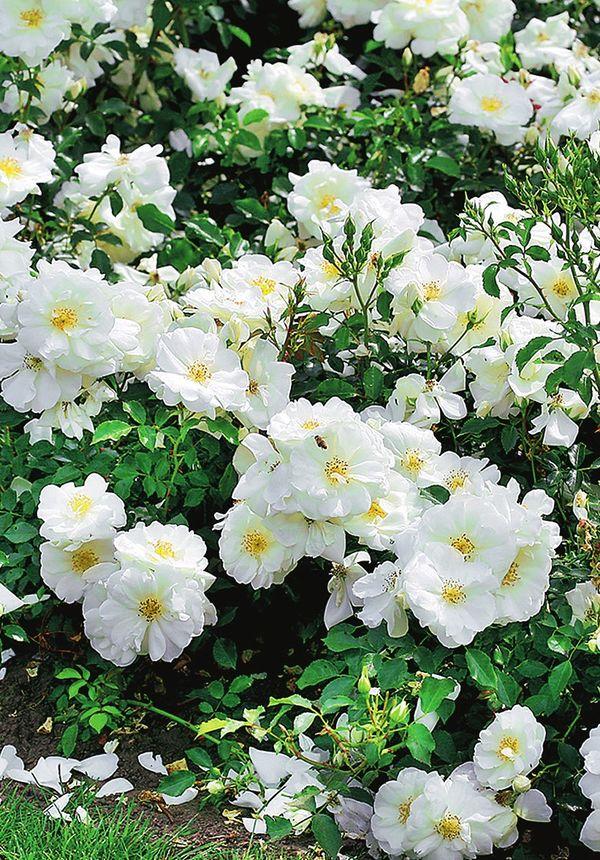 Flowers
ground cover Rosa 'Schneeflocke'
in shining ice crystals look fabulous. Such masterpieces of nature can please with the other beautiful remontant.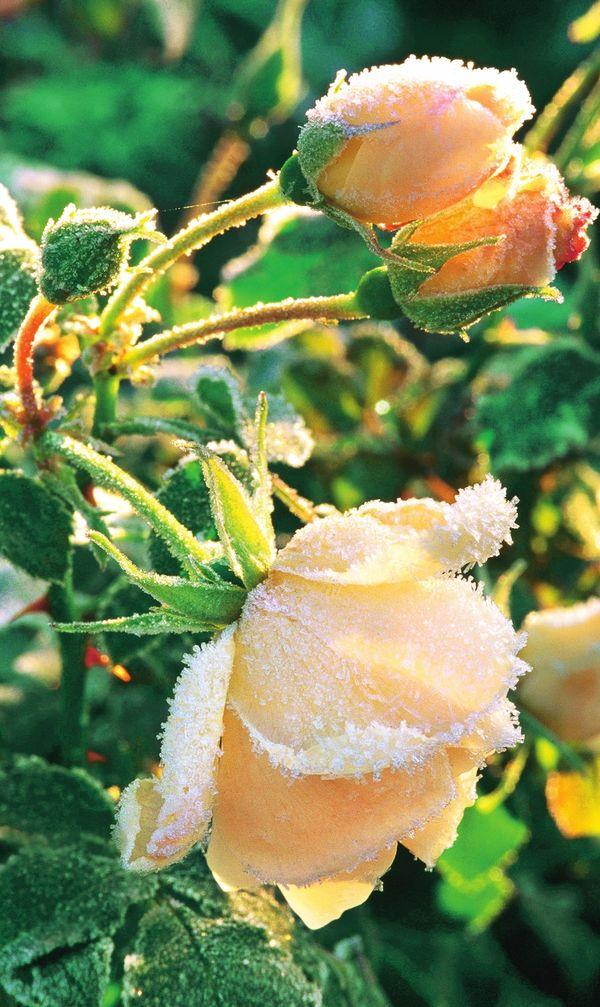 'Schneeflocke' in 2011 appeared sister is a climbing rose 'Plus Schneeflocke' ('Schneeflocke Plus'). Relatively low (up to 2.5 m) plant is perfect for landscaping arches, as well as climbing the 'Snow Goose' ('snow goose').
'Snow Goose' ('snow goose')
– remontant climbing rose height 2-2,5 m, grows well in partial shade. The flowers are small, semi-double, with a sweet aroma. Colour they are creamy-white, but quickly fade and become white.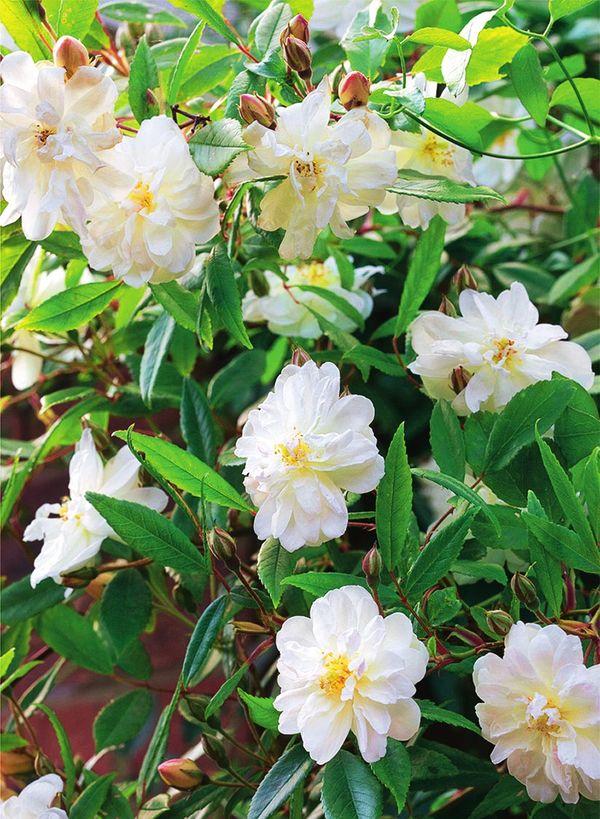 'Escimo' ('Eskimo')
– hardy remontant rose with a height of 80 cm Flowers are 4-5 cm in diameter, although simple, but not afraid of the rain and one by one appear on the Bush throughout the summer. The plant of this variety has excellent resistance to powdery mildew and black spot.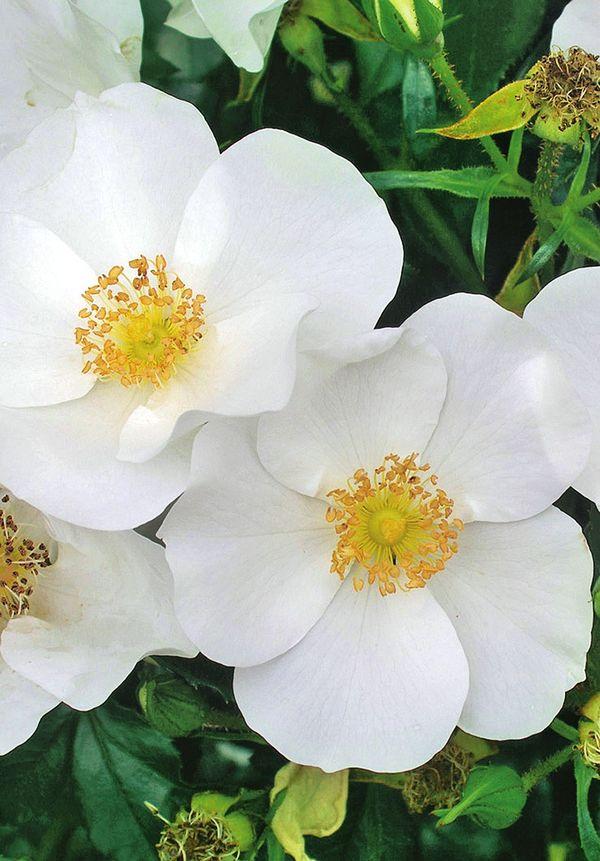 The flowers of the rose
'Midsummer Snow' ('Midsummer snow')
inherent sweet flavor, and they are resistant to rain, which is important. This dribnokvitkovi shrubby rose up to a height of 70 cm is perfect for growing in a pot.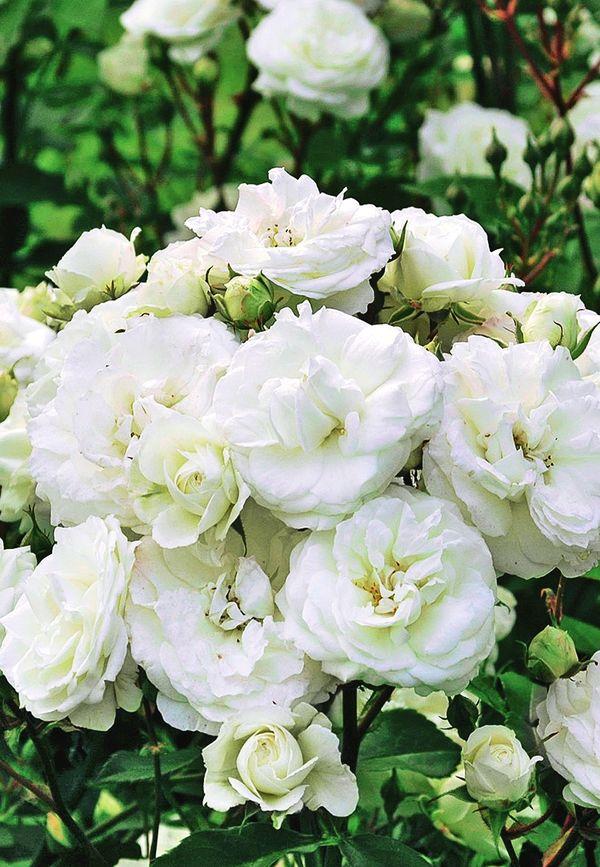 Wonderful duet — beautiful shrub '
Nevada
' and with sweetly smelling flowers and white Foxglove. The roses in this class are drooping shoots, it grows to 2.5 m both in breadth and upwards.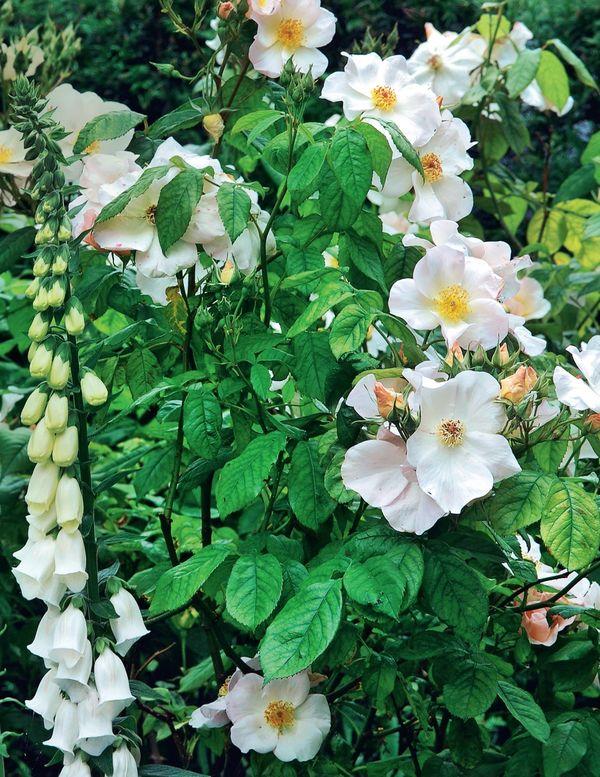 For low fragrant hedges a good candidate will be a remontant rose wrinkled, or rose rugosa, 'Schnee-Eule' ('Snee-Hoyle') with double flowers. It reaches a meter in height and she throws the withered petals.
Unmatched looks planted a row of rose Floribunda group 'Innocencia'. More or less high hedges you can make 'Schneewittchen' Bush form roses or remontant varieties of 'Blanc Double de Coubert' and 'Nevada'. Both roses bloom profusely in summer and again in autumn.
Hybrid musk rose 'Waterloo' flourishing of the "legs" of the tree throughout the summer. The feeder is made of birch branches duplicates the color of flowers.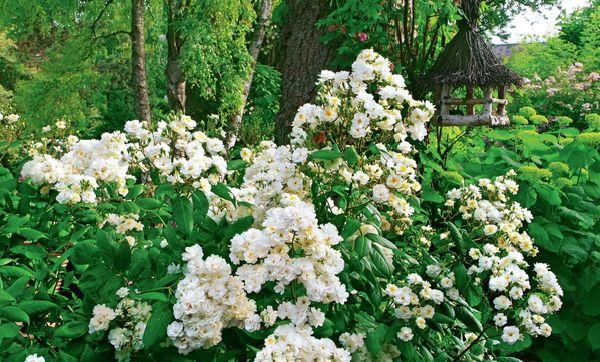 The statue is blooming hybrid tea rose 'Polarstern' with a height of 60-100 cm From July to September it is the company white-Lanka Magenta (Linaria purpurea) 'Alba'.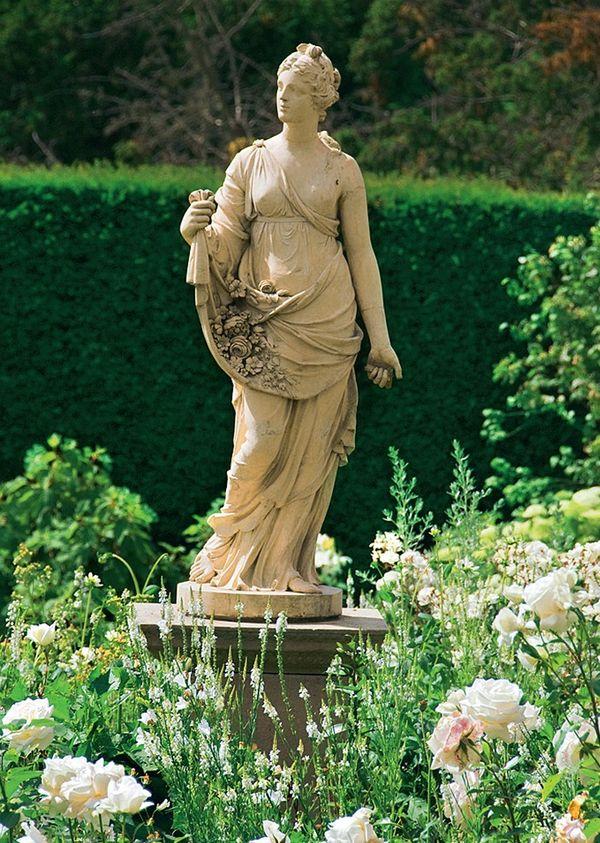 The white Queen is beautiful, but cranky of these roses more than others, suffer from black spot. Therefore, the plants must be treated with special preparations and to promote their health in all possible ways. Besides bright roses in June — July as the magnets attract the beetles and bronzovok. Fighting them with chemicals almost no effect, the only option in the morning to collect them manually (at this time the pests are sedentary).
The last Achilles heel of many white roses — flowers afraid of bad weather and dampness. After a rain, for example, white buds turn into rags, and nothing can be done. The only solution is to choose plants of these varieties, the flowers of which are resistant to rain. The rest of the care of white roses is the same as for all others.published
Source: www.7dach.ru