Municipal service of Madrid decided to improve urban air quality, and it was chosen quite an original solution. To place a mission of "purification" decided on one of the main culprits of pollution – buses.
The proposed initiative is called "Move to green" (Muévete en verde) and involves the placement of gardens on the roofs of buses on 27th and 34th routes and shelters bus stops. According to the authors ideas, its main task is to reduce the negative effects of public transport on the air in the capital of Spain.
According to project Director Jose Antonio Antonio, the choice of routes due to the fact that they run on "strategically important axis between the North and the South of the city, which runs through the most visited by tourists and residents of the Madrid area and along which are located the most emblematic buildings and monuments". Last year, these routes were used by a total of 17 million passengers. The project developers plan to place the green area on the route of buses, the length of which is 30 kilometers. It is planned to use over 130 bus shelters.
In addition to this initiative, the government officials also presented the project "Social consultation", designed to support citizens with limited degree of personal autonomy. In turn, the initiative "Educate to preserve" was created in order to bring residents to the environment. The essence of the project Madrid t-cuida-t is to combine the spheres of health and sports, care about health of citizens, and "Exchange of talent" was designed to link the needs of certain municipal organizations with the abilities of their employees. The last project was the Bambú Labs co-working space where entrepreneurs can work on their ideas.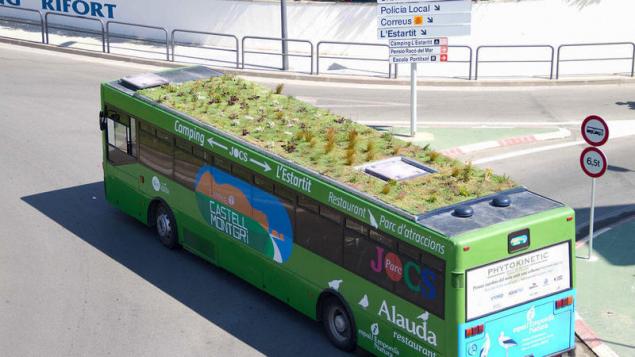 The next step will be consideration of the aforementioned initiatives, the city administration of Madrid. The mayor Manuela Carmena said that, "all projects are very good." According to Carmany, she intends to do "everything that depends on it to implement them". published  
Source: ecotechnica.com.ua/ekologiya/1883-v-ispanii-zapustyat-avtobusy-s-sadami-na-kryshakh-dlya-ochistki-gorodskogo-vozdukha.html