The municipality of Kfar Saba in Israel has allocated for the construction of an educational complex, will accommodate 700 children, an area of 2800 square meters. The project, implemented by Regavim + architects, includes a primary school, a sports hall, two basketball playgrounds and recreation areas.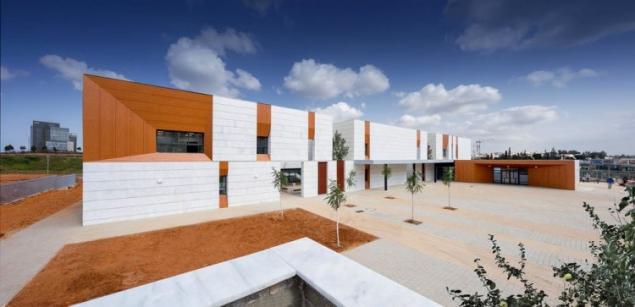 The plan of the complex resembles the Tetris game: each part of the space creates a negative following, demonstrating clear and consistent organization of the volumes. An elongated two-storey rectangular building consists of two units: the administrative building and the adjoining wing with classrooms.
Simple, but not simplified the school building is not without a sense of humor and imbued with a sense of freedom. Faced with white stone facades contain unexpected window openings, decorated bilaminated panels and creating the illusion of three-dimensional space.
The rooms are arranged around several courtyards. Two of them represent the classes under the open sky. Harmonious atmosphere and tranquil courtyards design make them attractive to children, creating comfortable, protected from the heat space for games. The shape of the building is conceived not as a total amount and as a complex connection of internal and external spaces, which is an echo of the traditions of Mediterranean architecture. This design provides space good ventilation, sufficient lighting and at the same time protects from the heat. In the future, the growth of the district population, these patio to the building can be added to the new classrooms, without compromising the overall architecture of the structure.
Interiors and furniture were selected soothing soft palette and finishing materials that provide the space, the nature of youth and freshness.