In may 2010 in Tbilisi has opened a new suspension bridge across the river Mtkvari (Kura). He received a symbolic name "Peace Bridge". The government's decision to build a design of cutting-edge design in a historic part of the city has caused much controversy. But the decision was taken personally by President of Georgia Mikhail Saakashvili. The result is an original, colorful and unusual design, which connects the city Park Rica with the historical center of Tbilisi. Old architectural buildings with a powerful, squat stone buildings now coexists with an openwork design of glass and metal.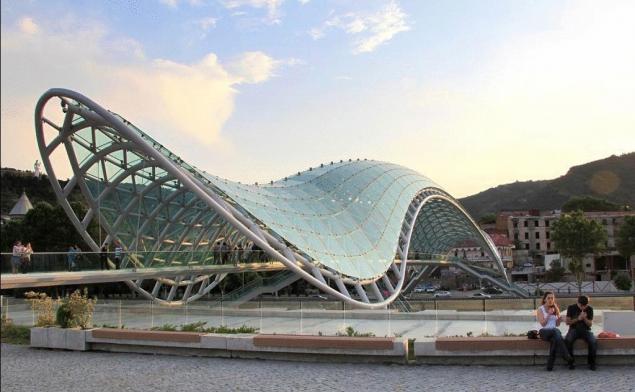 Peace bridge – a pedestrian, it does not drive cars. Total length is 156 meters. The main item that attracts attention, — stopyatidesyatiletny canopy of glass and steel openwork frame. However, it's not just glass and metal. Italian designer Michele de Lucci, who designed the bridge, conceived a deep symbolism in its design, so the canopy of the bridge is an interactive light system. 30,000 light bulbs and 240 sensors regularly transmit to the bridge parapets special message: luminous Morse code are represented the signs of the chemical elements of the periodic table, but not all, but only those that are part of the human body.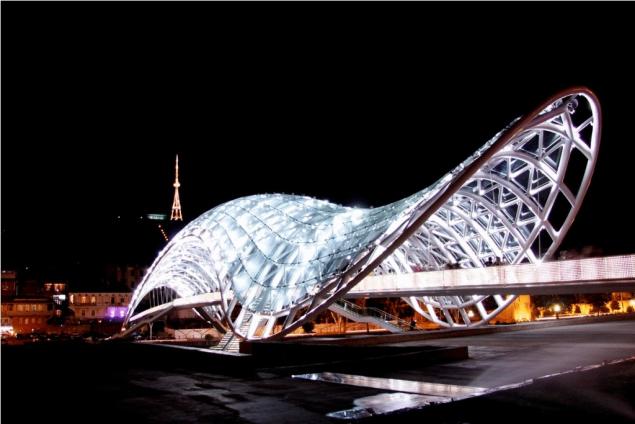 The architect suggested that we all consist of the same flesh and blood, no matter what languages we speak and what gods they pray. On this flight of thought de Lucci is not stopped. At least, he said that the glass symbolizes the transparency policy of the authorities, and the metal with its strength and dynamism reflects the bright, light and firm aspirations of Georgia to "beautiful far". How all these fine ideas correspond to reality, only time will tell.
One thing is clear: Tbilisi has got a new attraction, which can quite rightly be proud of.
Source: /users/155