Mobile wind power – by Uprise Energy San Diego Portable energy center (Portable Power Center, PPC), as opposed to the current technology allows you to quickly provide access to clean energy in any place where it is needed. All components of the power plant is installed in a shipping container on a trailer towed by a vehicle.
The trailer with the towing vehicle is placed in a standard shipping container. Despite the compactness, the power of the wind turbine is 50 kW at a wind speed of about 20 km/hour is enough to supply 15 average households. With increasing wind speed up to 32 km/h and increases the production of electricity, in the latter case, it will be enough to meet the needs of 71 families. The weight of the mobile turbine of 5.3 tons. Each of the five blades of the rotor reaches a length of 6.5 meters, the total height of the structure assembled of 24 meters.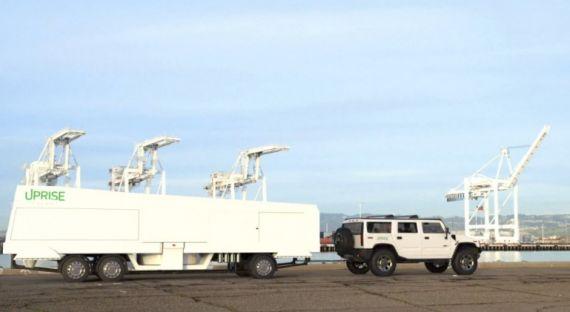 The production of electricity is controlled by a system of energy conversion (Energy Conversion System, ECS). In fact it is the onboard computer, equipped with the necessary software, sensors and actuators. The system monitors weather conditions and adapts to it for maximum turbine efficiency.
Command ESC turbine can be rotated 360 degrees to adjust the position of the blades and speed of rotation. And if the wind becomes too strong, the system energy conversion will saparkul turbine and lower the mast to avoid damage.
In addition, the ESC stores unused energy and further distributes stock among consumers when wind will be too weak to provide energy needs.
According to the Executive Director of Uprise Energy the cost per kilowatt/hour of energy produced at average wind speed of 20 km/h over the twenty year period of operation will not exceed 10 cents.
While the portable power center is in development. After the product appears on the market, it is expected that the full cost will be $240 thousand.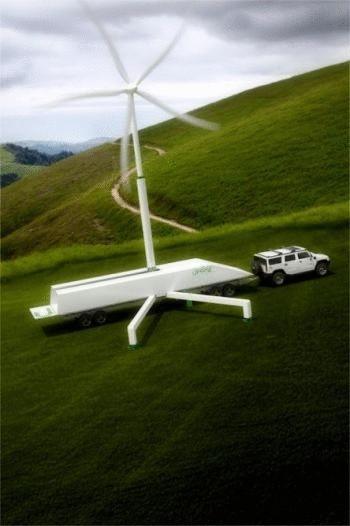 Source: /users/104