Street art, or street art called graffiti and the like decorative wall painting, fences, cargo containers, huge factory chimneys, barracks, and other industrial facilities. From the category of vandalism, graffiti has long passed into the category of art, and is not every street artist threatened to be ridden on the courts and accused of disorderly conduct. And some people are so fond of the graffiti on the walls and fences that they want to see these drawings in their own homes. Exactly, the "room" (interior) street art on the contrary is engaged in the French artist under the pseudonym Deck Two.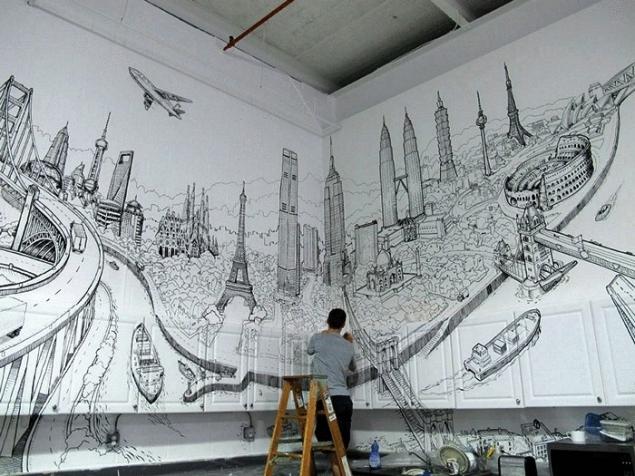 Given the specificity of street art, this interior design stand far from each tenant. Maybe because the artist paints graffiti interior such premises which never spoil and artistic interior design: kitchens, bathrooms, toilets and corridors. And rightly so, will tell anyone who will look at the transformed space after painting the walls, ceiling and other surfaces come to an end. Long to be within these walls will be extremely difficult.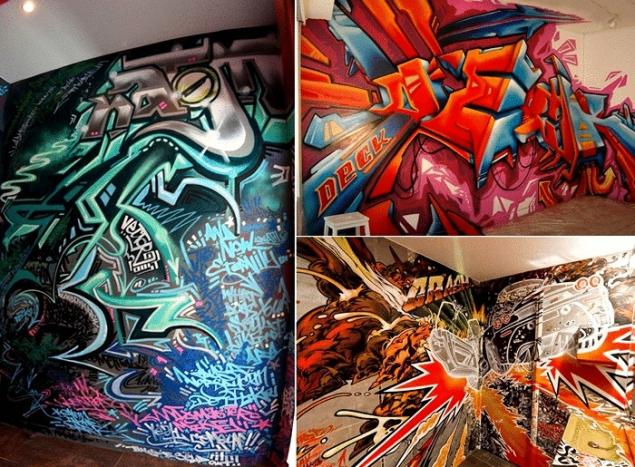 Colorful and bright pictures, aggressive colors, and a vast area is covered by a painting, makes a double impression. On the one hand it seems that everything is pushing on you from all sides, and you were in some kind of hologram or in someone's surrealistic dream, which live in huge sprays of paint, and the whole world is one big graffiti. But on the other hand, such an interior closet or bathroom is much more original, interesting, unusual than the traditional one. We immediately see that the apartment is in the creative hands of the extraordinary man. However, Deck Two is able to be more restrained, and to cover the walls with paintings of a different kind, more calm, but no less original interior graffiti. So, one of his projects for kitchen design under the name Global City depicts a huge panorama of the city, and from beginning to end is made with a permanent marker: black on white smooth wall.
Moreover, the city is a collective notion. So, the artist gathered in one place all the sights and famous monuments, which are famous big cities around the world. Paris Eiffel tower is adjacent to the Golden Gate bridge in San Francisco, the Brooklyn bridge, the Roman Coliseum, leaning tower of Pisa is located near the Empire state building, and somewhere in the other side you can see the old big Ben, the pride of Britain.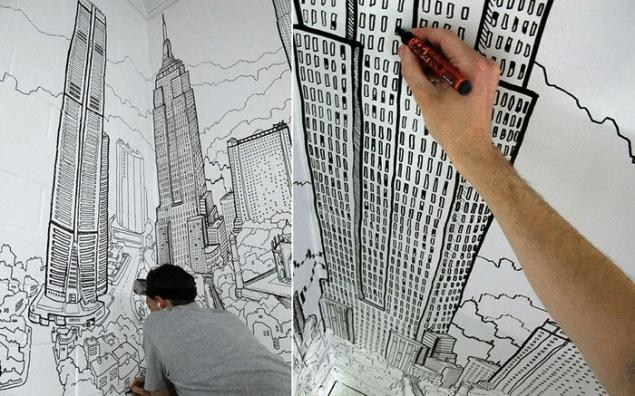 Source: /users/276