Excessively small apartments in big cities were no longer just a problem, but of the whole disaster, prompting more and more number of designers to correct this unpleasant situation. So, designer Fanny Adam (Fanny Adam), has developed the concept of a multifunctional sofa, is able to provide its owner not only a place to relax in the evening in front of the TV, but also a cozy home for a night's sleep, a work space and dining area.
This innovative creation was created in response to demands that are associated with the narrow space in urban housing. Being a graduation student work, this project will help to forget about the need for additional furniture in a small space of your apartment.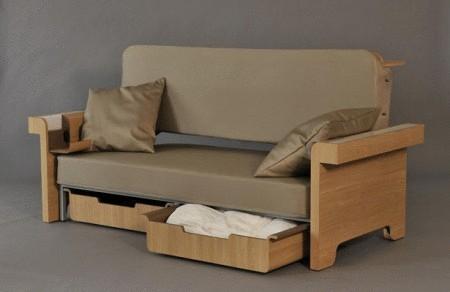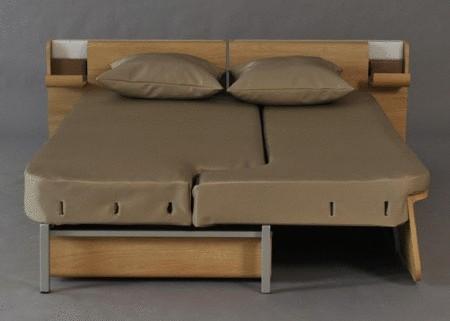 Made with panels of Formica Woods and Formica Laminate, this furniture not only serves as a sofa and bed, the table, which you can adapt for work or for eating. The material used for this furniture has been carefully selected based on a few minimum requirements, namely: durability, strength, resistance to scratches and other small damages. Also, the user gets the opportunity to enjoy extra space, which give the drawers under the sleeping area and folding shelves in armrests and back.
This is truly one of the most useful projects, good ideas of the Japanese, whose endless imagination constantly maintained a miniature inhuman living spaces. The only negative – not too attractive appearance. Of course, minimalism is great, but still would like something more cute and attractive. And the rest is quite good and worthy of selling in stores, especially that due to the not-too-expensive materials, the price should be affordable.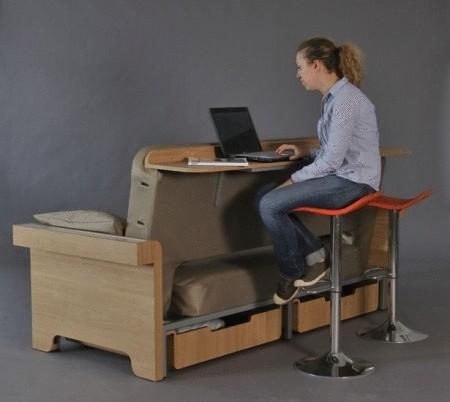 Source: /users/104