Swiss company Hyetis has surprised the whole entire world its new development. She released a wrist watch that can be called unique due to the fact that they has a digital camera with a matrix resolution of 41 megapixels!
Last year, Nokia introduced a mobile phone Nokia 808 PureView – the world's first camera with a camera of 41 megapixel. Since then, there have been disputes, indeed, smartphone users need such high-resolution images. But in the Swiss company Hyetis do not argue, but act! They created a "smart" wristwatch with the same impressive characteristics.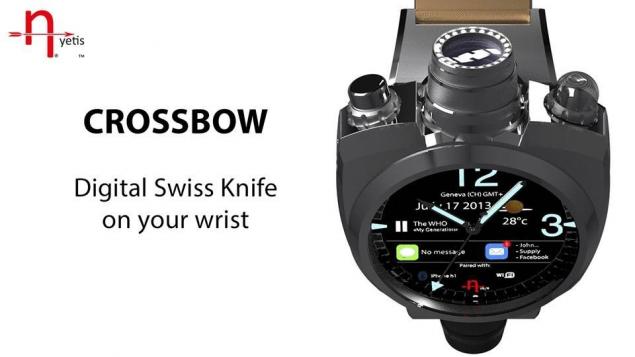 Hyetis Crossbow is a new idea of what needs to be watches of the future. It seems that everyone has realized that over time, these accessories will become in addition to the mobile phone or even able to replace it. And Hyetis added to this view and even a camera with a huge resolution of the matrix.
Case smart hours Hyetis Crossbow is made of titanium, and the touch screen was created on the basis of sapphire glass with anti-reflective coating. Watches have a wireless modules Wi-Fi, NFC, Bluetooth, and GPS, they can remotely connect and work in tandem with the computer or mobile phone.
Source: /users/413