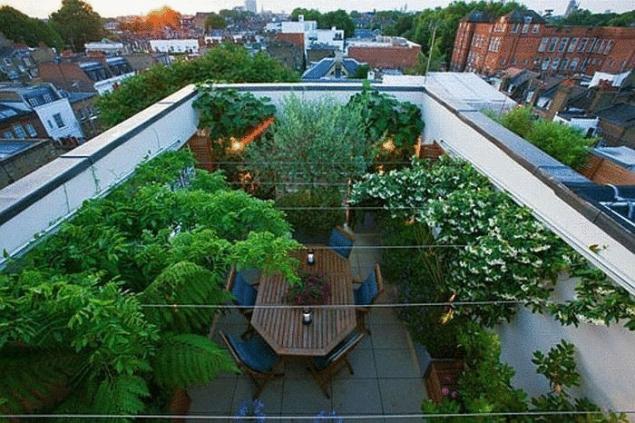 Beautiful designs in new York, but here in Bucharest, there was something like that. Here a garden was arranged on the 5th floor of the building. A good place to hide from the heat of the concrete jungle of the capital.
Many city dwellers have come to the conclusion that the healthiest food is that which you grow yourself, but an infinite accumulation of concrete areas and streets complicates this task.
With a little creativity and a lot of effort and persistence, and several volunteers, the head of the Department of Social welfare Bucharest decided to grow your own vegetables and fruit on the roof in the center of the capital. And not just anywhere, but right on the roof of the building where they work is very poor and colorless once place.
"I jumped with excitement when I heard that on the roof of our building is a garden with flowers, zucchini, tomatoes and sunflowers. Moreover, our employees are thrilled with this idea and spend my 5 minutes of free time even more pleasant," said Claudia Popescu, Director of the Economic Department Department of Social services Bucharest.
Garden on the roof of the building has an area of about 50 square meters, and is in the process of development.
"This is a space for communication, a space of greenery and in General the idea was very well received. At the moment it works like a social experiment, and next year we plan to expand this experiment in 20 other areas administered by us," said Julian Popescu, the representative of the Chief Department of Social services Bucharest.
The rest of the inhabitants of the capital also like the idea of a garden with fresh fruits and vegetables, but they are not averse to their farming was done by someone else.
For those who want to equip such a space, it would be helpful to know what the biggest costs are for work on the isolation of the terrace, as materials that protect the building from rain, snow and other precipitation. The price of such work, done by professionals, ranges from 100 euros per square meter.
Source: www.ecology.md