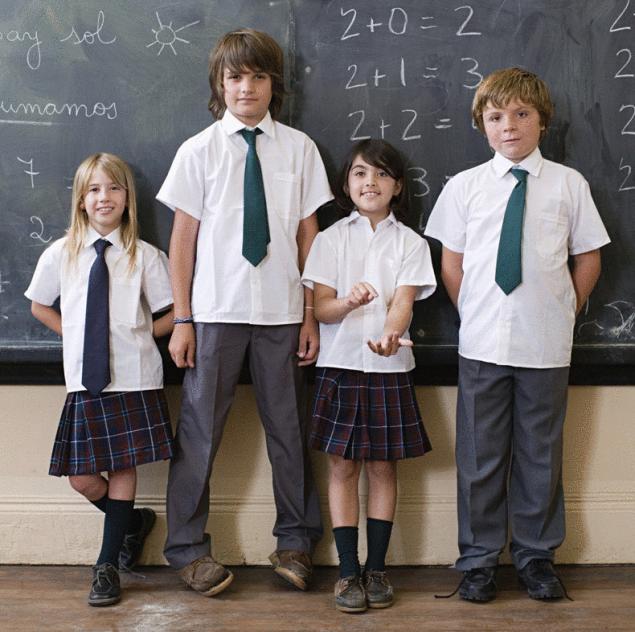 Preparing a child for school requires a lot of time, effort and money. And if the issue of stationery does not cause difficulties, the purchase of school uniform sometimes puts parents in a deadlock. Inexpensive where to buy quality costume in which he would be comfortable in any weather? Of course, every parent requirements their school uniform. But there are some points that you should pay attention when choosing baby costume – no matter whether you buy a finished product or plan to go to the Studio choosing fabric.
1. First of all, the material. According to the current GOST, fabric for children's clothing should not contain more than 30% synthetic fibers. But many manufacturers see it more as a recommendation and not a law. Actually, it is very important, especially if you take into account the fact that the child will be in this dress a lot of time. In the case with uniforms, it makes sense to waive 100% of the tissue – whether synthetic or natural fabric – they both have drawbacks. Synthetic materials are prone to leads, provoke allergic reactions and bad leak air and not warm in the cold. Among the disadvantages of natural tissues can be identified loss presentation after repeated washings, the frequent appearance of "viertola", pellets and elongated knees.
Therefore, the ideal material for a school uniform should consist of 70% natural materials (cotton, silk, linen, wool or bamboo) and 30% synthetic, so the fabric is easier to wash, less wrinkled and guarantees improved wear resistance. As for the backing material, then there is nothing better than natural viscose: it is hypoallergenic, allows the skin to breathe and not hot at all, unlike its synthetic counterparts.
2. Check the fabric for color fastness in order to avoid trouble in the wash. In order to understand that the fabric does not fade, it is enough to RUB it with a damp cloth. If the cloth will be painted – safely refuse to buy, otherwise you'll have to wash the uniform by hand. Also note how very wrinkled fabric. Squeeze the material with wet hands and evaluate the results. If the fabric is mixed (70 to 30 or 80 to 20) and high quality – it's not supposed to wrinkle so that it was noticeable.
3. Some parents prefer to buy for the baby separate summer and winter sets of uniforms. And this is logical – the weather conditions in Russia do not imply a uniform dress code during the whole year. Summer is the perfect fabric consisting mainly of cotton, but with winter more difficult. Of course, the ideal option here would be tweed. But, honestly, it's blasphemy to place the student in the expensive fabric of the British aristocrats and hope that he will treat it with care. Is a common coat, and, believe me, is a very good option, the main thing – to check out her "prickliness", but it's completely manageable – just attach the cloth to her cheek.
4. Buying a ready-made uniform for a boy, note the Trouser braid, which is highly desirable, because it protects the bottom of the pants from rubbing.
5. As for the form girls, this is much easier. If there are no hard rules prescribed by the school, then the best option can be called a sundress, with a large number of advantages over conventional set jacket + skirt. Sundress is easier to iron than a shirt, it goes well with turtlenecks, and most importantly – does not require special care and protection from the cold the lower back, which is probably the most important, if we are talking about girls. Among other advantages of the sundress it is possible to allocate also the fact that he does not have to match the color with the jacket. So you can just buy more sundresses and single jacket variety will not miss.
Given all these simple recommendations, you will be quite easy to choose the best fabric for school uniforms. The main thing – to have time and patience, and to listen carefully to the wishes of the child, because he had to wear this suit almost daily for a long time, so he must like it in the first place.
Source: domashniy.ru/