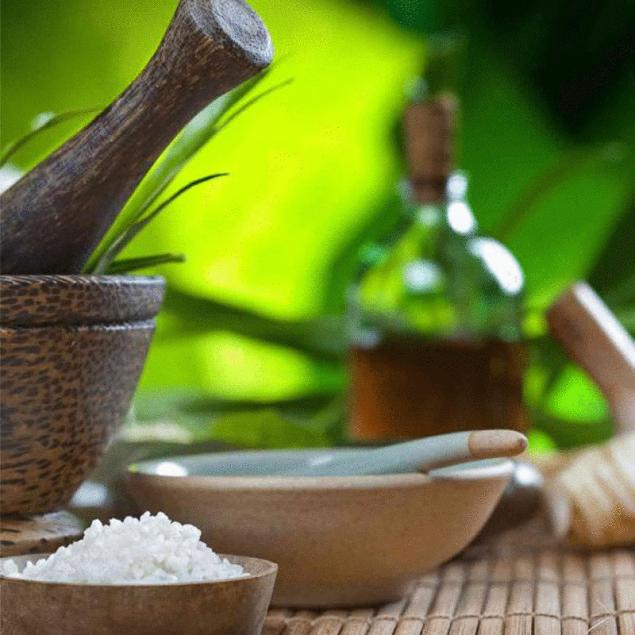 TURMERIC is considered a female spice and is an excellent base for masks and scrubs.
Turmeric, due to its medicinal properties — anti-inflammatory and antiseptic, used in the preparation of face masks, mostly for redness on the face and acne. Turmeric has a strong antioxidant effect, promotes rapid healing of wounds, dissolves scars, improves the complexion. Strong antiseptic, bactericide — relieves itching and skin irritation. Turmeric in masks use for treatment of inflammatory processes on the skin, smoothing wrinkles, healing the cracks, ensuring the flow of blood.
Rejuvenating mask from a turmeric for the person.
1 tsp turmeric, 1 tsp of milk or cream, 1 tsp of honey, mix the components and apply on cleansed face for 10-30 minutes. To do the mask in a course through the day. Visible result after 2-3 masks. Effect: reduces inflammation, rejuvenates the skin, smoothes scars, improves the complexion.
For vascular skin mask with honey is not recommended, you can replace the honey for another component, such as peach oil, aloe juice, or other suitable for your skin type.
To make a mask with turmeric better in the evening before bedtime with gloves or applying with a spatula or a brush, because on the nails yellow-orange pigment lasts much longer. To solve the problem of yellowness of the face: wash with oatmeal with yogurt + a little lemon juice.
Pasta is a balm for the soul — scrub with turmeric for the body.
Recipe: 3/4 Cup sugar, 2 tsp turmeric, 1/3 Cup of vegetable oil, a few drops of essential oils at your discretion.
Mix all ingredients until the consistency of paste. Take a warm shower and massage the skin paste. Take a shower, RUB the skin with a sponge soaked in yogurt, and again rinse with water. Do not worry if turmeric gives the skin a yellowish tinge, hot water it will wash. Do not use this scrub on sensitive or injured skin.
Effect: exfoliates and refreshes the skin, rejuvenates and smoothes the skin, refines the skin, nourishes.
Vitamin, anti-inflammatory mask with turmeric for inflamed skin.
Mix 2 tablespoons of turmeric with 3 tablespoons of sprouted soybeans and crushed with 1 tsp of honey. The mask should be creamy. If the mask is very thick, you can dilute a little boiled water. The mask is applied for 15 minutes, remove best wet soft towel and in no case do not RUB. Sprouted soy beans, a real multivitamin concentrate. Turmeric has a healing effect.
The mask should only be used if you have problems with the skin and not more than 1 time a week.
Mask for oily skin from acne and pimples.
Mix 2 tablespoons of white clay with 1/2 teaspoon turmeric and 1/4 teaspoon of burnt alum.
Spread 1/3 of the mixture in a bowl (the remaining dry mass can be stored in a tightly closed jar). Dilute the mixture with a little water or tonic and add 2 drops of lavender essential oil or tea tree.
Leave on for 10-15 minutes. Rinse with cool water. Effect: cleans pores, heals and prevents acne, skin roughness, improves the complexion. For oily skin make a mask as a course 1-2 times a week. Mask with turmeric is better to do before bedtime. To enhance the effect of the procedure, it is possible to steam the skin before applying the mask. In the pores accumulate toxins and fat, and the steam will help to open them up and clean and make the skin more susceptible to the effects of turmeric.
The recipe is very good face pack: gram flour mixed with sesame oil and applied to the skin. In General, sesame oil is very useful for external use as masks for hair, face. It is often included in creams. The most common use of it as a cosmetic product is like a cream against sunburn. Sesame has an amazing property not to pass ultraviolet rays. It is also useful for burns, wounds and abrasions. Sesame relieves irritation and redness, helps rapid healing. If You have dry skin, this natural cream will help to solve this problem: 3-4 drops of ginger juice (grate ginger root and squeeze) mix with sesame and apricot oil (2 tsp), add vitamin E (2 teaspoons) and cocoa butter (100 g). All of this should be placed in a heat-resistant bowl and place in the oven for 5-10 minutes at a temperature of 70 degrees. Thereafter, the mixture was stirred well and put into a clean container. Store in the fridge. published
Source: larisamarkova.livejournal.com