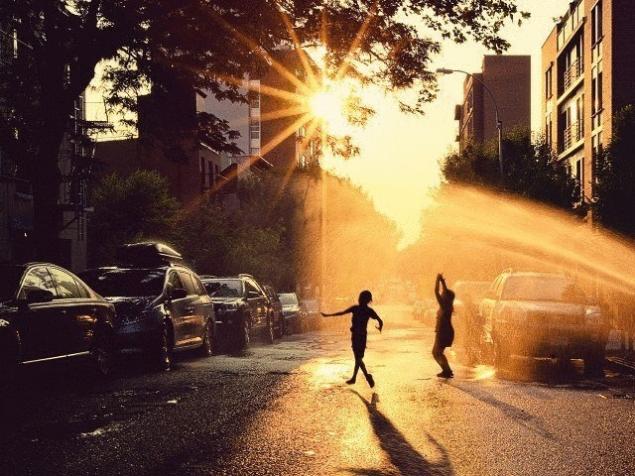 "He who is not in love with the Almighty" — said the Redhead, and I still can not get used to this feeling, greatly exaggerated, misleading, lightness of being, like weakened gravity and air resistance, and you wave someone like you throws up on the ground on two feet; they were heavy, and she was center; you could balance with it, like a tightrope Walker; now you're a little go mad from the gratuitous simplicity of life — and of his own absolute innocence to her.
There where always sick, not sick, and this town has got to examine each other's wounds, peel off, peel, precocity language, shake his head and to sympathize with; if you are clean and don't complain about anything, the others instantly lose interest in you and switch to someone suffering; it is the only city I know where detail and many adjectives to tell about how you're tired, exhausted and hesitated — then present the result of your work; fun and sparkle to talk about how you abandoned, weak and unhappy — so to convince everyone that you're remarkably delicate creature; to have a more exotic injury and this injury haggling means to succeed; there is no relish failures, breakups and losses, never do such a cult of the crimes, scandals and disasters, as here; great breakthroughs and discoveries here look officious hypocrisy and demagoguery; small victories, achievements and successes here seem inappropriate, as a joke at a funeral, you are always a little awkward for them, as for the man in the next seat in the theatre which in the middle of the play the phone rings: "come here and shout there yourself, too, my boy, we've got autumn, shit and COP brutality, we have corruption, creative impotence and the sun in a billion years heated so that the whole Earth will be one continuous Valley of Death, figley you're happy here, out of sight — is telling you the space and you Yes, you obediently stop smiling.
So for ten days I was invited, but believe that all so sure stupid and cheap, I don't want; for me, six months ago, in India, happened to me what normal people called to believe — the first time something cleared up about death, God, structure, balance, and justice, have become ashamed of many of their words, eliminated many questions, and now I final a fatalist, a pantheist and a center of disgusting cheerfulness; because if you don't see good, it doesn't mean that the world is rotten, it just means you have shitty optics, and nothing more; with the world all was in order, there will be after us, and we with all our desire will not be able to break.
Since then, as you smear your personal enlightenment, you will be a small, optional, and happy; don't be so fanatical hoard things, carrying around a cloth and to value other people's opinions (it all just happens: you cease to be so interesting to fly, as before, you'll be a lot easier to endure physical pain and would never climb any Google or blog.Yandex to see what their personal hell the people who enter your name); things like death and worms under the ground, will cease to frighten you, people like traitors, will cease to inhabit your head, and much more important than how much a person earns and any trades person will be well if he laughs, happy with yourself and do what you now know. Its calculated at lightning speed, the need for others disappears pretty soon.
You're a piece of colored mica in the mosaic of this scale, you would be embarrassed for all solipsistic attacks of youth, these childhood diseases as be jealous of, to convince everybody and offended by the neglect you, thank God, will leave; religion will be just one or another variety of Convention between people, some form of regulation of society, is quite effective, by the way; news retold by mom begin to laugh, as predictions about the end of the world in 1656; you will be a little uncomfortable because you can't seriously share anyone's worries, sometimes distinctly smell the episode in "the Matrix", when matter breaks down into the green columns of zeroes and ones, everything is just patterns and cycles, nothing new; but in General, it becomes easier and harder at the same time: you used, for example, knew that you can go out the window and make it all go away in one second; now you know that nothing can not stop.
What are we, though? That love is a very grounding; sought kontaktik that this whole vast machine of the universe to you is attached. When no such contact, feel like an astronaut detached from a ship in outer space: it's beautiful, but fucking cold.
Cold, Yes.
Vera Polozkova    
Source: sobiratelzvezd.ru/esli-ty-ne-vidish-xoroshego-eto-ne-znachit-chto-mir-protux-eto-u-tebya-xrenovo-s-optikoj/