I like to watch, to watch their son, for their loved ones to watch myself. This observation is not always pleasant and sometimes very painful, but the pain exceeds the interest component.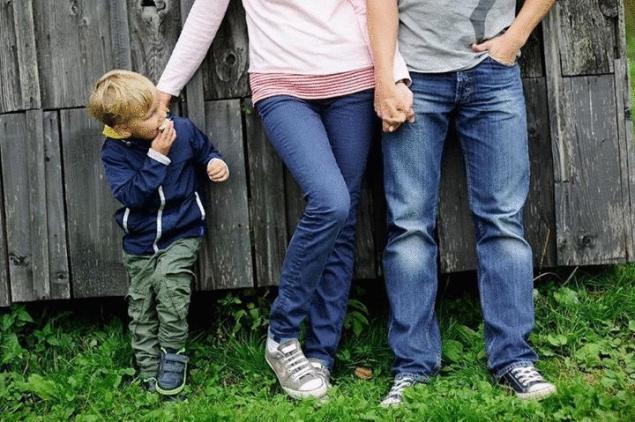 Serving his last three years and analyzing myself and the life around, I see that I have traits that have remained the same, but there are aspects that have changed, which have become deeper, which became wider; some disappeared altogether. A huge role in my transformation was played by the motherhood. As far as the development of the child helps us to accelerate the pace and degree of maturity? Can the immature mother to raise a child and to grow not at the expense of the baby, and next to him? Why parent-child relationships give the strongest impulse in the process of psychological maturation?
From the point of view of the model of personal development Gordon Neufeld maturity stems from three intertwined directions of factors. In my example I need to show, both from the girl who avoided responsibility in everything that were looking for a relationship where it was enveloped with care and affection, which is said to myself: "I can't do it alone", slowly grows more Mature people.
The factor of resilience.
Resilient people are able to confront the difficulties and adapt to changes.
When in my life appeared Plato, me from the first minute felt that easy to me. From the first day he slept at the breast and was awake in my arms. But it is the forced rooming-in, gave the first fruits in our relations, which develop and deepen in the direction of a trusting relationship with the son.
The first tears that you can't get in the shower and quietly alone for 15 minutes. And the first creative solutions, as spend everyday together and at the same time to have time to do household chores so it was a joy to all.
The first disappointment that the baby is not just sweetness, joy, but also a lot of work. As well as first feelings for this man I'm ready to push their needs and create a helpless creature an atmosphere where he will feel that mom is going to hear that mom is going to help that mother.
First breakdowns out of sheer desperation and feelings inside that "jatecblog". The first gaps in the end of the tunnel, the first experience that the difficulty is not the end of the world. And down in your resource to the bottom, through the adoption itself is not ideal, through the vision of herself as a little baby that can't do EVERYTHING and do it perfectly, I began to feel that there is, in this ray, there is a desire to live, to love, to breathe slowly and to go step by step further.
The factor of viability.
Resilient people are able to function separately and independently.
When my Plato, my whole reality is twisted and turned upside down. Of successful office girls I had come with anyone. No more heels, manicure, praise leadership, those external props, which formed my self-esteem. But such nullification prompted you to look inside yourself to see where the emptiness and begin to grow yourself as a person, to determine interest at heart, to find time to study not for a regular crust, but because it's interesting to try to convey their point of view, despite the fact that she can someone not like it.
The birth of his son showed how much had his time before and as it is almost gone. And a shortage of private space showed the value of time the value of quality of days, the value of their own desires and their implementation.
The factor of integrative thinking.
Integrative person is able to take into account their feelings and the feelings of others at the same time, their point of view and point of view of others at the same time, is able to simultaneously be "together" and "separately", can be a social person without losing your own individuality.
When in my life appeared Plato, I felt such a burden of responsibility which I was not prepared. I really wanted to be a good mom, but I was just a child who needed constant care and attention. The birth of Plato has led to discord in the soul: on the one hand I like the lightness and lightheartedness, and with another – my little man needed me in the air. Such an explosion of their own and others ' needs was very necessary, and further I saw that look for a balance of sensations – is the task feasible for me. Taking tantrums and demands little of Plato, I am learning to catch its threshold capacity of emotions.
Moments when you feel that you are not enough, and go cry in the shower the accumulated tension because you don't want to take it out on the child, which still need to be put to sleep.
The moments when hand raised to hit her baby, but have time to stop, exhale and see the man who can't control their emotions.
The moments when you have planned for the baby's sleep to listen to a webinar or read an interesting book, and the child wakes up in half an hour and you exhale, leave the planned fad "until better times".
The moments when you realize that the baby is growing and you have a whole life ahead to implement their plans, and eventually he won't need as much physical presence near, how much more does crumbs.
Why parent-child relationships give the strongest impulse in the process of psychological maturation? When I look at my relationship with my husband, I periodically find myself inside rises the desire to shift on shoulders of the husband and his part of the responsibility for the relationship. Plato I have no such possibility, and the responsibility for our relationship with lies for me. And, of course, there are frustrations when I want to "drop everything" and just curl up. Such a situation shows me that I'm alive, imperfect people, but they also show me that with my son I want to be better, I want to grow up and be decent adults, guide to starting their journey.published
Author: Daria Zakharova
Photo from archive of the author
P. S. And remember, just changing your mind — together we change the world! ©  
Source: alpha-parenting.ru