As disposable things affect the environment and human health, what are the green alternatives? Man has always sought to simplify my life. Trying to save time and effort people, for example, use disposable dishes. But if it saves your resources? Project #Roseko answered this and other questions in their infographics.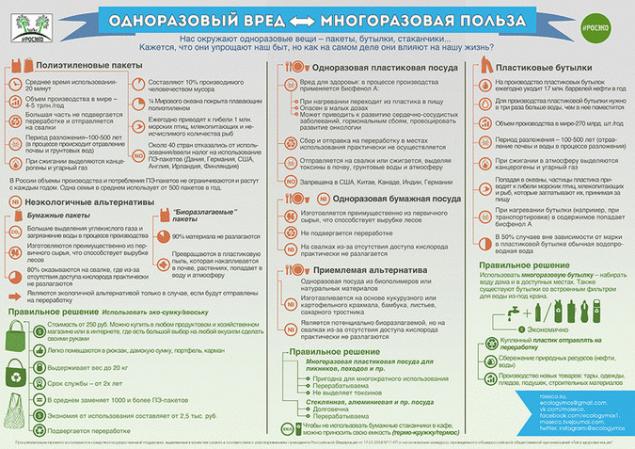 According to statistics, 10% of mankind's garbage is plastic bags. Such a waste, like any other plastic, decomposed from 100 to 500 years, poisoning the soil and water during this process. Against the background of centuries in 20 minutes, and that is how much is the average usage of a plastic bag seem to be just negligible.
Mostly disposable garbage ends up in landfills. First, the landfill is constantly burning. During the combustion of packages, for example, emit carcinogens and carbon monoxide, and plastic plates and bottles – bisphenol A, which even in small doses can lead to the development of cardiovascular diseases, cancer, hormonal issues. Moreover, a plastic plate does not have to burn to bisphenol started to stand out. When we put hot food on it, this process is already happening. And poisonous compound penetrates straight into food and therefore into your body.
More dangerous are disposable packages and plastic and animals. Every year about 1 million sea birds, mammals, fish die due to the fact that swallow the plastic and polythene, taking it for food. Such cases are frequent, since a polyethylene having covered a quarter of the World's oceans.
What a way to deal with this problem? To make it a lot easier than it seems. It suffices to find disposable things eco-friendly replacement. Eco bags and shopping bags can be a great alternative to a tremendous number of packages that the average family uses every year (over 500 pieces). These bags are recycled, and in addition, save your money on 2-3 thousand rubles, since the term of service is more than 2 years.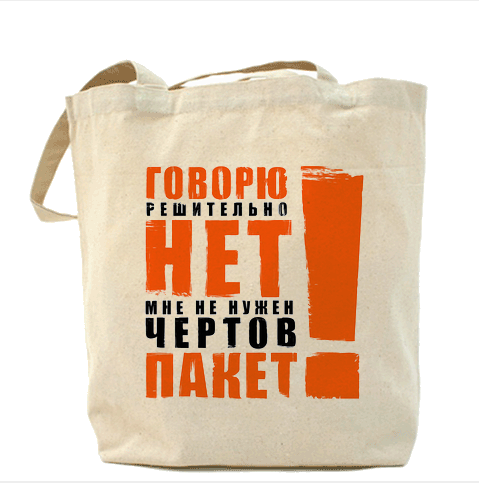 On picnics instead of disposable utensils it is possible to take plastic, glass and aluminum cookware that is not only reusable, but also recycled and does not emit toxins.
The problem with plastic bottles at the household level is also fairly easy to solve. It is only necessary to use a reusable bottle and get water at home and in accessible locations. By the way, the more this habit can simplify bottle with built-in filter that you can simply run the tap water now available in the online stores. This is a substantial savings as the scale nature and scale of your wallet. Did you know that for the production of disposable plastic bottles have three times more water than in it then fit?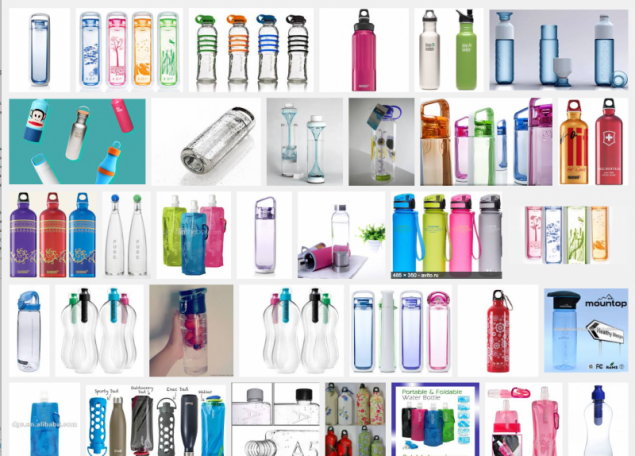 Well, if you still had to buy plastic bottles, then take them to processing. This will save natural resources, and will allow to produce new products from recycled materials.
However, choosing a replacement disposable things, you should be careful and not be deceived by the supposed environmental friendliness of some alternatives. For example, paper bags and paper tableware. Their environmental impact is almost zero, if only because they are made mainly from primary raw materials, and therefore contribute to deforestation. In this paper production is, generally, and even more carbon dioxide, and water pollution. Besides, in landfills due to the lack of oxygen packs and plates, of paper almost does not decompose. Conclusion: paper bags can be considered an eco-friendly alternative only if they are recycled.
About 40 countries, including Denmark, Germany, USA, England, Ireland, Finland refused plastic bags or imposed a tax on their use. But to start certainly to each person it is necessary from itself, and then there is a chance that it will work at the state level.
Activists urge all not to be lazy and not shift responsibility to others, and to really choose the correct alternative to disposable things today. published
P. S. And remember, only by changing their consumption — together we change the world! ©  
Source: www.ridus.ru