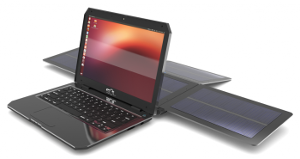 The world's first laptop, powered only by solar energy, recently submitted by canadian telecommunications company WeWi Telecommunications, reports futura-sciences.com.
Symbolically named Sol laptop is powered by four solar panels and has a total of 10 hours of battery life, loading occurs within 2 hours, the price of the device starts from 260 euros.
Solar laptop that looks similar to a satellite with LCD monitor, you can connect to the Internet, the laptop is protected from moisture and equipped with a processor Intel. In addition, futura-sciences.com. reports that it has Bluetooth* and GPS.
The company has not yet named an exact date Sol on sale, but assured that the only condition for the smooth functioning of the laptop is sunlight. published
P. S. And remember, only by changing their consumption — together we change the world! ©
Source: www.ekopower.ru/?p=2159