If you want a car that can drive on sand, mud or rocky terrain as well as on smooth asphalt, then you are likely to choose a four wheel drive technology. Who said that it should not be attributed to such transport, like scooters? Model eGroov uses an electric all-wheel drive, whereby the control becomes easier and modular components that provide excellent comfort.
We start to make a list of the best technology for off-road, before reaching the queue a modest electric scooter with automatic transmission, we would have ended up with ink. However, the developers of the company eGroov Mobility Systems, located in Paris, think differently. According to them, you can create a scooter that is able to drive on any type of terrain with so quiet and calm operation, how will afford it opportunities.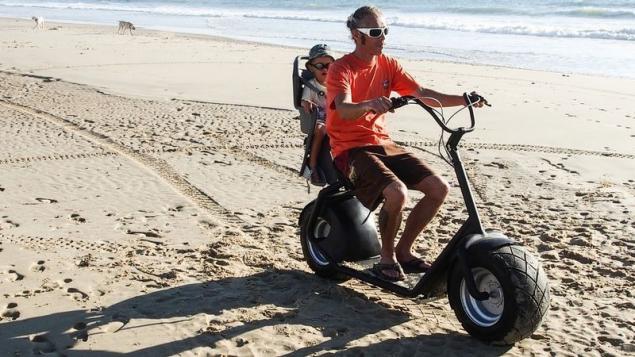 Scooter eGroov a bit like a model "Daymak Beast", but without the pendants, and the principle of work for solar, but with an additional electric motor, which is not in the base set. Scooter Daymak is 2-motor variant of the technique, his engine called "Beast D". eGroov has the engine at 250 W in each wheel that provides the scooter or all-wheel drive. This allows the technique to easily drive through mud, sand and even clay. To be sure, the massive wheels will easily cope with off-road, which will combine all of the above types of surfaces.
Scooter еGroov can be equipped with one or two 12 amp, lithium-ion batteries, 36 Volts each, which provides a drive distance of 15 to 20 km with only one battery. If you add another one, the index doubles. In both cases, its maximum speed is 25 km / h With a load capacity over 120 kg, he can carry on themselves the average person all the required load, which can count on the driver of a vehicle of this class.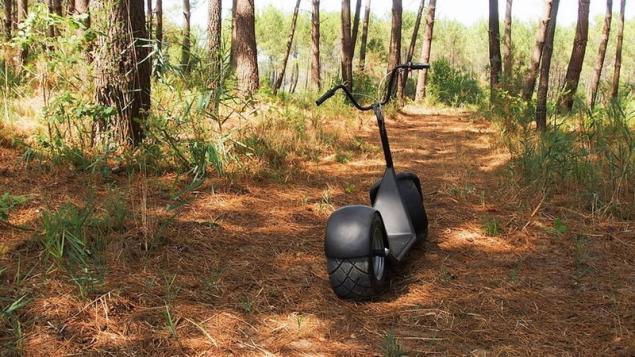 Battery two battery is integrated under the lower panel technology to make it easier to keep balance. The charger can be removed for connection to the network is very simple, only need to raise the lower panel. By the way, nobody forbids to charge the scooter, do not leave your device. For each such battery, a similar process will take 5 hours.
Basic eGroov is a 55-pound scooter with the ability to put your foot ahead, with the above-mentioned range characteristics of design features and dual disc brakes. Model eGroov+ – this is a more versatile workhorse, with the same mechanical devices with a seat and cargo box. The latter can be extracted to release the other separately sold accessories, including child seat and fasteners for Board surfing. Scooter eGroov+ weighs 65 kg.
The company еGroov Mobility Systems trying to save money crowdfunding, offering to spend for the base model scooter 1690 euros (about 1925 dollars.) and from 2,490 to $2,950 dollars. on eGroov+ (with the additional seat or cargo box). Each includes one battery, additional can be purchased for 290 EUR (330 USD). If all goes according to plan, the company eGroov will begin its deliveries next year.
The following video vehicle eGroov looks like a great option for absolutely different purposes, for example, transportation of a surfboard, for a distance of several miles along the sandy beach. However, the portion of the video leaves a sense that the described technique is too huge and heavy for urban transport and does not have the required power for extreme driving.published    
P. S. And remember, only by changing their consumption — together we change the world! © Join us at Facebook , Vkontakte, Odnoklassniki
Source: gearmix.ru/archives/22991