The color of the interior can tell much about the owner of the premises. The lilac color choice for finishing and decorating the inherent sophisticated creative types. For many people the color purple can be a source of inspiration.
The color purple regardless of style can contribute a touch of lightness. This color is able to create the impression of weightlessness in space, to give a sense of being outside space and time. Since this color has a strong impact on the perception of the person. I believe that this is the origin of purple as a combination of red and blue, which are also very active and affect perception.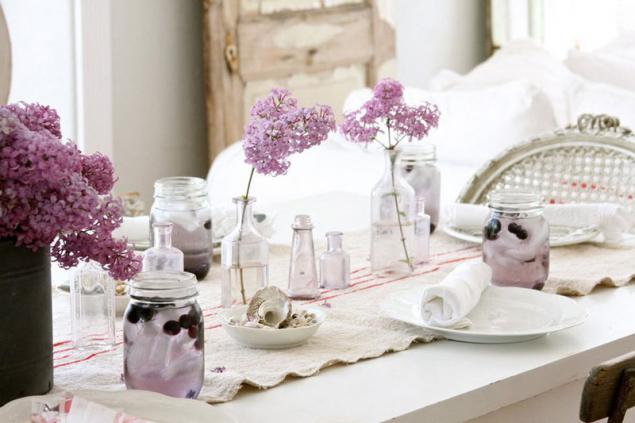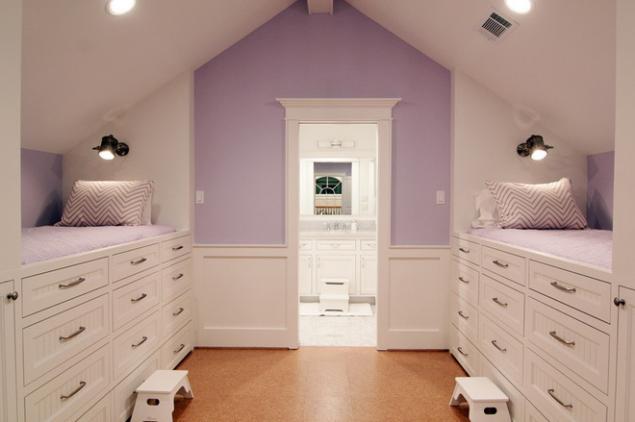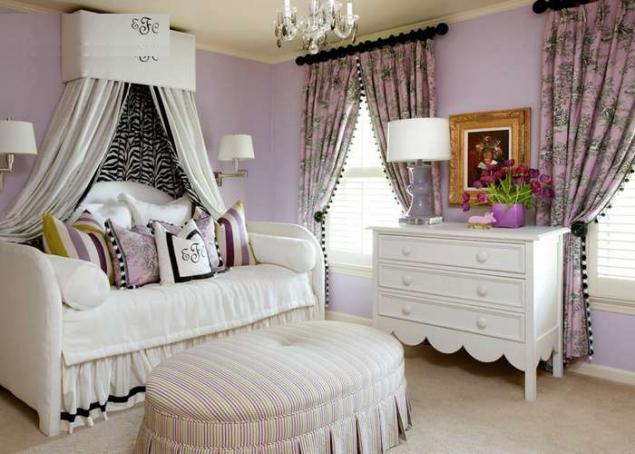 There is a perception that the color purple should not be used for large living rooms where people spend a lot of time and it is better to give preference to this color when decorating small spaces. This is debatable, because it depends entirely on the wishes of the owner of the premises. If a person feels comfortable in a lavender interior, why not decorate colour a living room or bedroom.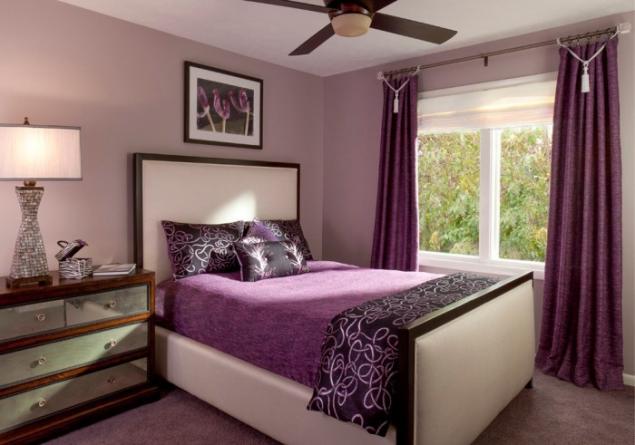 The level of comfort perception of the lilac color is also affected by its intensity, because purple has a lot of tones and shades  
Lilac in the living room
depending on the goal of when decorating a living room in purple needs to be changed. If in the living room, you must create a zone that will become focus areas, you can choose a rather intense shade that will attract attention. The rest of the living space is possible to obtain either less saturated shade of purple, or color, which will be in harmony with him.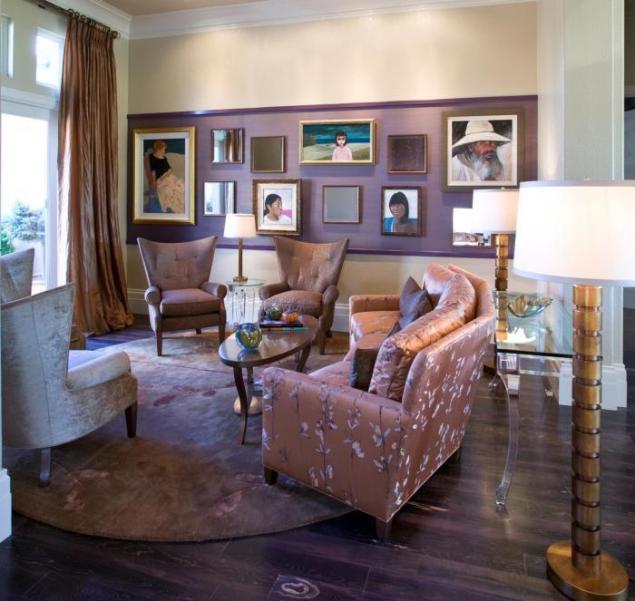 Highlighting a fragment of the walls a rich purple, it is possible to place family photos, paintings or murals. Such items will attract the attention for a moment. But to place the TV in the background such a bright accent of the interior is not worth it.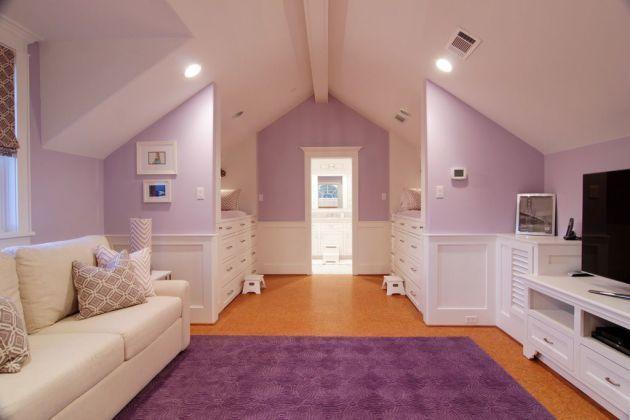 If the living room is planned to create a relaxing atmosphere conducive to relaxation, you can use the muted shade of lilac. Against this background, the walls will look harmoniously with a variety of decorations. The TV also will fit well with this color scheme since the walls will not detract from its viewing.  
Purple bedroom
design bedrooms in purple color you should consider the light level of the room.
The interior is well-lit room situated on the Sunny side appropriate to be more cool and vibrant shades of lilac. These shades will help to create the room a light airy atmosphere with a hint of pleasant visual feel of coolness and freshness.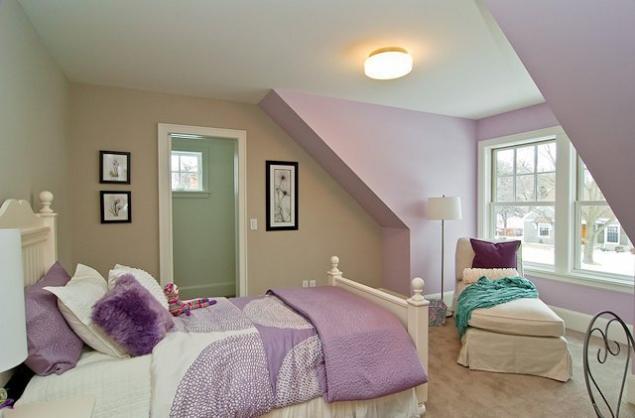 For dimly lit bedroom is better to choose warm and muted shades of lilac. This will allow you to create shaded from sunlight the room an atmosphere of warmth and coziness.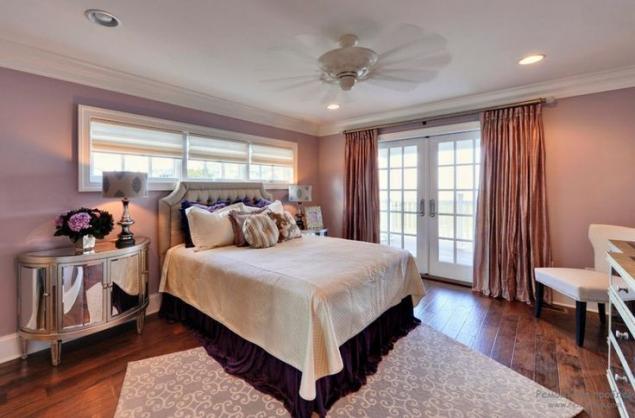 Lilac in the nursery
Lilac is one of the most popular colors for baby room. It is perfectly suitable for both girls and boys rooms. If you have a color preference which is given depending on the age and sex of the child, the lilac in this respect is universal. It can be used up to adolescence.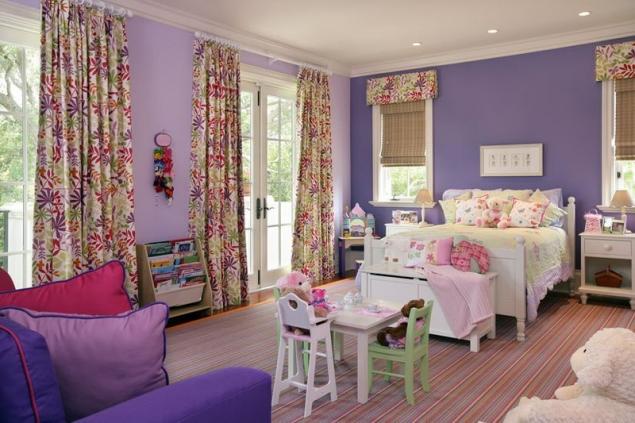 Choosing the right saturation and tone, you can create an interior that will have a positive impact on a child's development, because purple is very good and provokes the activity of the brain.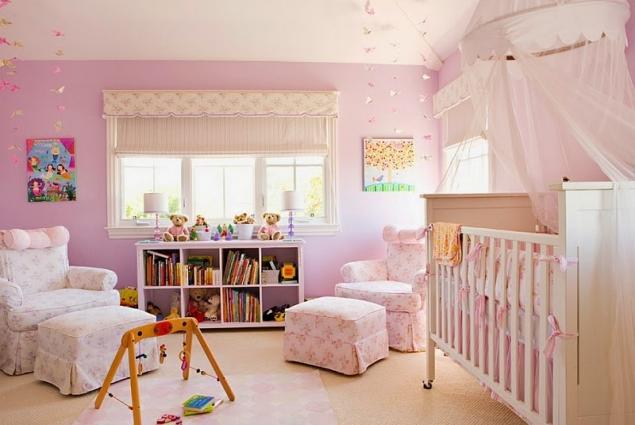 Lilac room can be a wonderful place where the child will be able to relax and to draw new ideas for their creative endeavors.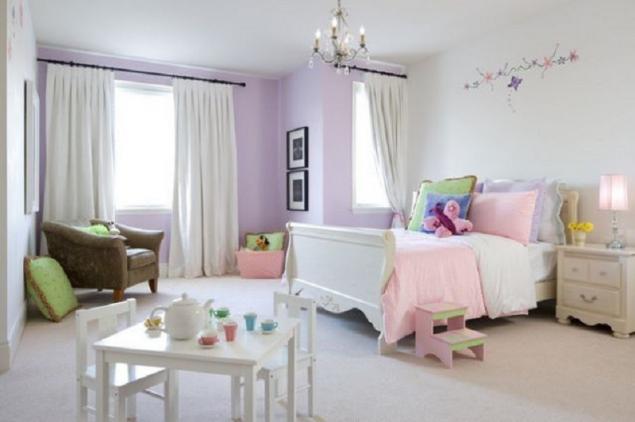 Lilac in detail
If for some reason it is not possible to perform the decoration of the walls in lilac, but this color is one of the favorite, you can use decorations in purple tones. The main thing is to be well combined with other colors in the interior.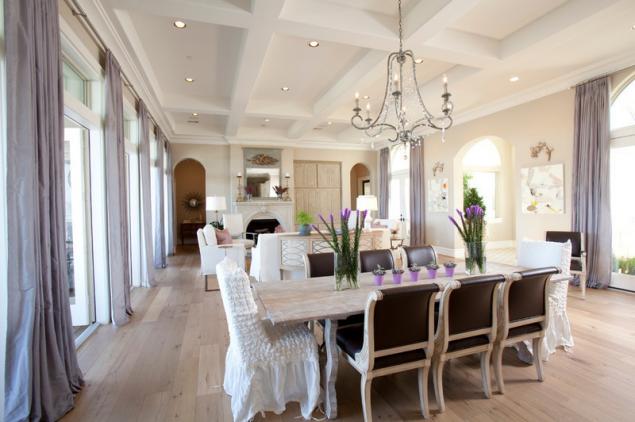 The living room can be decorated with bouquets of lilacs or lavender. Will look great vase or decorative flower pots.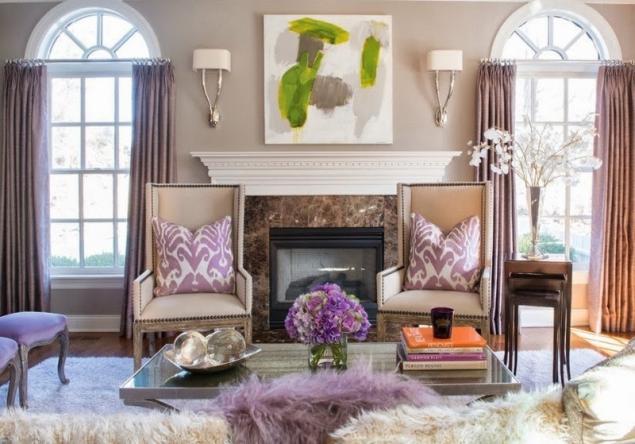 Decorating purple interior decor, you can use pillows in this color.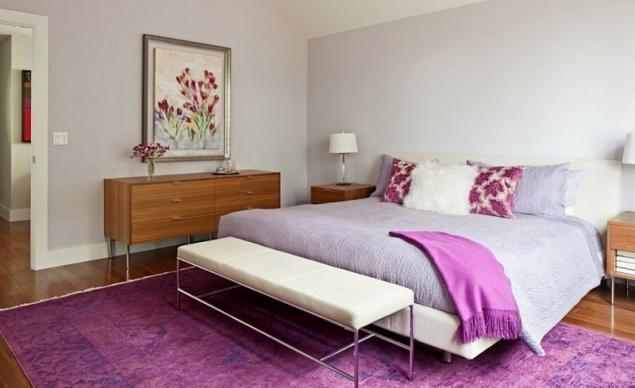 For bedroom decoration, you can also use this element of decor as a pillow.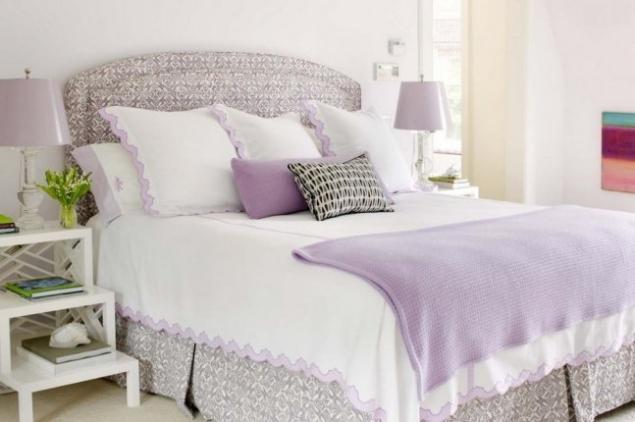 Lilac plaid, a blanket or a rug will add bright colors in bedroom interior, decorated in relaxing tones.  
The combination of purple with other colors,
Purple is combined with white and all its shades. Interiors are decorated in this color scheme can be called a classic.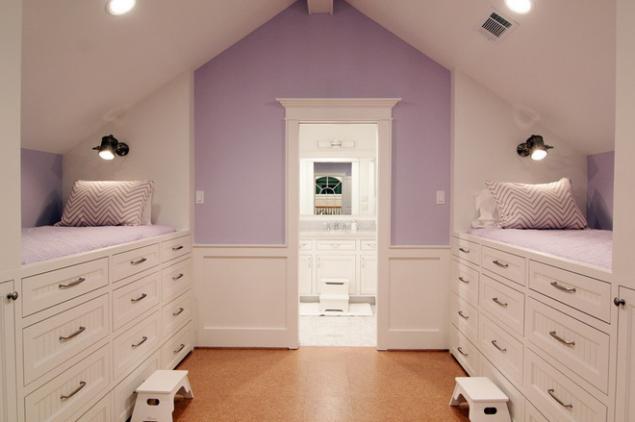 Also harmonize very well with purple grey and all its shades, and black.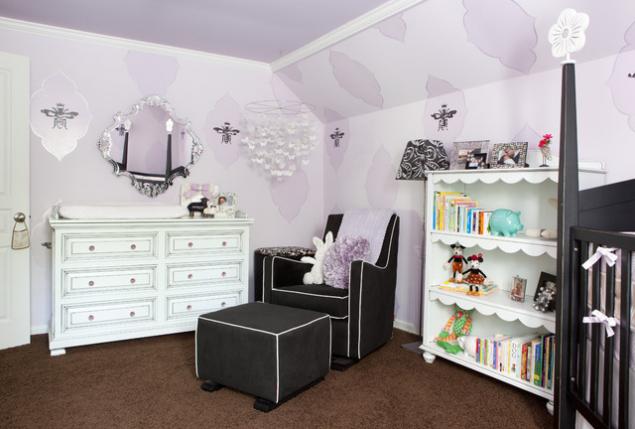 But to pick up other colors need very carefully, considering all the features of the interior. So for example, even when using colors that comprise purple (blue and red) do not allow frills. These colors need to be included in the interior of small fragments or patterns.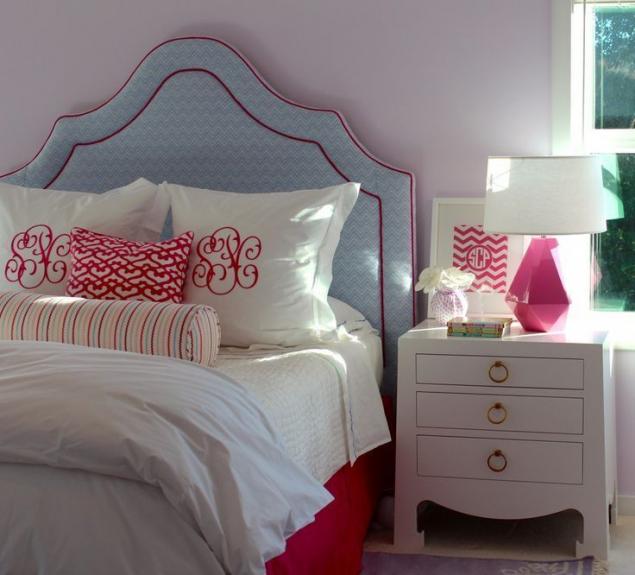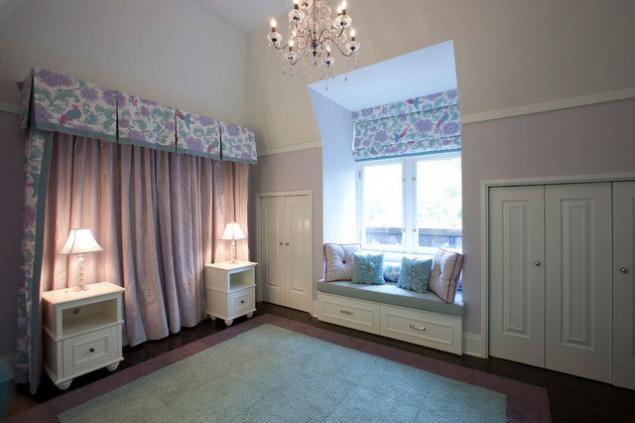 published
P. S. And remember, only by changing their consumption — together we change the world! © Join us at Facebook , Vkontakte, Odnoklassniki    
Source: www.remontbp.com/sirenevyj-cvet-v-interere/