The use of clean and renewable light source – the sun – in this led lamp can help families in developing countries to avoid the negative consequences of the use of kerosene lamps or candles for lighting. So says an American company Nokero, which recently introduced its new product, positioning it as "the most effective lamp powered by solar energy."
This device is called N233 designed for daily use in all conditions, provides sufficient lighting for doing homework after dark, being charged to do this in just one day.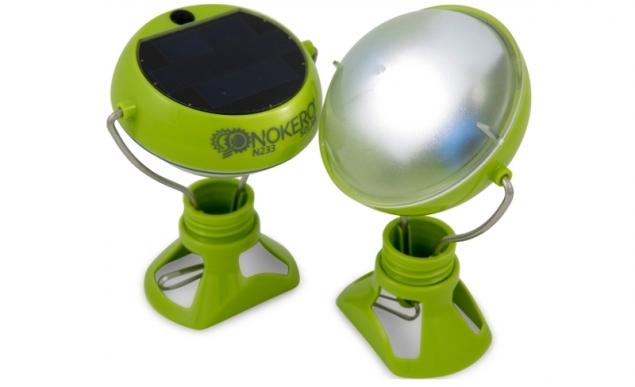 Efficiency available on the market today lamps powered from built-in solar panels, achieve at best 300 lumen-hours per watt. However, thanks to new technology of converting sunlight into electricity, new solar led lamp N233 provides efficiency 700 lumen-hours per watt.
Small enough to fit in a pocket, but bright enough to be truly useful, and durable enough to withstand daily use, lamp Nokero N233 is the universal solution as a emergency or backup lighting. Lithium-iron-phosphate (LiFePO4) battery capacity 500 mAh more than 2000 cycles of charging/discharging, fully charged from the solar array of SunPower Maxeon for 6 hours. I fully charged the lamp will Shine for 6 hours at maximum output (25 lumens) or for 15 hours at medium power (10 lumens). In addition, the battery can keep it charged for up to 18 months.
N233 can be hold in hand like a lantern, or hang in a convenient place for the pen. Installing the device on a basis, you can use it as a table lamp. However, this led lamp, thanks to its light weight (85 grams) and size (11.4 cm x 8.3 cm x 3.8 cm), will become an indispensable tool for travelers, you can include it in the Toolkit for emergencies.
It remains to add that the cost of new led lamps on solar batteries is now $ 18. Given that the bulb need only sunlight, and not kerosene or another fuel, it may be the economical solution for any family.published  
P. S. And remember, only by changing their consumption — together we change the world! © Join us at Facebook , Vkontakte, Odnoklassniki
Source: www.cheburek.net