For the arrangement of the English lounge suit ornamental Wallpaper, upholstered furniture with floral upholstery, and Oriental rugs and traditional porcelain.
The concept of "living English" is very vague, this image evolved over the centuries and it comes from Victorian England, when the interiors of the English houses began to decorate in the eclectic style. It is this style called Victorian classic. Today it is still in Vogue, although it has undergone many revisions.
But in spite of all editions are still things which are inviolable and are the basis of the English style.
List them.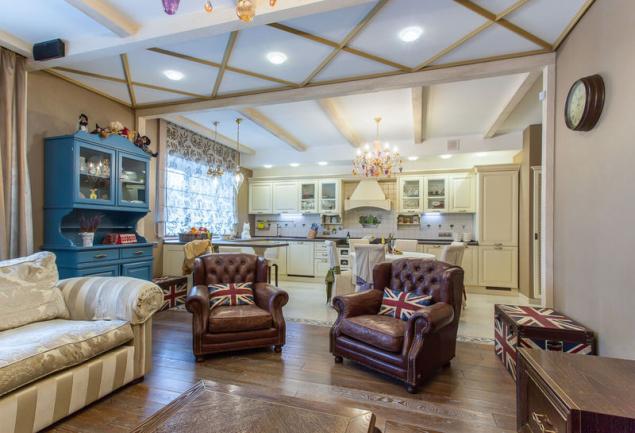 First, it is a love of the English to the floral and ornamental Wallpaper,
which is highly fueled by the famous William Morris, the author of many floral decor for Wallpaper and fabrics.
Second, the abundance of upholstered furniture
. A small two-storey houses and apartments of the British was filled with sofas and armchairs, which were located everywhere: in the office, the library, but mainly in the living room with a fireplace.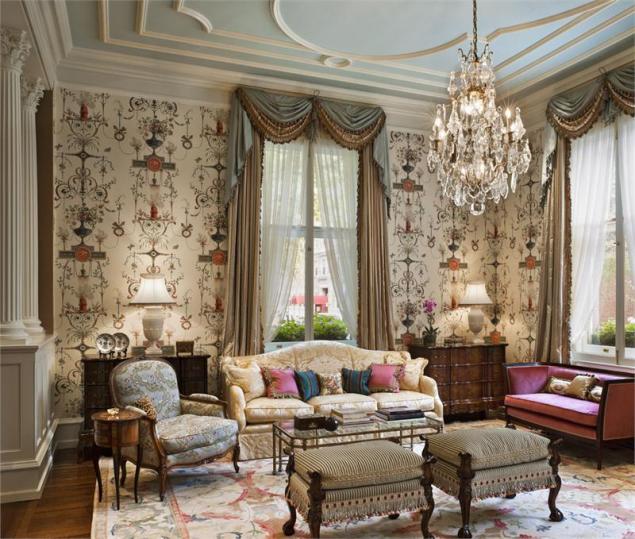 Third, the British — passionate lovers of gardens and parks,
loved floral patterns with which they decorated their interiors in large quantities, along with ornaments in the form of a cell and strip. Therefore, floral, striped and plaid Wallpapers, upholstery and curtains have become an integral feature of the English living room.
And finally, accessories and art.
As you know, former empires always enjoyed the luxury of colonial goods. Britain is no exception. Here have always appreciated Eastern silk, embroidery, but especially, luxurious carpets. Still, the British prefer to see in your living room with a nice Indian rug, soft and cozy.
And yet, educated Englishmen have always been passionate collectors, collecting different beauty: Japanese pottery, Chinese porcelain, paintings and graphics. All these collections are exhibited for viewing and decoration of interior room. Cupboards and shelves has become showcases for Oriental tastes, and the walls tightly zaveshivali series of paintings and drawings with scenes of hunting and horseracing — a favorite entertainment of the English gentleman.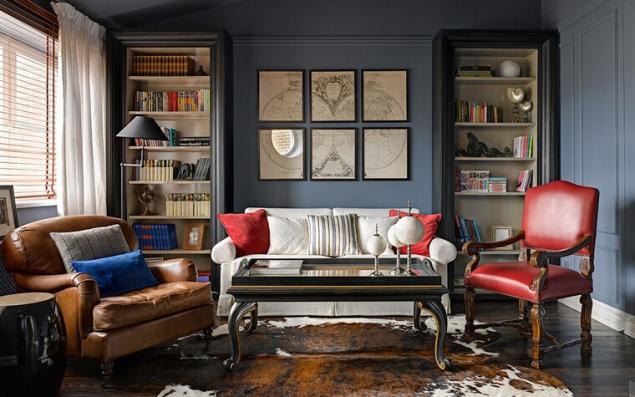 Dark walls — it is also very English. Especially if their background is exposed bookshelves and map of the world in a unique way.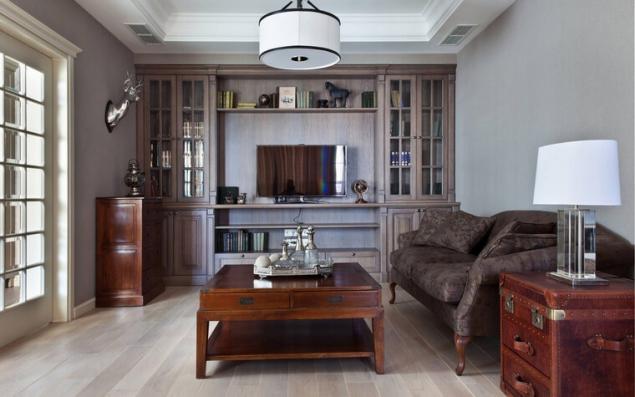 For the living room in the English spirit is always suited leather sofas, tables and chests of drawers, mahogany, and decor — hunting trophies, even in the form of an art object (sculpture deer head).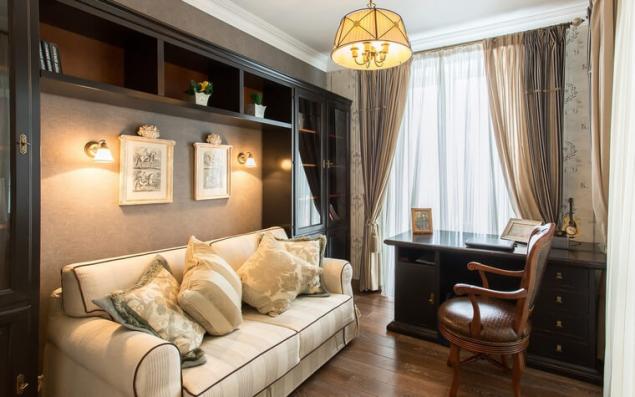 A sofa with lots of pillows, dark wood furniture and finishes, soft cozy light — is not the good old English classic?!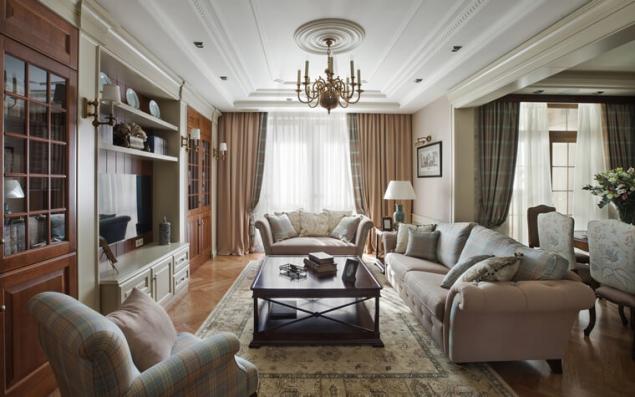 Sofa group is on an expensive Oriental carpet in the background of lush window Drapes. From this composition I would not mind either one, respects traditions, English.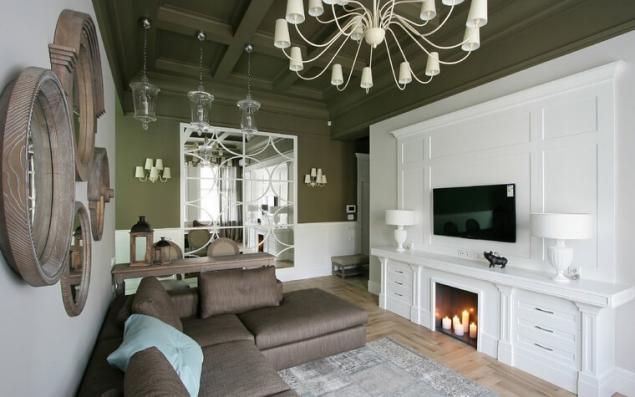 Dark green walls and beamed ceiling in the same color. Against this background, impressive look of a huge white chandelier and wall panel with built-in fireplace. Here's a fashionable English classic!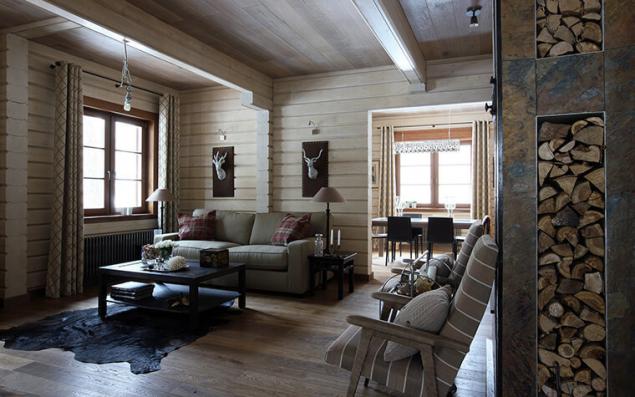 Living in a country house decorated in the spirit of Russian and English traditions, of course, fashionably styled. English from hell - striped upholstery and a pair of decorative "horned heads".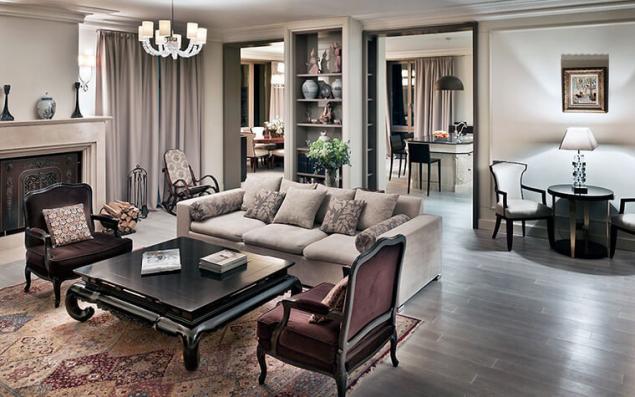 Traditional English interior mise EN scene — the set of furniture on Oriental rug next to the fireplace.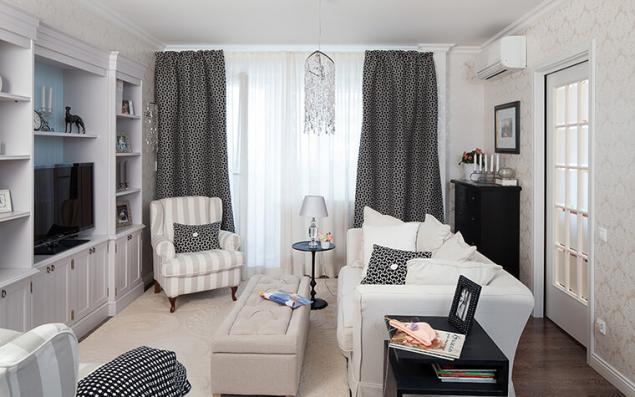 The eccentric British love bright and rhythmic fabric in the upholstery and the curtains, especially stripes, checks and flowers. This living room they would clearly like.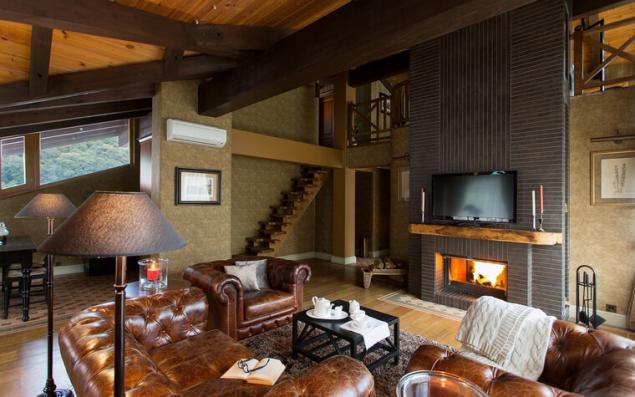 In this split-level living room has a English spirit. Beamed ceilings painted in a dark color sofas from dark quilted leather, ornamental rugs and, of course, the blazing fireplace.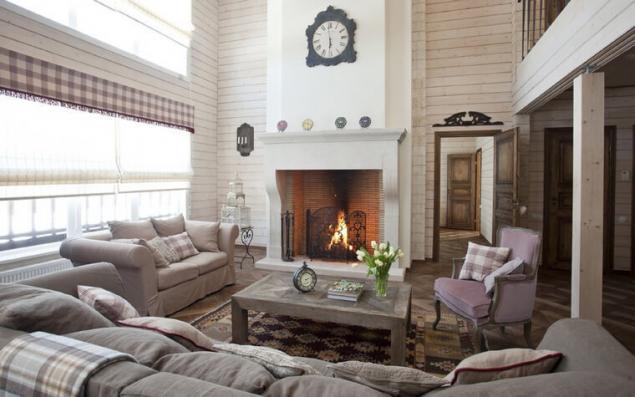 Curtains and upholstery in monochromatic and multi-colored plaid — a favorite motif of traditional English living room.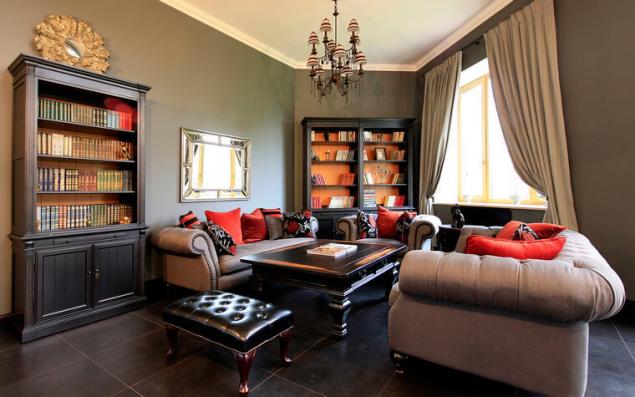 Tradition connect the living room (comfy sofas) with library (bookcase and shelves) also invented by the fans of comfortable reading English.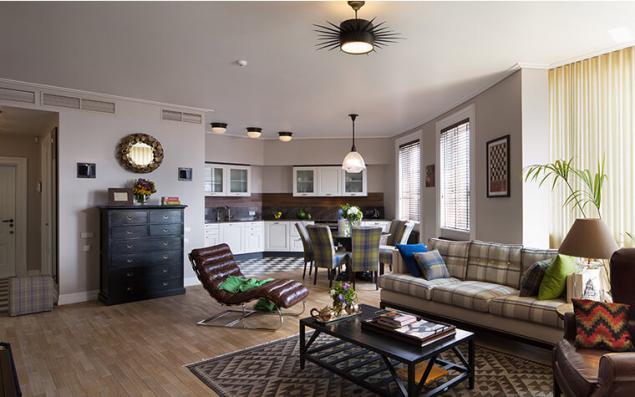 English style living room to read in unusual textiles: plaid upholstery of the sofa and dining chairs and also wicker carpet with diamonds. published  
P. S. And remember, only by changing their consumption — together we change the world! ©
Join us in Facebook , Vkontakte, Odnoklassniki
Source: interiorexplorer.ru/article.php?article=568