Unique 11-seater bus was created by a team of the Crimean engineers who have received financial support in the form of a grant from the state.
According to news agencies of Crimea, in the region appeared first in the history of Russia serial electric — "the stagecoach" designed to transport 10 passengers, and after three years may become the primary means of delivering athletes to the sports facilities of the upcoming FIFA world Cup in 2018.
The development of the Crimean engineers already interested in the representatives of the Tolyatti automobile plant, considering the initiative on the organization of joint production of buses in Russia. It is expected that small-scale production of new items will be organized on the basis of the VAZ automobile plant in 2016, which will allow to create in the Russian Federation a new segment of the industry, combining environmentally friendly vehicles.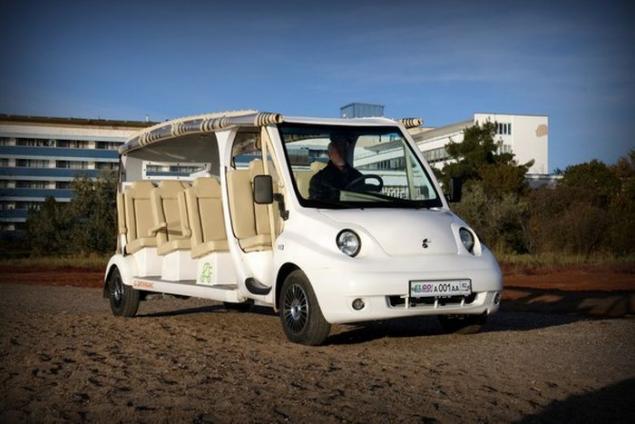 Characteristics of the first serial electromobile in Russia "the stagecoach" is impressive — the maximum speed of 11-seater bus for electric traction reaches 144 kilometers per hour. The range of Autonomous run on a full battery charge is 120 kilometers, the battery will need to spend up to six hours.
The mass of the vehicle on electricity is 980 pounds, and the preliminary cost of 1.1 million rubles, which is significantly below their foreign counterparts. The real analogues of the open bus in the world, developed by the specialists from Crimea yo-Mobil was unique in many ways electric vehicles. First and foremost, through the use of Russian materials and components, which protects the electro-stagecoach from exchange rate fluctuations of the national currency.
The second stage after the start of the small-scale production "EL stagecoach" will be the organization of mass production in Russia of trucks and buses on electric, based on the experience of AVTOVAZ. It is noted that the Tolyatti engineers have been working on the creation of the Russian electric vehicle experimental model electric car on a platform "Lada Kalina" has passed preliminary tests.
The results of the experiment AVTOVAZ is still disappointing — production electric version of "Kalina" had to be abandoned due to low interest of the market in the production of such a plan, and the high price of the machine. Against this background, created by the Crimean electric bus, capable of carrying up to 10 passengers at a distance of 120 kilometers, looks very promising step towards the emergence in Russia of its own line of electric cars. published  
P. S. And remember, only by changing their consumption — together we change the world! ©
Join us in Facebook , Vkontakte, Odnoklassniki
Source: altenergiya.ru/novosti/el-dilizhans-pervyj-serijnyj-elektromobil-v-rf.html