Engineer Google's Benson Leung (Benson Leung) testing cables USB Type-C and publishes reports. Now he has posted pictures of one egregious instance that he came across.
Even a superficial examination of the desoldering points to a marriage:
1. The red wire is soldered to the contact G, and black to V, which is wrong.
2. No SuperSpeed wires from the rear of the connector. Here are just four wires. The cable is stated as USB 3.1 SuperSpeed, but it lacks wires and connectors TX/RX.
3. Generally poor quality of the soldering.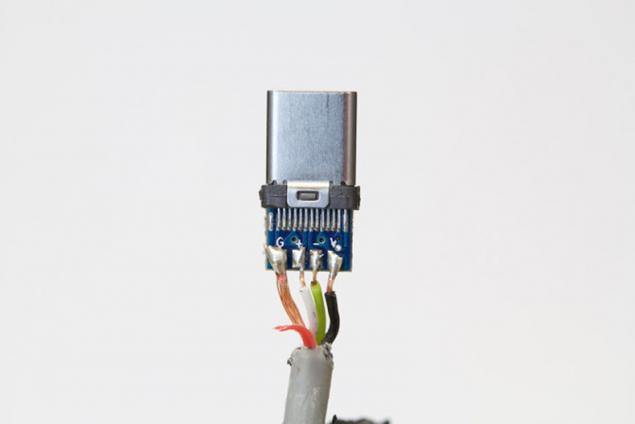 Measuring with a multimeter revealed several problems.
1. Installed resistor of 10 kΩ is a resistor of 56 kΩ.
2. A resistor is connected as the Hoop (pull-down), not as pull-up (pull-up).
Benson Leung has already explained earlier that the 10kΩ resistor can be used only in cables of the type C-C (Type-C on both sides). In the end, when the device is connected, is capable of drawing 3 amps, the result can be disastrous. The requirement to use a resistor of 56kΩ to the specifications set in order not to damage the old equipment, including USB Type-A, which connects with the other side of the cable if it is connected to the connector USB Type-C and pulls 3 amps. So it is possible to damage your charger, computer or other equipment. The saddest thing is that the cable is able to operate normally for a long time, does not prove the marriage, but when connecting to a specific outfit it may simply burn out.
And it's not just theoretical rassujdeniya. You can find reviews of some of the buyers who because of the USB-C cable damaged equipment. On the laptop broke down two of the USB Type-C and from the system disappeared the Embedded Controller, so chromebook already loaded in Recovery Mode.
Not to get into trouble after purchasing a suspicious cable it is advisable to check that it is installed exactly the resistor 56 kΩ instead of 10 kΩ. As already mentioned, this should load the laptop in debug mode (dev mode) and connect the adapter to any charger, which is not particularly sorry. Then run from the console command:
ectool --name=cros_pd usbpdpower 0
There is another option of verification: in the normal boot mode log in chrome://system and under dmesg look for a line like this:
[ 121.172637] PDLOG 2015/11/04 19:58:18.074 P1 SNK Charger Type-C max 5000mV 5000mV / 3000mA
published    
Author: Anatoly Alizar    
P. S. And remember, only by changing their consumption — together we change the world! ©
Join us in Facebook , Vkontakte, Odnoklassniki
Source: geektimes.ru/post/270636/