Savoiardi is a mandatory component of the famous tiramisu. Cookies, of course, it is better to buy, but they are not always sold. So you can cook at home.
Ingredients:
3 eggs
100 g sugar
90 g flour
1 pinch of salt
20 g butter
30 g icing sugar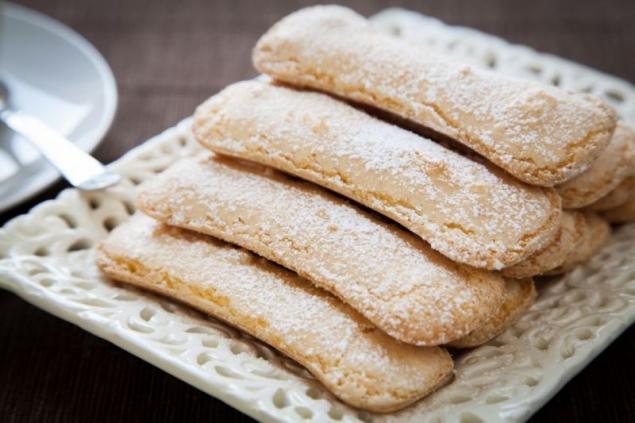 Preparation:
1. Yolks and 75 g of sugar whipped to a foam. Gradually add 75 g sifted flour, stir, add salt. In another bowl, beat egg whites in a solid foam. Gently add the whipped whites to yolk mass and mix.
2. Preheat the oven to 150°C. grease and sprinkle with flour. Confectionery syringe to fill test (hole diameter of approximately 14 mm). Squeeze on a baking tray sticks length of 10 cm. Instead of confectionery syringe, you can use a clean plastic bag. You need to fill it with batter and cut off the area of the desired size.
3. Powdered sugar mix with the remaining sugar. Half of this mixture sprinkle the cookies. Wait for 10 minutes until the sugar has dissolved, and sprinkle the cookies the rest of the sugar mixture. Wait 2 minutes and place in oven. Bake cookies until Golden state. Ready Savoiardi remove from baking sheet with spatula and cool. If the biscuits will turn out dry enough, you can later dry them in a warm oven, although usually just leave them overnight on the table.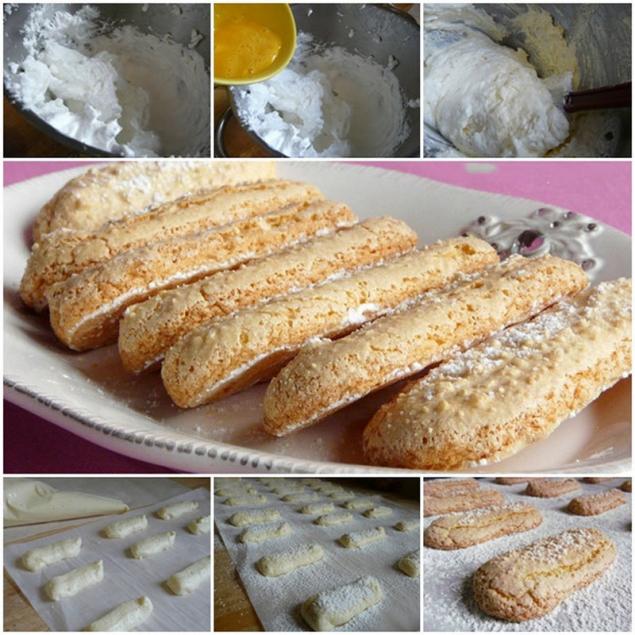 Tip:
For preparation savoyardy it is very important that the dough was thick and airy. Savoiardi are guaranteed to get a high (1.5 cm) and porous even those who have no experience in the confectionery business, do the following:
1. Add in the dough 3, and 2 egg yolks to the dough was more dense.
2. Whisk the whites in a very solid foam (preferably using food processor with a special attachment for whipping proteins). Proteins whisk in a chilled, they should not be pieces of yolk.
3. When you in a mixture of beaten egg yolks with sugar, add flour, dough will be very thick. Nothing to worry about. But do not add all the beaten egg whites immediately. Mix well with the dough only 2 tbsp of beaten egg whites. The dough will be of normal consistency. Then GENTLY stir the dough with the rest of the protein so that the dough is not lost airiness.
4. Cover the pan with a sheet of parchment paper, grease it with butter and sprinkle with flour. With paper Savoiardi will be then easier to remove.
5. Before baking sprinkle thickly Savoiardi not a mixture of sugar and powdered sugar and one with powdered sugar. So less likely that the squirrels will fall off. Do not wait 10 mins and immediately place in the preheated oven.
And the last one.
For those who have no experience in the use of confectionery syringe, you can make it even easier. Take shape with dimensions 25 x 35 cm, cover it with oiled paper and place it on the dough evenly. You get just layer with a thickness of 1.5 cm After Savoiardi are ready, separate the biscuit from the paper and cut into rectangles of desired size (2 x 10 cm), then dry them in a warm oven.published  
Cook with love!  
P. S. And remember, only by changing their consumption — together we change the world! ©
Join us in Facebook , Vkontakte, Odnoklassniki
Source: www.cucinaitaliana.ru/recipes/savoiardi.html