In the passages and lobbies 62 stations of the Moscow subway, where he completed work on the landscaping, there is a new light. Energy-intensive lamps will last seven times longer than usual. This will reduce the costs of underground electricity by about 50 percent. It is planned to establish about 10 thousand led and fluorescent lamps for all 84 stations included in the improvement program.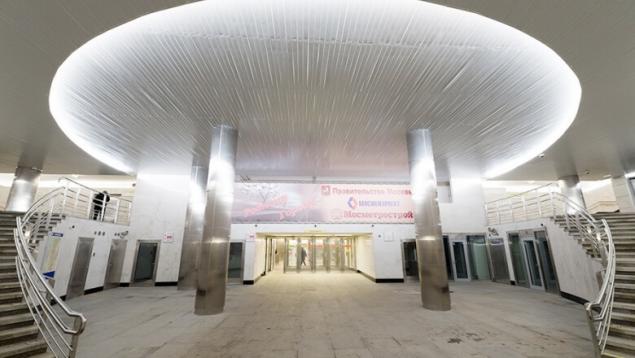 "The new lights are five times brighter than normal incandescent bulbs, which were at metro to repair. Flicker-free light output will allow you to enhance the beauty and architectural uniqueness of each station. Led light bulb will last seven times longer, due to which metro will be able to save up to 50 percent of the cost of electricity," — said the press service of the GUP "Moscow metro".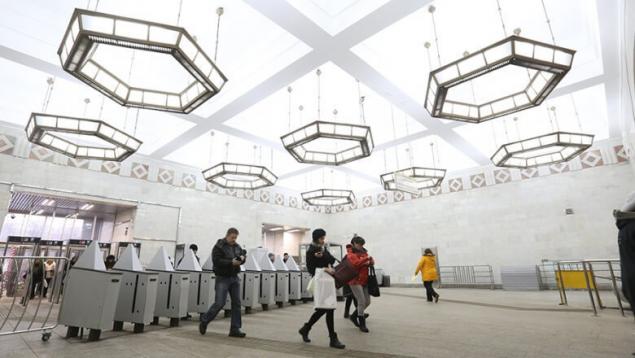 The press service explained that the new light bulbs are installed in the framework of the program of improvement of vestibules and underground subways. The first phase will be renovated lobbies and passages 84 metro stations. In total, they will be about 10 thousand new lamps.
In addition to installing new energy efficient lighting in the lobbies and passages was replaced by stairs, facing floors and walls, updating electrical wiring and doors. Basic construction montagnareale already finished on 62 stations.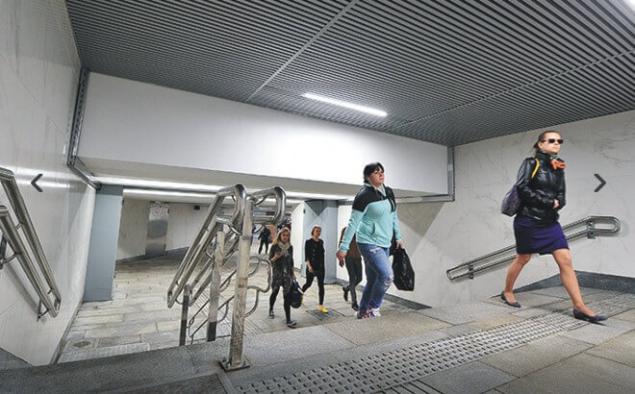 Also this fall will begin a program to replace old turnstiles for new ones which are equipped with noiseless glass doors. They are made from stainless steel and scratch-resistant. In addition, the turnstiles provided the possibility of contactless fare payment using your Bank card with PayPass/PayWave. Until the end of 2017 at the 86 metro stations will replace more than 1,300 turnstiles. In the first phase of the works will be carried out at the stations "Cherkizovsky", "Sports", "Leninsky Prospekt" and "Kutuzov".
A new lamp has appeared at the stations:
"Alekseevskaya",
"Alma-ATA";
"Altuf'evo";
Annino;
Barrikadnaya;
"Cross-country";
"Borisovo";
"Warsaw";
"Water stadium";
"Volga";
"Volokolamsk";
Vorobyovy Gory;
"Exhibition";
"Vyhino";
"Business center";
Dmitrovskaya;
"Domodedovsky";
"Dostoevskaya";
"Dubrovka";
To Zhulebino
"Zyablikovo";
"Seven");
"Kozhukhovskaya";
"Kolomenskaya";
"Kon";
"Krestyanskaya Zastava";
"Krylatskoe";
"Kuznetsk Bridge";
Lermontovsky Prospekt";
"Forest";
"Marxist";
"Maryina Roshcha";
"Mitino";
"Sermon";
"Novokosino";
"Novoyasenevsky";
"New Cheryomushki";
"Orekhovo";
Otradnoe;
"Victory Park";
"Day";
"Glider";
Polyanka;
"Prague";
"Proletarian";
"Pyatnitskoe shosse";
Roman";
Sviblovo;
Serpukhovskaya;
"Spartak";
"Strogino";
Sukharevskaya;
"Troparevo";
"Pipe";
"Starokachalovskaya";
"Tsaritsyno";
"Tsvetnoy Boulevard";
Chertanovskiy;
"Shabolovskaya";
"Shipilovskaya";
"South-Western";
The "South".
published  
Source: www.mos.ru/news/item/14991073