Winter is very convenient to have on hand a package of
frozen vegetables
or fruit. Unfortunately, not all Housewives make use of this useful idea. Today our editors offer for your consideration a selection of products that just need to freeze!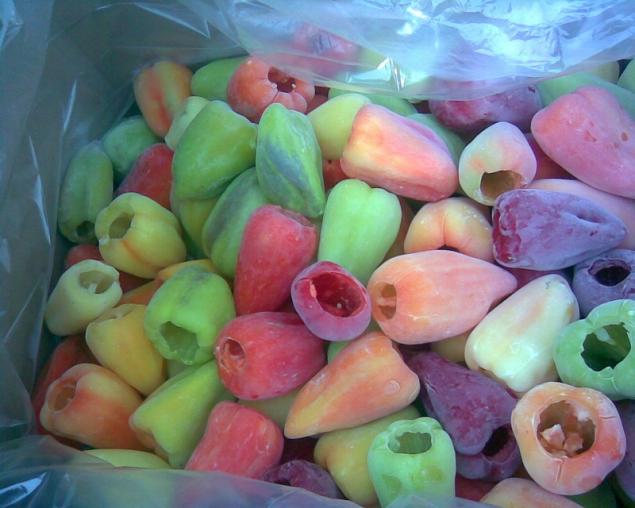 Frozen vegetables and fruits
Apricot, plum
This billet will be pleased with you in the cold winter days. To freeze they should be, deleting the bone, and spreading on plastic bags with zip.
Apples, quince, pears
The procedure of freezing these fruits is pretty easy. You need to cut them into small slices, then place in a bowl and spray with lemon juice so they do not darkened. After that, it's slightly dry fruit on a tray and put them in the freezer. Then you should spread fruit in bags with zip.
Green peas, corn, green beans
Before freezing these foods should be blanched, then let it cool down, put on a clean, soft cloth. Then put them in bags with zip and place in the freezer.
Bell pepper
Large, beautiful peppers it is best to freeze for salads, and middle for stuffing. After freezing you need to put them one to one, making a small pyramid.
Carrots
You need to grate carrots on a coarse grater and put in plastic bags with fasteners. Then you should place it in the freezer. To vegetable mixture need to cut the carrots in small cubes and blanch. When it has cooled, place in the freezer.
Eggplant, zucchini
It should be cut into small cubes or slices, then spread them in plastic bags and place in freezer. This blank is ideal for soups.
Cauliflower
Before freezing must be blanched, disassemble on inflorescences and place in plastic bags.
Broccoli
This vegetable does not need to be blanched before freezing. Broccoli must be carefully washed, dried, break it into florets and freeze, by placing in plastic bags or containers.
Tomatoes
Little tomatoes should be frozen whole, after a slight puncture, so they do not burst. Large tomatoes should be frozen, cut into small rings or cubes.
Mushrooms
Mushrooms can be not only dry, but also to freeze! Before freezing they need, clean, wash, dry and place in plastic bags with zip.
Berries
In General, any berries suitable for freezing. Only one retain their shape and taste better, others slightly worse. You can safely freeze raspberries, blackberries, currants, strawberries and strawberries. Some prefer to grind them in a blender, adding a little sugar. In winter, this blend is perfect as a sweet filler for yoghurt or smoothies.
Greens
It is best to freeze in containers. You need to wash your favorite greens and finely chop.
Don't forget to share with your friends these helpful tips for preparations for the winter — they will be grateful!