Double unsinkable electric company Quardofoil meteors will be available in December. Q2S model has a top speed of 40 km / h (21 knots), and the battery lasts for 100 km. Relatively low weight - 100 kg without motor and battery - makes it easy to transport the jet ski on hydrofoils
. Dual composite body contains air pockets, through which the vessel rests on the water, even if its turn. In this case it is stable - roll center is located 8 meters above the water surface. This allows a meteor to remain in a horizontal state in almost any situation, even when cornering.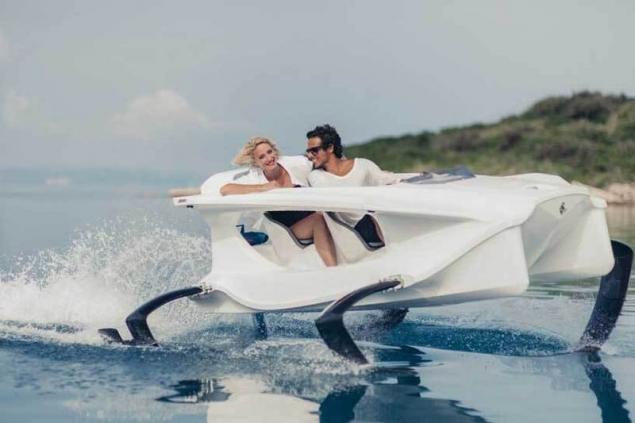 At the helm is the touch screen, which tells about the energy left in the battery, speed, distance traveled and consumption. He also serves as a removable key - without it, the engine will not start
. «Quadrofoil - is an exciting and at the same time, quiet and environmentally friendly vehicles. Quiet motor and zero emissions permit to ride it on the lakes, rivers, seas and reserves, which allowed boats and personal watercraft. No noise, no waves, no emissions, "- said on the website of the manufacturer
. Prices are not listed. To order, you can send an email request. It is available in two models, a more powerful engine Q2S 5, 5 kW and speeds up to 40 km / h, and Q2A, which will be available in 2017 with the engine 3, 7 kW and speeds up to 30 km / h. "Due to the large number of orders, - said on its website, - delivery times are always changing."