If you think that the thing made by the hands, can not look stylish, then this article is definitely for you. With the help of the old
knitted T-shirts you will be able to produce two charming scarf. You do not even have to pick up a needle and thread!

The scarf has long ceased to be just a piece of clothing. Now this is an important accessory that can add an image and emphasize the individuality of the person. So be sure to try to make this miracle with their own hands!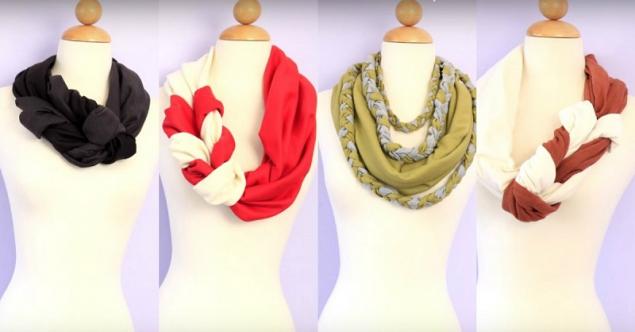 Scarf futbolki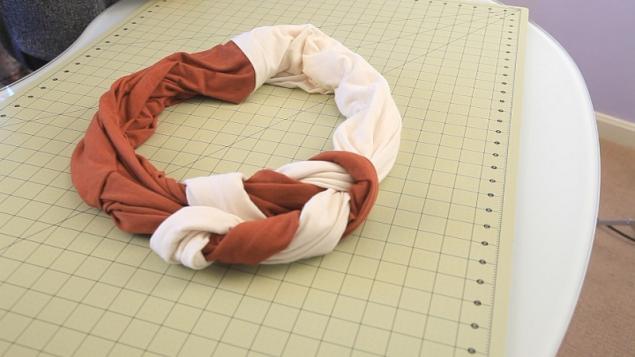 You need
knitted cloth line scissors glue spider iron

For this purpose we perfect knitted fabric. Since it is easy to operate, it is soft, well-stretched and forms a beautiful folds. Therefore, the old knit shirts - exactly what you need!

The scarf can be shorter or longer - on request. Just before making calculate what length and width will you take the tissue.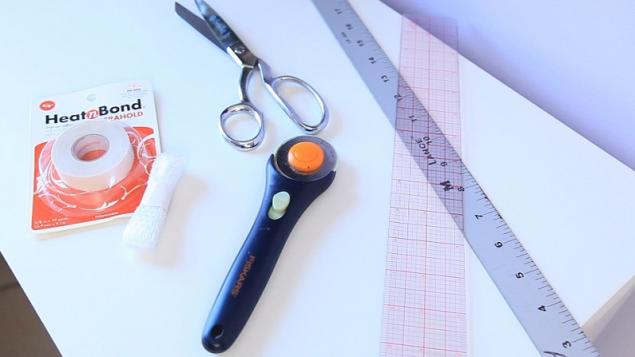 The adhesive cobweb can be bought in any store sewing accessories. It is great to work with soft tissue. It is much more convenient than a staple.

Manufacturing
For a start take strips of cloth, and lay them on the table at one another in the U-shape, as shown in the photo.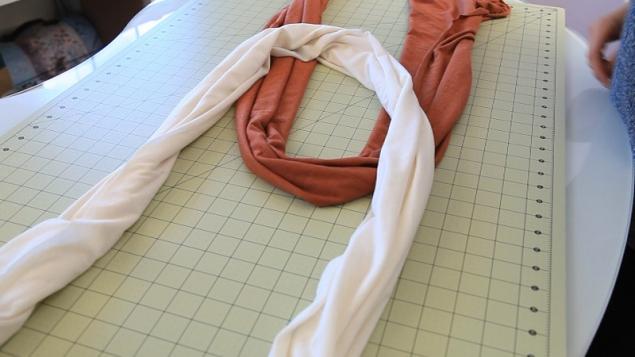 Take one end of the fabric and proden it under U, then pull up. Loop gain. Make 2 loops on both sides. Now straighten the fabric edge to the square formed in the center.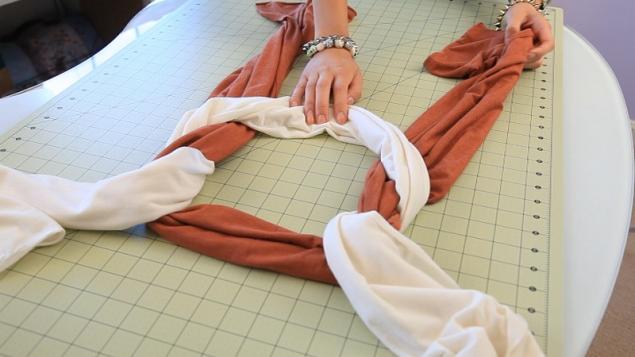 Continue to do the loop, as shown in the photos. Leave the ends of the fabric free.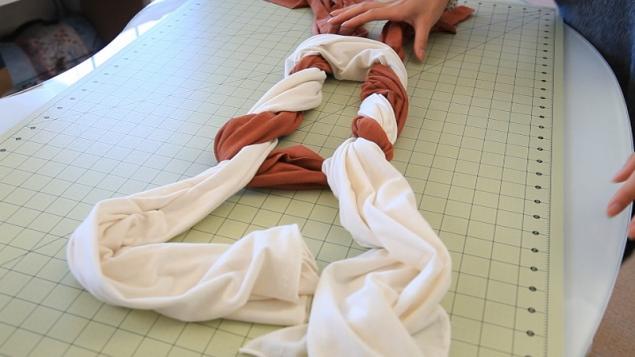 Now gluing inner edge of the fabric (the length). Make sure that the fabric looked neat. Iron the iron and repeat the same thing on the other side of the scarf.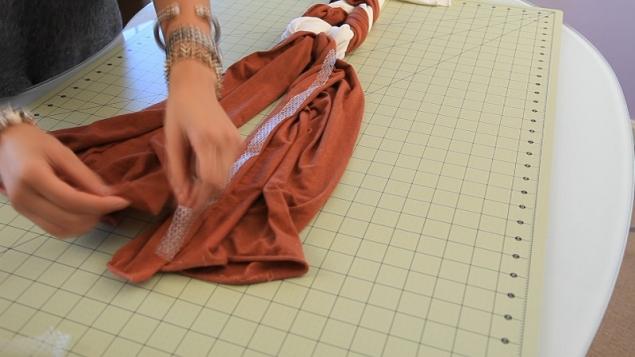 Now, you have turned a long scarf. It remains only to connect both ends by means of an adhesive webs.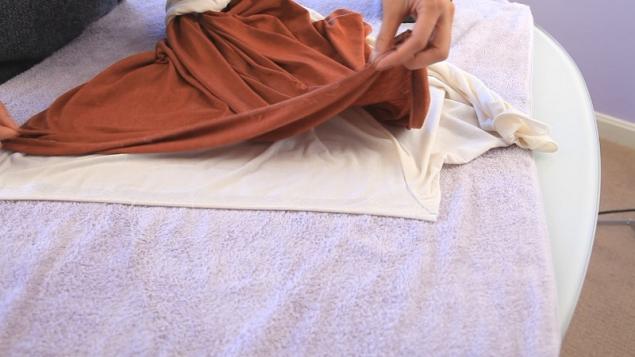 Next scarf looks more elegantly, because it is decorated with braids of fabric.

Scarf with braids of futbolki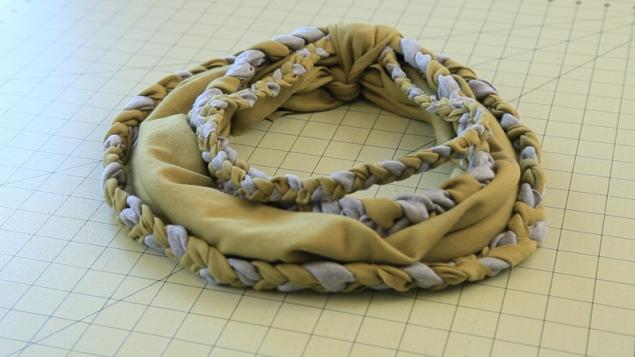 You need
knitted cloth line peg scissors glue spider iron

Manufacturing
To start making basis. Cut a piece of fabric the desired length and width. Scrapie ends of the fabric so as to obtain a tube. Now the ends of the tubes are joined together.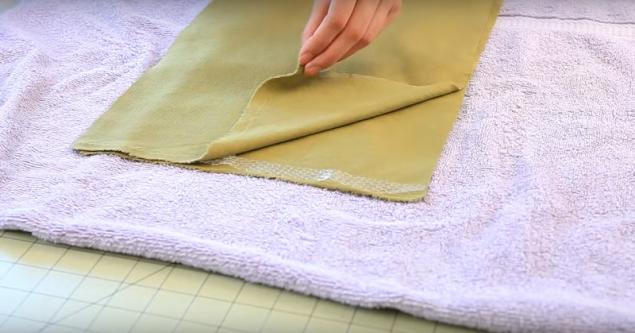 To make braids, you will need narrow strips of fabric. Take three strips in the center Put the color that will create the focus, and the usual braided plait. The end of a pin can be fixed to make it easier to weave. Bind up the end of the spit and cut off the excess fabric. Make another two pigtails.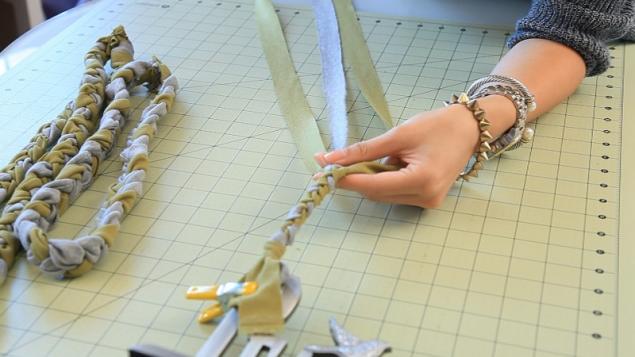 In order to attach the pigtail to the scarf, you'll need another piece of tissue. Grab it and pigtails scarf, tie a regular knot and turn it into a scarf. Cut off the excess fabric.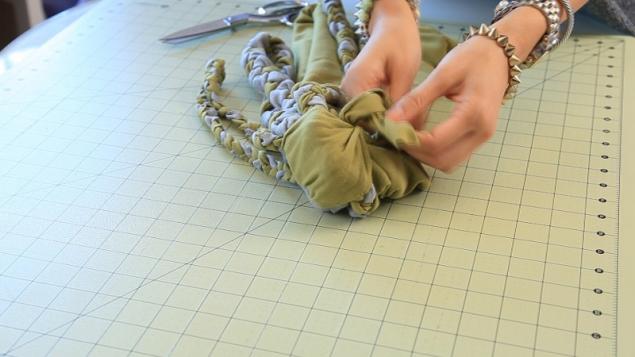 Let these exquisite accessories you decorate and give a good mood all day! Share this with your friends an interesting idea.