Crisp with the scent of cinnamon, and under her delicate apple pulp - it is something ... Lovers
fruit sweets , soon runs into a treat with a delicious taste! Fried rings "Apple surprise" on the plate for a long time do not lie.

For this unusual dessert ideal juicy, sweet and big apples. Batter-based sour cream with the addition of oatmeal evenly coats each ring spreads and frying. < Apple rings in batter - the perfect weekend breakfast
!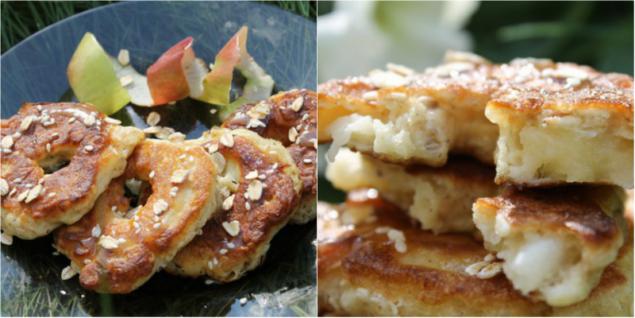 Apples in testeIngredienty 3 medium apples 4 tbsp. l. (No slides) of flour 4 tbsp. l. (With slide) oatmeal 1 egg 2 tbsp. l. sour cream 0, 5, ch. l. cinnamon 1 hour. l. baking powder 1 tbsp. l. sugar a pinch of salt honey, sesame seeds feed Vegetable oil for frying

Preparation in a deep bowl vzbey egg with sugar, then add the sour cream. Grist is a mixture of cinnamon, baking powder, salt and flour. You can now add the flakes. For this recipe better suited fine. The dough will turn out quite thick. Apples wash, peel. The core can be removed once the special recess or later a knife, when the apples will be slashed across the circles. Pour into the pan oil, heat. dipping rings in batter and fry until golden brown.

Bring apple rings, watering honey and sprinkled with sesame seeds - very tasty! Pleased with the fact that this dish is cooked very quickly, and its taste is quite memorable.

Be sure to prepare this yummy and do not forget to tell your friends about your successes!