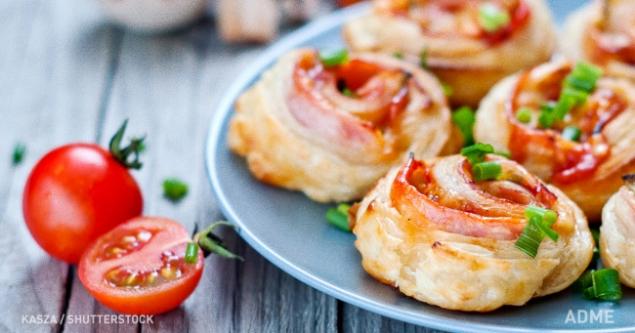 tapas - a great start to dinner. The sharper the dish, the better mood and appetite.
< Website have found for you a few recipes simple and quick snacks that are exactly like all fans of acute and delicious dishes.
In each embodiment, the sharpness can be adjusted at will - from the "well, not sharp little" to "let some water more»
Cheese curls Ham hastily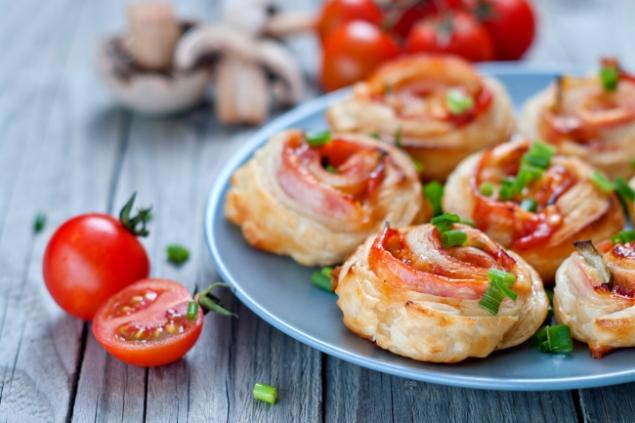 .
Ingredients:

150 g of cheese 250 g of finished puff pastry finished hot sauce to taste 1 egg 100 g ham or bacon green onions for decoration Preparation:

On pripylennoy surface roll out the dough with flour flat rectangle. Lubricates the surface of the dough with spicy sauce. Cut the ham thin plates and spread on the dough, leaving the edges of 1 cm free. Three cheese and sprinkle it evenly over the ham. Fold the dough into a roll and a sharp knife cut into circles not more than 2 cm thick. Spread on a baking sheet, the laid paper baking. Grease curls slightly hit by an egg. Bake in a preheated 180 degree oven for 13-15 minutes. Garnish with green onions.



Beet salad with peppercorn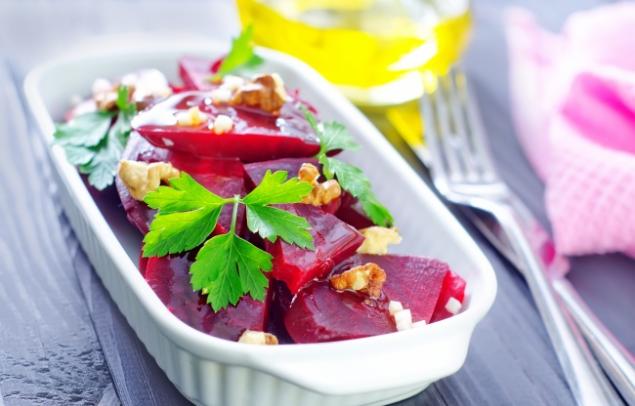 Ingredients:


300 g beet 3 cloves garlic 1 small onion 1/2 chili 5 items . l. wine vinegar 3 tbsp. l. olive oil salt to taste cilantro, walnuts for decoration
Preparation:

Cut small pieces of boiled beets. Diced cut onion slices - pepper, garlic, we press. Mix them with vinegar and oil. Add salt. Mix dressing. Refill beets and mix well. Garnish with cilantro and walnuts. We give the brew for at least an hour.

Tomatoes stuffed with spicy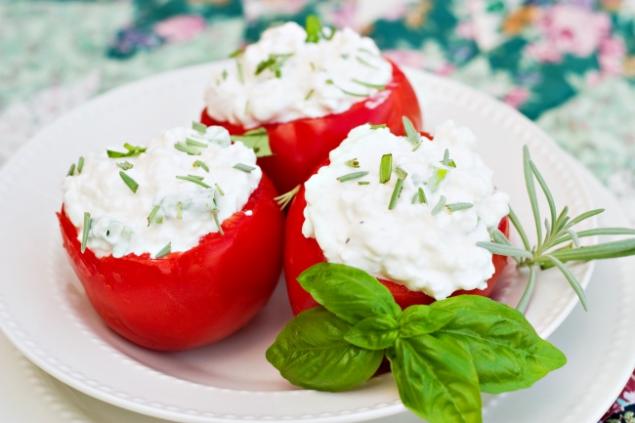 Ingredients:


5 tomatoes 250 g of cottage cheese 4 cloves garlic 3 tbsp. l. olive oil 1/2 chili salt, black pepper, red pepper, cumin to taste cilantro, garlic arrows / green onion to taste Preparation:

We press the garlic, hot pepper cleaned from seeds and finely cut. Cottage cheese mix with herbs, oil, garlic, hot pepper, salt and spices. Do tomatoes cut the caps and carefully take out the pulp. In each tomato put sparing no curd. Decorate with greens.



Toasts with spicy feta
Ingredients:


350 g feta cheese 150 g of solid cheese chili pepper to taste juice of 1 lemon 5 Art. l. olive oil salt, black pepper to taste bread to toast Preparation:

Chili cleaned from seeds and finely cut. Fet mash with a fork, add the chilli, salt, black pepper. lemon juice, mix with olive oil. Blender, beat until fluffy feta. Add a trickle of oil and a mixture of juice without turning off the blender. Cooking toast, a little cool for them and smear spicy feta. Finely cut the cheese and spread it on the toast.



sharp Stuffed shrimp eggs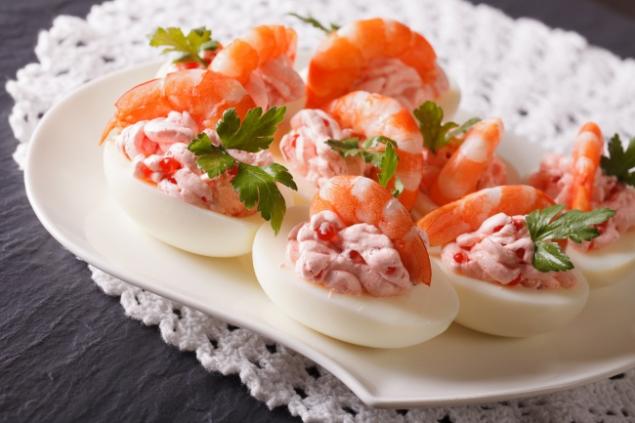 Ingredients:


15 large shrimp 5 hard boiled eggs lemon juice thirds 3 tbsp. l. heavy cream 2 tbsp. l. mayonnaise 1 tbsp. l. spicy mustard salt, hot pepper to taste sprigs parsley, red caviar for decoration

Method:

The eggs cut in half, remove yolks. Mash the yolks with a fork, add salt, pepper, cream, mayonnaise, lemon juice and mustard. Good mix. Cut the shrimp into small pieces, leaving the required number of whole shrimp to decorate each half egg. Mix pieces of shrimp with seasoning. Spoon the filling into the boat spread of proteins. Decorate with whole shrimp, green and red the eggs. Photos on the preview: Kasza / shutterstock





via www.shutterstock.com/pic.mhtml?id=189948341&src=id