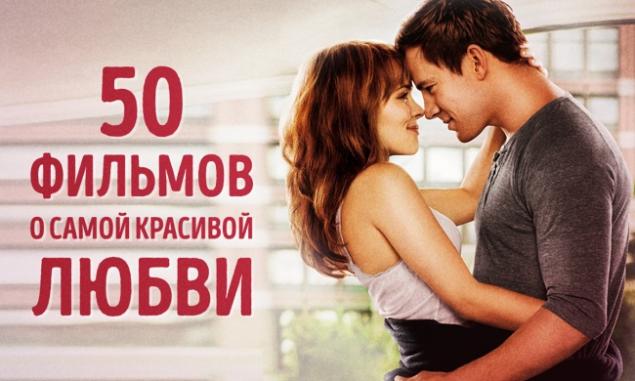 first date, heartbreaking parting, kisses and sensual embrace - all this pushes us to love.
Website movies gathered most colorful stories, seeing who wants to fall in love immediately, or stronger pull over to your loved one.




Romantic comedy h3> Graduate, 1986 - Deep emotional story. This is a story about growing up a young man for some weeks, on how the error of boredom can make you into a real hell. Harold and Maude, 1971 - Bright and cheerful film, full of irony. Harold and Maude complement each other, creating a unique, charismatic duo. When Harry Met Sally, 1989 - The story of the love of life, which at first was not at all noticeable, but over the years has acquired all the new and new strength. This foolish love, 2011 - If you want a good laugh, and go to sleep, remembering smile Steve Carell, this picture is for you. 10 Things I Hate 1999 - Easy, good, exciting and moving film with neposhlye humor, which can revise endlessly. Smoothie, 2010 - Excellent French cinema for those who appreciate high-quality humor, true feelings and life in all its manifestations. A friend of the bride, 2008 - A good picture, which will give you a good mood and will leave the most positive emotions. Offer, 2009 - The good and the beautiful love story of a sudden broke out between totally different people. The classic romantic comedy, which can be viewed as a family. More than love, 2005 - The original melodrama, with good actors and great storyline. Taken simply and elegantly. In each frame - good taste and sense of proportion. Before we parted, 2014 - Atmospheric and beautiful film: Night New York, beautiful he and she, witty dialogue, a delightful soundtrack and a nice ending. Love, Rosie, 2014 - Looks at one go, bright, pretty and vibrant with beautiful views of the film. Warm, bright smile after watching certainly stay with you for a long time.


Melodrama h3> The History of Love, 1970 - Self-sacrifice, sincerity, tenderness, caring for each other, loyalty - all this you will find in this movie. Relationship lovers shows so gently that you begin to believe that such love is possible. An unforgettable novel, 1957 - The American melodrama at all times. A beautiful film, full of charm and charm. Say Anything, 1989 - A touching and penetrating film, quotations from which immediately etched in my memory. Officer and a Gentleman, 1982 - The iconic picture of friendship, love, betrayal and reciprocity, on the everyday life of the difficult life of cadets of military schools. Annie Hall, 1977 - Unique in every movie. Characters will surprise its outlook, and the protagonist jokes like charm and brevity. Oath, 2012 - The film that spark of passion - it is not important, the main thing - a kinship. The English Patient, 1996 - The picture is literally saturated with love. That it is the engine of the transformation of the heroes, pushing them to change their own principles. 500 Days of Summer, 2009 - This movie is so nice, that does not give off the screen for a second. Terrific romantic picture. Dear John, 2010 - A very emotional and touching story about true love. Movie soundtracks are fascinating. Feast of Love, 2007 - After watching this movie I want to believe in love, incredible virtue of the magic feeling which can work wonders. The Age of Adaline, 2015 - Romance of the power of women. The tale told by a well-modulated voice, surrounded by the magic of sounds and pictures, made of old, a little dusty pictures with beautiful ladies in beautiful dresses. French Suite 2014 - piercing story of couples who met at a difficult time, when nothing can be planned either in the present or in the future, because there is no special meaning. The best in me, 2014 - Not just a love story. This is a story about life, soaked feeling which makes you wonder: and all we had to do in my life, whether we bring this happiness. Now is the time 2012 - sentimental, emotional story. Directors and filmmakers managed to make it special. Lucky, 2011 - A beautiful love story, after which you want to love and be loved. The film, which makes one believe in destiny. P.S. I love you, 2007 - An exciting movie where the heroine with the sad, laugh and cry. And every time you catch yourself thinking, "What will happen next?»


Drama h3> From Here to Eternity, 1953 - A film with a wonderful selection of actors, looks at one go. The plot is quite simple, but fascinating. Titanic, 1997 - The legendary film about the love of two very different in character, and the social status of the people. The feeling, which is destined to be very long. But the love that will last forever. Bridges of Madison County, 1995 - Excellent life drama without special effects and extra details, without pathos hugs and heroic deeds. Actor, 1995 - The film is about what you can not give up, give up - especially when you are loved. Wuthering Heights, 1992 - The picture that tells us a story about love is very cruel, but at the same time beautiful. The Way We Were, 1973 - In this film there is no mindless dialogue and extra scenes. Each sparring protagonists reveal their relationships and shows why they all so composed. Casablanca, 1942 - example is fairly simple in terms of the plot of the film, which became a classic of world cinema. But the simplicity combined with great execution gives us one of the best romantic paintings in the history of cinema. Legends of the Fall, 1994 - A masterpiece that does not impose its perception of the world, does not try to change us. It just tells the story, and yet makes us better. Love, 2012 - French film with a special atmosphere and mood. Here the scene is slowly replace each other, allowing the viewer to make sense of everything, to make their own conclusions. Before dawn, 1995 - The film sinks into the soul from the first minute. The actors play so sincere, that's hard to believe that this movie, and their dialogue scripted and memorized and recited on the idea of ​​the director. Before Sunset, 2004 - This sincere anthem quickly passing youth. The tape recorded the exact moment when everything seems to be in front, but the actions are not so much intended. Before midnight, 2013 - Rare movie that wants to revise again and again. This is a book that you read in 16 and 30 years old - at any age can be found in it something of their own, the actual right now. Blame the Stars 2014 - This story is too beautiful to be invented, and all too real not to feel it. It is absolutely normal for all people who are languishing in a failed life in his apartment, with a glass of whiskey and philosophizing about life. Quiet Harbor, 2013 - Interesting story, spiced with elements of a thriller, with attractive characters. Here is all you need to spend time comfortably. Brooklyn, 2015 - Spirit of America 50 is impregnated with each frame: mannerisms, speech, clothes, makeup and behavior. A gentle, sentimental and naive film. One day, 2011 - A film that can be viewed in any mood and any company and which, thanks to its unobtrusive get bored over time. Remember me, 2010 - In this tape is no pathos or affectedness - this movie is completely live, which takes the soul.


Fantasy h3> Specter, 1990 - Picture of the uplifting love, which stands cheering, worth striving for. When she wants to live, love and just be a good person. The Princess Bride, 1987 - An original, atmospheric and just solidly made film-tale, taken from samoiroiney. About Time, 2013 - It is a wise and restrained in English movie about important things. Shown here is the philosophy of life, who wants to follow - a simple and real. She, 2013 - A futuristic drama with a good staging, great music and wonderful actors. In this film it makes sense to spend two hours. The Lake House, 2006 - For those who want a break from everyday life and go back to the world of dreams. Just watch and enjoy. Charlie St. Cloud, 2010 - It is not a fairy tale, but the story on the brink of magic and reality. The film with a very unexpected plot turn.

Photos in the preview: Sony Pictures





15 films about love, blow your socks off

7 stunning film about real love stories

20 beautiful film about love

via www.adme.ru/tvorchestvo-kino/20-prekrasnyh-filmov-o-lyubvi-828660/