I'm sure many who do not have much to do with the sport concerned about why women swing muscles straining, lifting the heaviest rod and drink protein shakes? For a woman, according to the majority, it should be soft in all respects and areas, and there is nothing to carry her iron, even better soup cooks. That's just not a hindrance, and a woman can have a beautiful body is inflated and still be kind, gentle and able to perfectly cook. We invite you to take a virtual tour and learn how the years change the way of female bodybuilders.
Years grace Lisa Lyon em>

Amazing beauty and elegance of the body of Lisa Lyon, which is now deemed inadequate even bleed the championship fitness bikini, has long been the benchmark for all trainees girls. That Lisa became the first world-famous bodybuilder. At the institute, she was fascinated by serious kendo fencing, based on the samurai technique.



Sport Lisa was given hardly, and especially due to weak top. To correct the situation she began using iron. She not only became stronger, but built her amazing body, beautiful and proportional.

It came up with Lisa to show muscle, using dance moves. This adds even more grace her graceful figure with the parameters of 93-61-89 and weighing 54 kg with height 162 cm.

Rachel McLeish em>

Another beauty - elegant Rachel McLeish - won gold "Olympia" in 1980 and 1982, and was second in 1981 and 1984.

She studied ballet since childhood, but in high school seriously distracted from it and returned to his hobby only in 17 years. Dreaming of a big stage it was too late, but the energy of the girl was in full swing, and Rachel has moved in the "iron" sport.

Competitive career at the major championships did not last long. It was a kind of phenomenon: compared to other participating McLeish more like a model than an athlete.

The policy of mass Cory Everson em>

In the life of the future champions and legends of bodybuilding Cory Everson in 1981 terrible happened - in the three main veins of her left leg showed blood clots. To avoid the fatal consequences of an excellent physical preparation helped multiplied by a bunch of taboos. In particular, doctors forbade her to give birth, and fitness has become a vital necessity for all, helping to prevent relapse.

Steel willpower as amazing genetics, included in the "basic package" Cory. In 1984, it put an end to the era of polumodeley-polusportsmenok in the world of bodybuilding and established itself at the top of the podium.

Her competitive career that will last six years, you can call this era, during which be designated future trends. Amazing Corey each year of the six consistently won gold "Olympia".

The Four Horsemen of the Apocalypse female fitness

Lenda Murray em>

Everson completed his career in 1989, putting an end to the "golden age" of women's bodybuilding. New requirements and aesthetics brutal massiveness gradually laid on the blades of the grace and harmony of proportions. Another champion of the "Olympia" was an American Lenda Murray, who Muscle and Fitness magazine once called the prototype of the future of women. Murray did not descend from Olympus for eight consecutive years.

Kim Ciszewski em>

In 1996, it shifted to the second step of the podium Kim Ciszewski. Purposeful and very positive six times an athlete took the gold, and then unexpectedly went into a new, more laytovuyu category - bodyfitness. The audience liked it turning into a miniature lady, but in this field, Kim has not achieved significant achievements.

Iris Kyle em>

While Ciszewski and Murray argue for gold for their shoulders rapidly progressed Iris Kyle. At some point, she blossomed, so that to this day, Kyle, no one can move from the top. This year Iris turns 41 and this is not the limit, because the same Murray completed a career of 42 years. Who will replace Iris?

Alina Popa em>

Most likely after Kyle inherits the throne of the Romanian star Alina Popa, who is now 36 years old. It is considered one of the strongest female bodybuilders, and it has everything to take the gold, "Olympia».

It is these four athletes who have invested in the construction of his body unimaginable force and a huge amount of time, it led to a change in the "golden age" of women's bodybuilding different era - a time when ladies shake their muscles in the name of the masses and only secondarily for the proportions. Ready for a lot, they inspire incredible respect, but distort the notion of women's fitness in unreal scale.

blood and sweat. Workaholics

Larissa Reis em>

The consequences of the transformation of the gold medal for the women admired, terrified, amazed and frightened, but not carried out initially the most important functions: to popularize the sport among women. Looking at Murray Kyle Ciszewski or ladies that see in front of the plate "gym" accelerated step cautiously, fearing that the mere presence of such a place near the biceps make progress. In order to somehow improve the situation, there was a lightweight version of the sexy female bodybuilding - bodyfitness. On the "Olympia" she started in 2003 and gave the world an entirely different format athletes.

They are not as pumped as older sisters, much less relief, and even walk across the stage in high heels, sparkling white teeth and shining oiled impressive bust. Bright representative bodyfitness - Larissa Reis.

Sexy blonde, last star of erotic magazines, it is not a long-term owner of the titles, but incredibly well known in their own environment. And of course, these girls are far more popular among men than women bodybuilders.

Will the athletes female fitness formation flight less intimidating? Definitely. Has it become more attractive for the average young lady? Hardly. Larissa demonstrates the form that she was given blood, sweat, calluses and actually daily workouts. Total: figure, which still does not correspond to the majority of femininity. Moreover, simply unattainable for an ordinary girl.

The Age fitonyashek

Natalia Melo em>

Few people prefer this term, in many it is generally association with medicinal teas. And yet, women who are called fitonyashkami became a whole layer of sports culture, the heyday of which began in 2011, with the appearance on the "Olympia" category "fitness bikini».

In a measure of muscle and almost nerelefnye contestants were called to finally put an end to the debate on the topic of women's work results in a "rocking". Toned body, Defined pop, but nothing more. Even the dice on his stomach could take away points, as well as a clear separation of the muscles. Training could hardly be called hard work, some of the girls were engaged in a year or two, and then fell to the big competitions.

One of the brightest representatives of the nomination - Natalia Melo, winner of the golden statuettes "Olympia", began to win the competition, they have had amateur sporting past several months of classes in the gym. She was the personification of that might look like any housewife, has good proportions and spending on training a few hours a week.

In the early years of competitive career was often called Melo Brazilian deer now increasingly appears the phrase "wiry horse." She has grown substantially, and the terrain became much deeper. Melo became bigger, the less put her assessment. Rising star fitness bikini went a little different in aesthetics, and yet, a new sample of women's sports bodies.

Ashley Kaltvasser em>

Ashley Kaltvasser twice became the champion of "Olympia».

A graceful, proportional and graceful, she won the judges and fall in love with the whole world exercising. Even there was a saying: "Ashley is on the podium for fitness bikini, you can not worry» .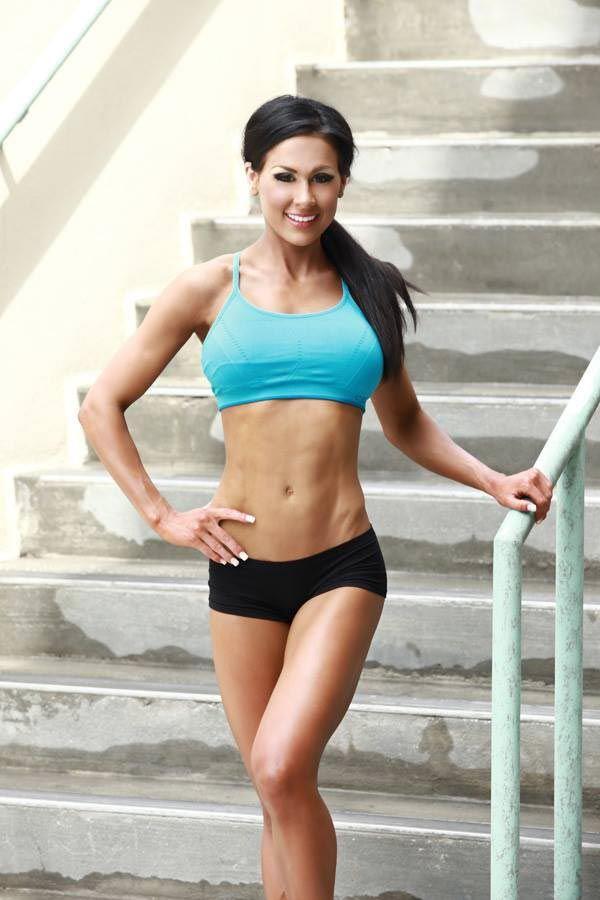 Compared with last year Kaltvasser grew slightly. Pursuit of mass whether it remains anyone's guess.

Argue about taste can be long, but one thing is for sure: this phrase as a fitness brain settle permanently in today's realities, the primary task of displacing healthy lifestyle - physical activity and proper nutrition in order to maintain a good shape and well-being. On the one hand, it is a bad thing, because the "rocking chair" - an excellent alternative clubs and excessive alcohol consumption. The main thing that delta pumping, trapezes and, of course, the gluteal muscles are not turned into the only meaning of life.

And a little more fitonyashek: