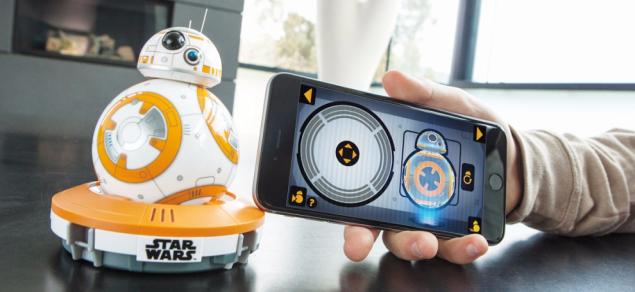 Below is a selection of the 10 best
игрушек-роботов
. Such devices can not only entertain but also educate
logic and programming
, and become a good companion for people of any age.
h3>

1. BB-8 h3>


droid from "Star Wars» BB-8 app-enabled has an adaptive personality, which changes during the use. Get him to patrol the neighborhood and see how it will examine all around, and also creates and broadcasts a holographic video.

Manage BB-8 is available with a smart phone, remote control and sound teams, which is very convenient.




2. Anki Overdrive h3>


Anki Overdrive - the second generation of the famous racing cars. New models, applications, and new gameplay system racetrack allow you to create your own unique world of racing. Part racetrack interconnected magnetically. The set includes 10 of these parts from which the 8 racing tracks. This is the first model that allows users to iOS and Android to compete with each other.




3. Ozobot 2.0 Bit h3>


One of the smallest programmable robots Ozobot 2.0 Bit . Designed to teach children the basics of programming with the help of color. The robot can carry up to 500 teams, and recognize the color lines and shapes, such as an intersection or red flashing lights.

Ozobot 2.0 Bit is largely similar to the original version Ozobot, but the new model has been added to code editor Blockly Google. Programming is done via mobile devices based on iOS and Android.




4. Cubelets h3>


Cubelets - Designer, with which children can learn how to build robots (age limit - up to 4 years). You can absolutely point in coding. Anything that is not necessary to - connect the blocks in the desired combination.

And the best part of all this is that the kit includes an adapter that allows you to connect to your favorite Cubelets designer, for example Lego.




5. Dash & Dot h3>


Dash & Dot - robots that interact with the world by means of sensors. They can distinguish between sounds, objects and know when you move them. Using a simple visual programming language Blockly, Dash & Dot can be programmed to any action - to deliver a message to a friend, have a party and find the right way, overcoming all obstacles in its path.




6. MiPosaur h3>


MiPosaur - a robot that can develop his personality and intellect, but also feel the world around us. With built-in gesture recognition can be controlled by a simple movement of the hand. Make the stroke, and the robot starts to dance or turn a blind eye.

MiPosaur comes with an interactive ball TrackBall. With it you can activate such regimes as the power, the pursuit and protection. Robot toy is compatible with devices based on iOS and Android. Communicates with other robots and applications BLE.




7. Hello Barbie h3>


Barbie - the perfect toy, but, as we know, there is no limit to perfection. It proved a well-known children's brands Mattel , who rigged the doll high technology.

Barbie can now listen to their owner , you will make a voice recording and send word to the server where they will be processed. This will allow the toy to learn how to answer questions. The toy can connect to the Internet via Wi-Fi, and is equipped with a microphone, speakers, a built-in mini-computer with the battery running out of power for an hour.




8. Ollie h3>


Ollie - is no longer a novelty in the market of toy robots from the company Sphero, but remains a popular and interesting. Monitoring is carried out through devices based on iOS and Android. The robot is able to rotate, turn, walk and follow the indicated course. You can create unique combinations to play with friends.

Ollie has a robust housing made of polycarbonate, equipped with a flashing LED, so can be used at any place at any time. The robot is connected to the devices based on iOS and Android via Bluetooth LE and charges via USB.

h3>



9. ALL TERRAIN Multi Function Tracked Robot h3>


ALL TERRAIN Multi Function Tracked Robot - multi-transformer, which has three main variations: truck, all-terrain vehicle and robot tongs.

Robot skid steer loader can lift up to 100 grams. ATVs are not afraid of any rough surface. A locking mechanism allows you to lift objects weighing up to 100 grams and transported to another location.




10. The Hexbug Battle Spider h3>


The Hexbug Battle Spider - ROV Spiderman for children from 8 years. Its size 10h10h 7, 5 cm, and weight - 115 g This spider has six legs, which allow it to move in any direction. Spider head rotates 360 °, the LEDs perform the function of the eye, so you always know where he is looking. Spider "shoots" light and infrared rays. If you have two Hexbugs, you can arrange a real battle. After 10 "hits" Spider will be "killed" (the robot will turn off and will require a reboot).


Source: geektimes.ru/company/robohunter/blog/268710/