Press release of the new series of office furniture Sample from "MebelStil": description of the key features of the series, the composition of sets, sample layouts
. The new series of office furniture Sample from "MebelStil" continues the idea of ​​an elegant minimalist design workspace, organic combination of functionality, reliability and modern design. It is no coincidence as the color solution was chosen trending combination of white and wood, "Swiss Elm" emphasizing style and ergonomic furniture.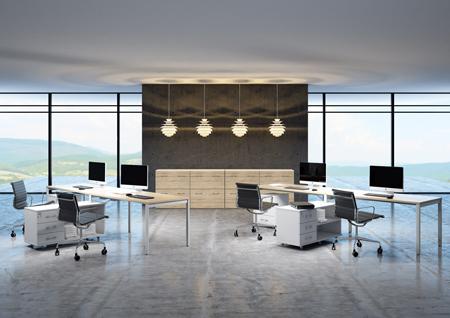 Office Furniture Sample - the maximum functionality of each element, the possibility of forming a flexible workspace. The series includes:
Work table with top made of coated LSDP executed "Swiss Elm" and supporting structures with adjustable height, as well as cable-management system for the fastest possible construction of communications for connection of office equipment.
Desktop shelves for the most convenient division and workspace organization.
Mobile pedestals on the bearing wheel supports to be placed under a table or next to it.
File cabinets with vertical organizational drawer and shelving system for opening all in one motion.
Extension cabinets with door-coupe.
Working with a modular shelving system assembly and optional hinged facade.
Each of the elements Sample of office furniture is highly functional flexibility, ample opportunities for the development and subsequent reformatting of office space. For example, the presence of the lateral and intermediate supports design desktop with different length intermediate-beams traverse provides:


the opportunity to build the office desks of various configurations;
the formation of two workstations , three or more tables.
Create a chain of tables basically has a single structure with a minimum of support. This solution provides the stiffness and, at the same time, ergonomic design, the possibility of economical use of office space.

Maximum capacity for the optimal organization of the workplace and provides cable management system - a stylish design element in the style of "techno". can be placed freely in the Network Communications pendant cable channels. The system includes a base member made of MDF coated and threaded profile to install dividing screens. These and other decisions provide ample opportunities in the creation of the design workspace, creating ergonomic workplaces, shaping the image of a modern, dynamic company.

As advertising. The publication was prepared with the support of "MebelStil».
In www.mebelstyle.ru online store is a wide selection of office furniture from the manufacturer. Models from our catalog meet all modern requirements. You can get advice and order a designer to create a service of your office design project. We understand that the competent organization of the workspace of employees is one of the most important conditions for the successful development of the company.