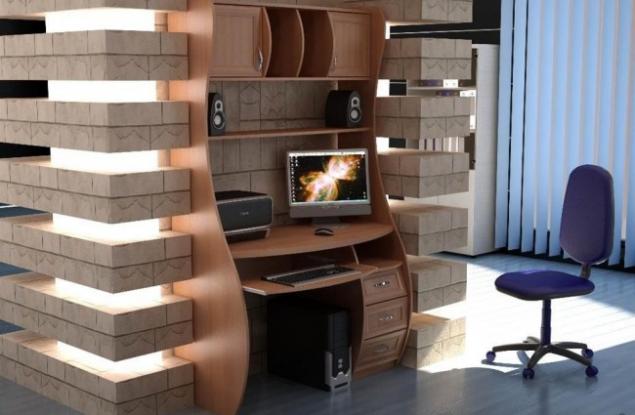 Working at the computer - an important part of modern life. Moreover, it is often necessary to perform in the home environment. Therefore, even if you knock on the keyboard in your own apartment, you'll need to
office furniture
. She did not have to be exclusive and custom-made. Inexpensive computer desk as well perform its task, especially if you have a little patience and pay attention to his choice.
Price computer desk will depend on the following factors:
The material from which it is made;
The size, shape and design;
The presence of additional racks, shelves and storage space.


Choose material h2>
The most democratic sample of office furniture - is a computer desk made of particleboard. But if you prefer natural materials, it can also be considered an inexpensive wood - such as alder or pine. You can stop on a compromise version, when the table itself (ie facades drawers, cabinets, shelves and countertops) is made of chipboard or MDF, and the finish is natural veneer.
What Whatever has been made chosen table, before buying inspect it: veneer is nowhere to be rough and bumpy. Piping must be present at all the edges, even those that are invisible and behind. Besides, the edge must be glued evenly and firmly, while its width should not be less than 1, 5 cm, otherwise it will very quickly begin to bend and depart.



What should be the form h2>
The shape computer desk depends on the parameters of the room, where he will stand. The most ergonomic shape considered curved and angled table - they provide additional work surface on which to place the speakers, scanner, printer, or other accessories. However, this does not necessarily: in some cases, the most convenient would be a simple small table straight standard form that can successfully solve all your work tasks. It is necessary to focus on this figure: the scientists investigating office work, concluded that the depth of the countertop must be at least 60 and not more than 80 cm.



What else to expect? h2>
It all depends on the chosen model of the table. It may be a fixed place in the computer system unit, and may be retractable, on wheels. Sometimes under the table there is a pull-out shelf for keyboard - it is very convenient in the case of lack of space. In this situation it will be very useful as various "add-in" computer desk. Their equipment is diverse - Special shelves are designed for storage of paper trays, office equipment, computer disks, etc. However, the presence of such a construction would increase the cost of the computer desktop in 1, 5-2 times.
At whatever option you are staying, remember the main thing: office furniture you need for the job. Its design may be humble, and even austere, but about your own convenience when choosing a computer desk forgotten in any case can not be!
Information provided by Mebelstil: www.mebelstyle.ru .