When the artist-ceramist bought an apartment in the Ile-de-France region overlooking the Seine, a house was in good condition, but it is not appropriate to the mistress of beauty. The repair of the apartment owner has invested about 100 million euros, asking designers to create a harmonious open space and beat a fantastic view from the balcony. Designers visually combined living room and balcony. Abroad are huge windows to the floor with sliding double doors. Tiles on the balcony successfully imitates and complements rosewood flooring in the living room. On the balcony - light air fence and no decor.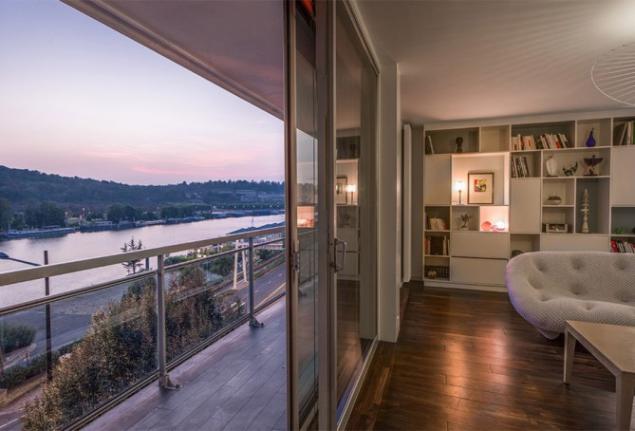 This beautiful balcony - a part of a small house on the island of Waiheke Island in the Hauraki Gulf. The house was built for a country holiday spouses. Owners - avid fishermen - did not want to burden themselves with complex housing and care of the garden, so they asked the architects to design a simple and unassuming building. The house is built of prefabricated modules and prefabricated exterior is sheathed with cedar planks and corrugated iron, and inside - plywood. He literally wedged between the rocky cliffs and huge relict trees, which made part of the interior architects.
This balcony - not quite balcony. For the huge sliding windows are just light metal railings. Behind them - the trees. The process of admiring cherry blossoms called the Japanese single word - "hanami". To "Khans" was comfortable, the architect designed a window in front of such a special screen-long bench. First, the owners - a young family with a child - were afraid that the panoramic windows destroy all the privacy of their home, but it turned out that the street can not see them at all.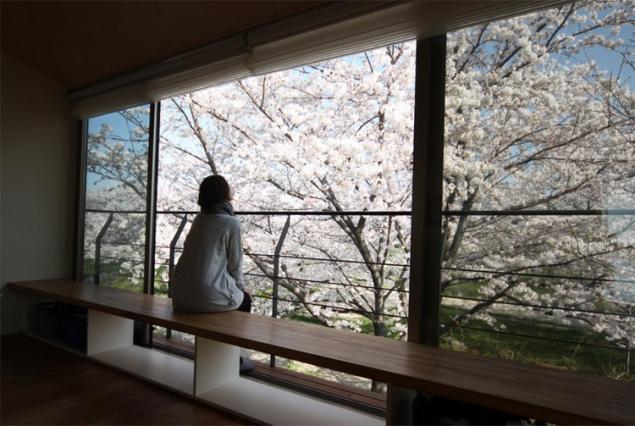 Surely you've ever looked at the attic of the Arbat and sighed enviously: "Living there is someone." This fashionable balcony, in particular, belongs to a family with three children. In addition to the balcony, the family also owns two last floor in a former apartment building in Sivtseff hostility. There are a lot of unusual - and the glass ceiling, to look at the starry sky, lying in bed or bath, and almost complete absence of corners in the interior, and a winter garden on the balcony.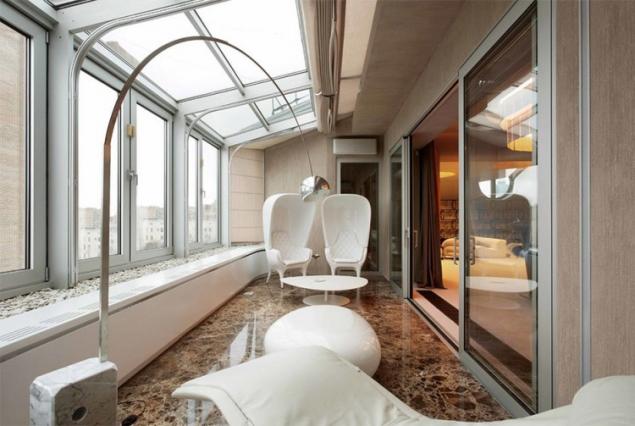 With this glossy balcony you can see the past: in the bell tower of the Cathedral of the Blessed Virgin Mary in Murcia imprinted all architectural styles XVI-XVIII centuries - from the Renaissance and Baroque to Rococo and neo-classical. 98-meter bell tower was built almost three centuries, and the Cathedral, and all based in the XIV century. Balcony with a view of the bell tower, is part of the old penthouse, recently survived a serious repair. Newlyweds who bought spacious accommodation, abandoned in favor of the partition of open spaces. Erased the boundaries between visual and balcony and a bathroom.