What apartments can be rented for $ 1,000 in different parts of the United States Bashny.Net
Brooklyn - 1000 $

Size: Studio 27, 8 sq.m.
Neighborhood: Bedford Stuyvesant
Amenities: The apartment has hardwood floors and high ceilings, but the kitchen is so close to the bed, you can do an omelet without getting out of bed. A bathroom and have to share with the neighbors.


Birmingham, Alabama - $ 825

Size: Two Bedroom Apartment, 102 sqm 4
Area: Hoover
Facilities: Communal swimming pool and a tennis court, so that the apartment can be removed until retirement.



Cleveland - $ 1, 175

Size: House with three bedrooms and 1, 5 bathrooms.
Area: Cleveland Heights
Facilities: To begin with, it is home. The whole house. In the presence of the second floor, two-car garage and security system.



Nashville - $ 1006

Size: One Bedroom Apartment, 66 sqm 5
Subdivision: Rivers Edge
Facilities: Terrace, swimming pool and landscape garden design. In general, feel the Great Gatsby.



Augusta, GA - $ 750

Size: One floor of a historic house with two bedrooms, 102 square meters
Neighborhood: Old Town
Amenities: A giant living room with fireplace. The classic claw-foot bathtub. Air Conditioning. Huge yard. And ... swing on the porch.



New York - $ 960

Size: Not specified, but considering that the bed is a door stop, it is unlikely there are many places.
Neighborhood: Little Italy, Manhattan
Amenities: The master boasts central air conditioning, but it will have to share with a stranger, who has lived in this apartment.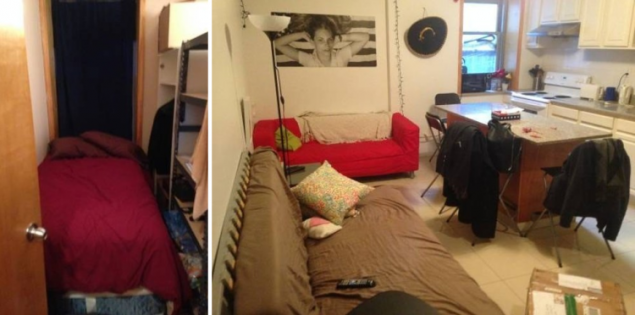 Portland, Oregon - $ 1275

Size: One bedroom apartment
Area: Belmont
Amenities: microwave, dishwasher, and close proximity to three bus stops in different directions.



Milwaukee - $ 1075

Size: Double Apartment 92, 9 sq.m., which occupies one floor
Neighborhood: Lower East Side
Facilities: Vintage house, which requires only light repair - hipster paradise.



Atlanta - $ 1050

Size: Studio in the trendy area of ​​624 sq.m.
Neighborhood: Old Fort Ward
Facilities: Well-equipped fitness center and a barbecue area with picnic areas, it is possible to easily overeat pork ribs, and then go to the gym.



San Francisco - $ 1285

Size: There is a small chance that there could fit one person
Neighborhood: Financial District
Facilities: "Double bed with NEW blanket and linen».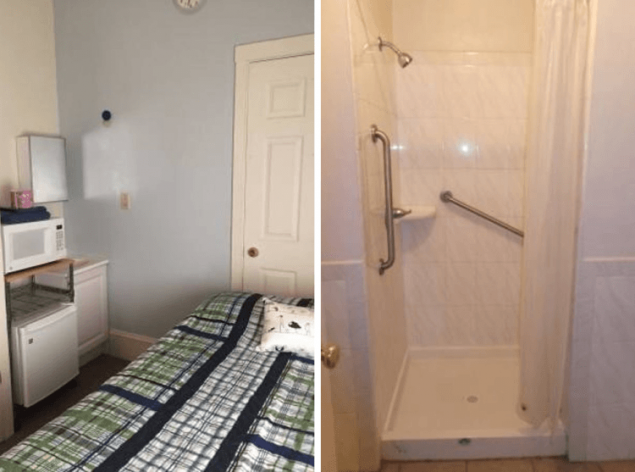 Asheville, NC - $ 1 240

Size: Two Bedroom Apartment, 89 sqm 7
Neighborhood: North Asheville
Facilities: At least - a dressing room.



Fort Worth, TX - $ 1500

Size: House with three bedrooms and a fresh renovation, 108 sq.m. 4
Subdivision: Ryan Place
Amenities: Two-car garage and a large courtyard with a built-bowl for the fire.



Charleston, South Carolina - $ 1, 000

Size: The area is not specified, but there is a balcony
Neighborhood: James Island
Facilities: The building has a swimming pool and fitness center, which is open 24/7, and the nearest beach just a couple of minutes on foot.



Denver, CO - $ 983

Size: Two bedrooms and bathrooms, 104 sqm
Area: Aurora
Amenities: Jacuzzi and swimming pool outside.


Denver, CO - $ 983

Size: Two bedrooms and bathrooms, 104 sqm
Area: Aurora
Amenities: Jacuzzi and swimming pool outside.



Salt Lake City, Utah - $ 1000

The apartment with two bedrooms and bathrooms, 94 sq.m. 2
Neighborhood: Millkrik
Amenities: Gas fireplace for romantic evenings.







: Fishki.net


Tags
See also
New and interesting
New and interesting