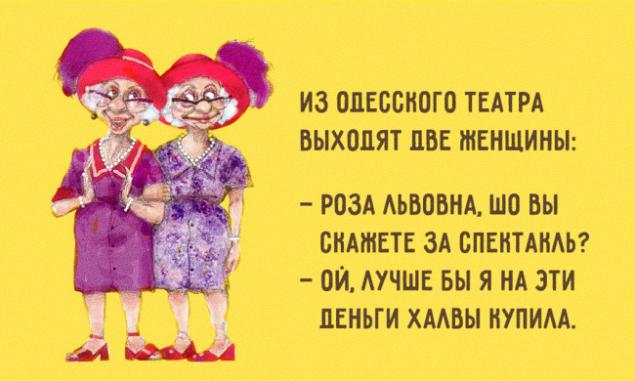 Nowhere in the world do not speak the way they do in Odessa. Community residents of this beautiful sunny city is not subject to any rules, but there's always a place for optimism!
Website does not get tired to admire the stunning ability of these people to converse.



- Haim, imagine how hard for me to live. After my wife was previously married to a millionaire!
- I'm worse. My guess is that she is now married to a millionaire ... Announcement in Odessa hospital:
"No money? Be Healthy! » Money is not happiness! But, as a Jew: "With the money I can afford to be unhappy anywhere, with anyone, anytime». - Senya, do not dare to give the baby cake! He's allergic to milk, eggs and wheat flour!
- But he has the same birthday!
- Give him a candle! In Odessa, no matter how you go into the bus, it was full of people. People go to work, people go to work ... When the work - is unclear.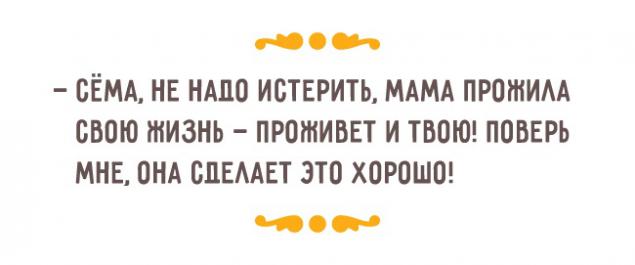 Rose won at Fima large sum of money and not to give, to marry him. - Monya, dear, before the wedding, I want to acknowledge the same in all their sins!
- A sin ?! I beg you, you admitted a week ago!
- This latest data ... The mother sends Jewish youths to the army:
- Sёmochka, tell me where you write! The troops? In the infantry?
- Oh, Mom, write immediately captured! We ask Abram school:
- Kakaya fopma have Zemli?
- Kpyglaya.
- A HOW IT'S dokazat?
- Pyct will be played kvadpatnaya I DO NOT nactaivayu.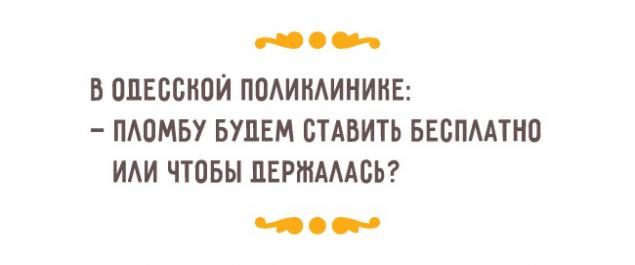 - Sarochka say vie ride to the resort and have a whirlwind romance there?
- Oh, I beg you ... Where is it rough when all the money hidden in her bra? - Rabinovich! Borrow ruble!
- Oh, I can not! Neto with!
- At home?
- At home? Your prayers, all is well at home! The husband does not sleep at night, tossing and turning. The wife asks:
- What happened?
- Haemu owed five hundred rubles, and have nothing to give.
My wife gets up, unlocks the window and shouts:
- Hai! Hai!
- What, Sarah?
- You should Abram five hundred rubles?
- I have to.
- Well, he will not give them to you.
Husband:
- Sleep well. Suppose now that he was not asleep.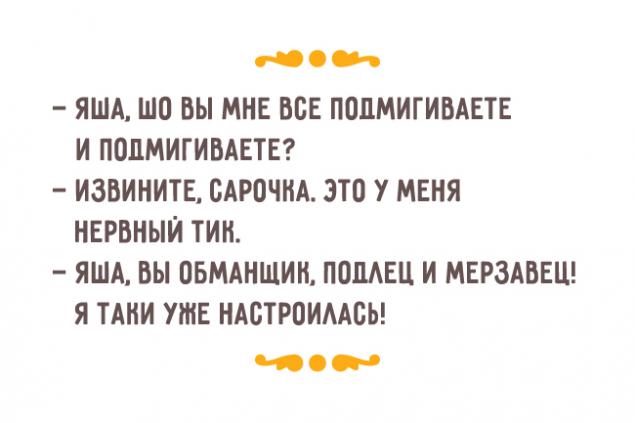 Semen Markovich visited the mother in law in the hospital and returned home.
- How's Mom?
- Healthy as an ox, going out of the hospital and to live with us.
- A doctor told me yesterday that she left to live for several days.
- I do not know, Rose, that he told you, and I said, Schaub was preparing for the worst! on preview: polyvore





via www.polyvore.com/grandparents_gone_wild/collection?id=3958491