Scion, the youth car brand under which Toyota's US produces and sells affordable cars, has launched a new internet campaign «Little deviant» (~ A little bit crazy) for a new car Scion xD.
In cooperation with the agency Attik (San Francisco), the automaker has launched an ambitious online campaign in which offers to deal with "gray sheep." The plot of commercials, announcing a new campaign shows how wolves come in "the city greyness", where everyone wears the same clothes, think alike. According to the creators of the concept, such a civilization has no future future - bright and brazen characters, riding on Scion, kill city.
Roller announces site «Destroy the boring sheeple» (~ Destroy boring sheep-city), located at LittleDeviant.com. On the site, visitors will severely deal with sheep, killing and torturing them as representatives of the "grayness».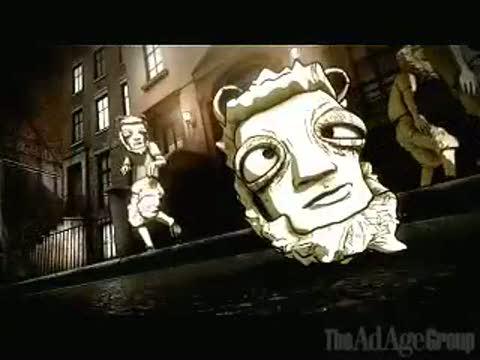 In support of the new car 2008 Scion xD company launched a brutal online game «Little Deviant».
The game «Little Deviant», located on the Web site littledeviant.com, was developed by San Francisco agency Attik. In it the player gets the role of evil "deviants» (deviant), who travel through the dark city on the new Scion 2008 xD in search of the "hiss" (literally "ovtselyudey»: sheeple, derived from sheep and people), do not have their opinions and preferences. The goal - to drive through the city, in many ways mocking the "hiss" and inflicting fatal blows.
Attik has also created a 60-second commercial to be shown in cinemas. In the video, a group of "deviants" rides a 2008 Scion xD and terrorized "Shipley».
«Scion - is night, dark brand and it seems that a new campaign is ideal for xD. It is unusual for a car company, but it is interesting and attracts people's attention, "- said Simon Needham (Simon Needham), co-founder and creative director of Attik.
2008 Scion xD subcompact will go on sale in August. As related products will be offered to buyers sandals, wristbands and mediators with images "hiss" and "deviants." It is also known that the advertising campaign will be supported by bands playing heavy rock and metal.
According to Nielsen Monitor-Plus, in April Scion spent on advertising $ 9.3 million. The cost of advertising in the last year amounted to only $ 30 million. According to Autodata, the 2006 Scion managed to sell 173 000 cars, which is 23 000 more than expected Toyota, which owns the brand Scion.
Getting acquainted with advertising Scion, be sure to look past the campaign "All of you will become a square" for the Scion xB.
Client: Scion
Agency: Attik - San Francisco
Creative Director: Wayne Hanson
Senior Creative Director: Simon Needham
Copywriter: Michael Brenner
Art Director: Greg Coffin
Produced by the agency: Jay Cortez
The Source: Business Standard
via
ds-online.ru