If you look around, you will notice that the majority of calendars designed in a standard linear stile.U all calendars are usually one and the same structure: the month is written in bold, as the days are painted by him in strict table. In fact, the calendar is not obliged to look like. After all, there are a number of creative solutions that should be considered when drawing up the calendar.
Very often, designers are at risk of using a unique design solutions. However, unusual design is not necessarily a good design. It is important that your calendar functionality is retained, because it is much more important than the design. The following are examples of unusual solutions in the manufacture of the calendar. Not all of them successful, but all of them can be found a couple of fresh ideas for the project.
We have previously considered
«creative content" in calendars , design magazine Smashing Magazine did a survey on the "creative ideas form».

Magnetic kalendarVechny, easy to manufacture magnetic calendar. On the whole 32 days of the month, just in case. Names of the months reduced to three letters. The magnets can be fastened on top of one another. The special feature calendar - Magnets with special symbols. Designers Pinigin Igor and Sergei Chebotarev. (Ukraine).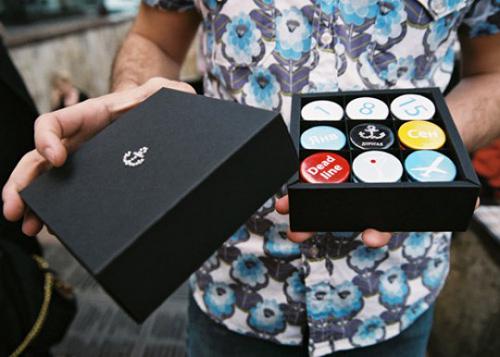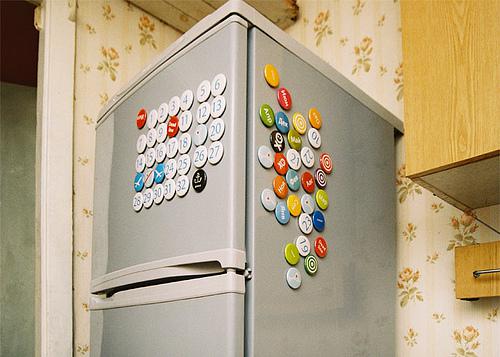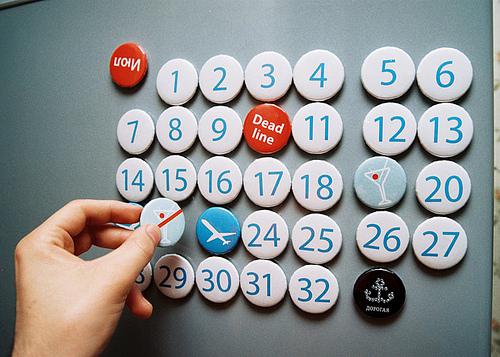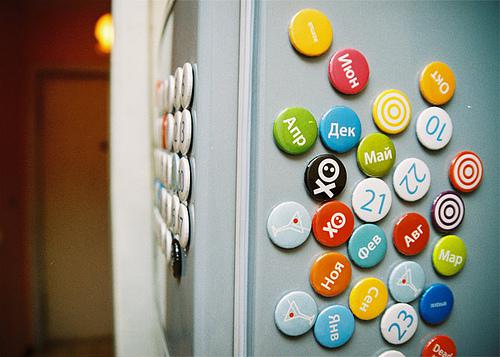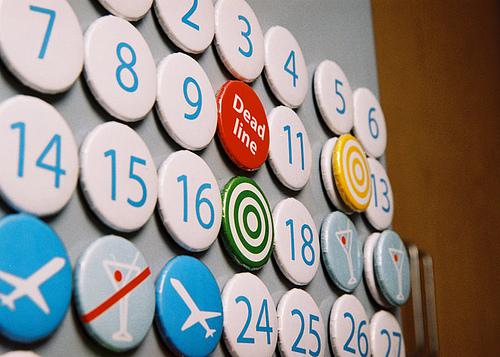 Eternal kalendarDizayner Sander Tielen, Netherlands.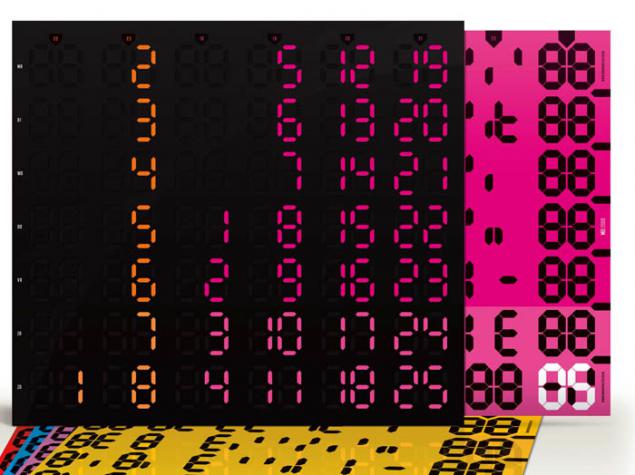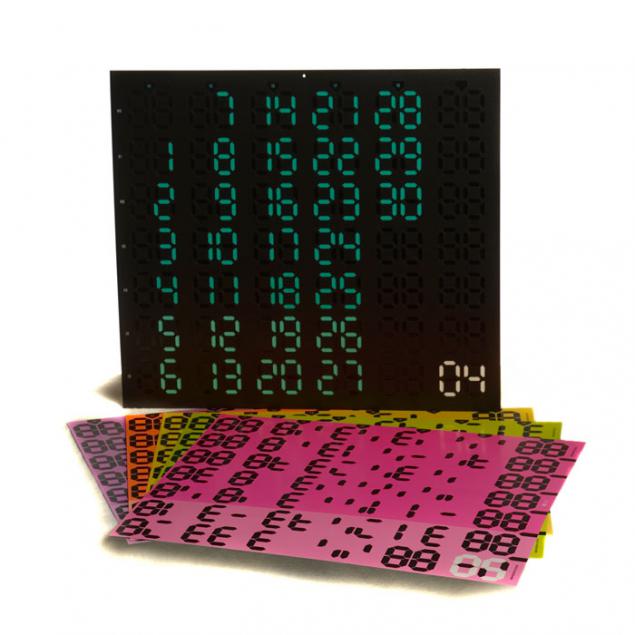 A-CalendarZabavny project: the calendar displays the daily hours of sunshine a 30-year-old, migrated in 2008. It has been a lot of work. The designer Sven Ellingen.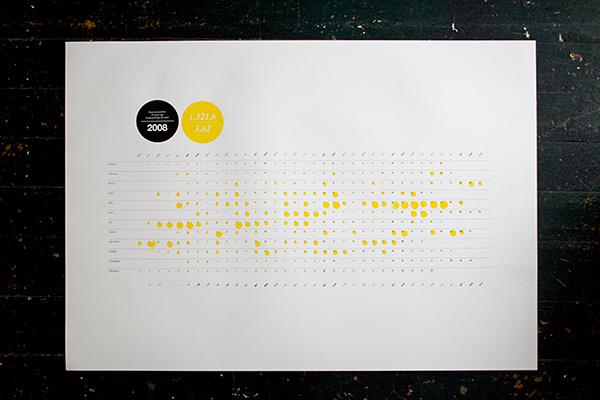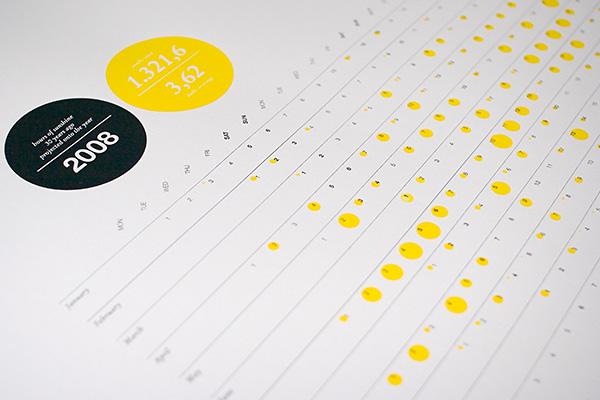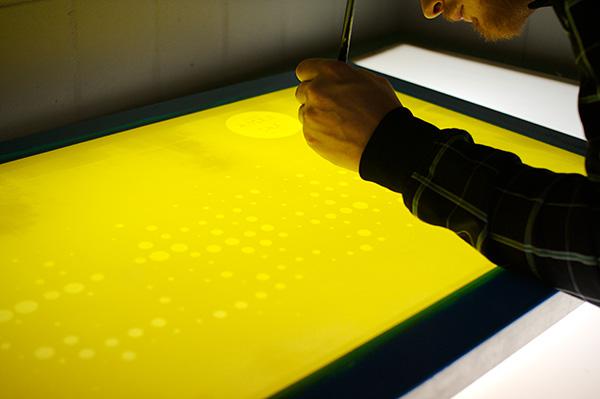 Too cool for words.

To understand this calendar, you need to remember that the designations. | .. | ... | ~ |,,, |,, |, The months from January to December. So, to find out what day of the week will be November 20, you must find the number 20, in the column "up" until November and see that it's Tuesday.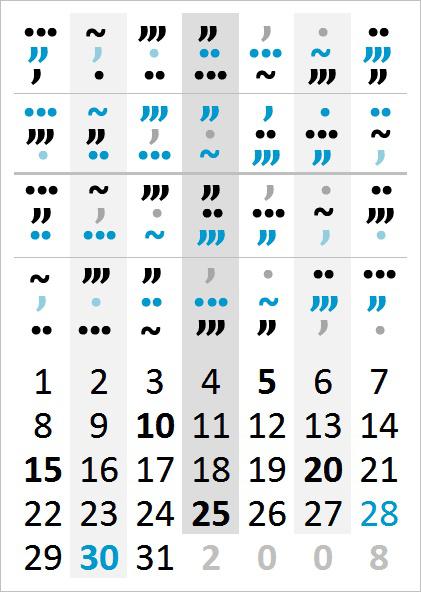 Designer: Eliazar Parra Cardenas

Eternal kalendarEtot bold and original calendar has been created for use year after year. Just move the two small magnets in the shape of a ball to indicate the month and date. The calendar was produced for the Museum of products from magnets and molded plastic, it can be mounted to a wall or stand on a table. The designer Gideon Dagan.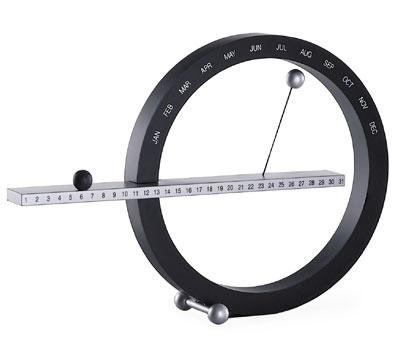 Folding kalendarEtot design involves the use of a common table of numbers for different months. Designer Luis Pabon.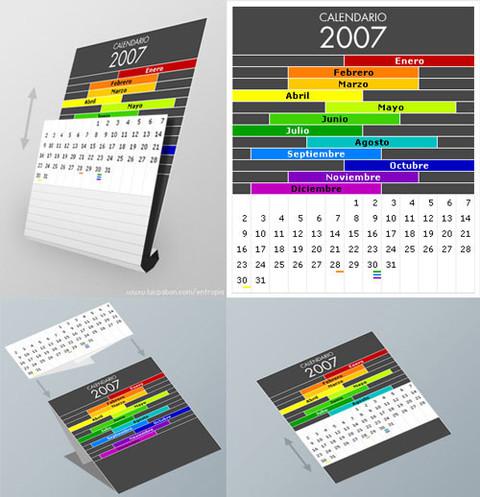 Color kalendarPriyatnoe color scheme. Every month is associated with a certain color, such as blue - January, red-July. On the last page there is information about the portfolio of the designer. It is also a great promotional booklet. Designer Jonathan Davies.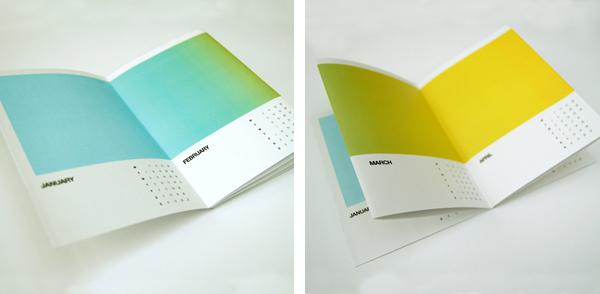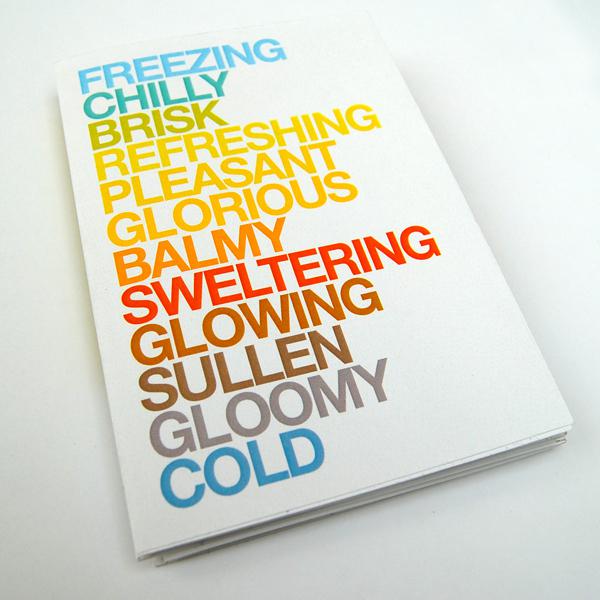 Round kalendarDizayn calendar from Finland. Invented design agency Pulse247.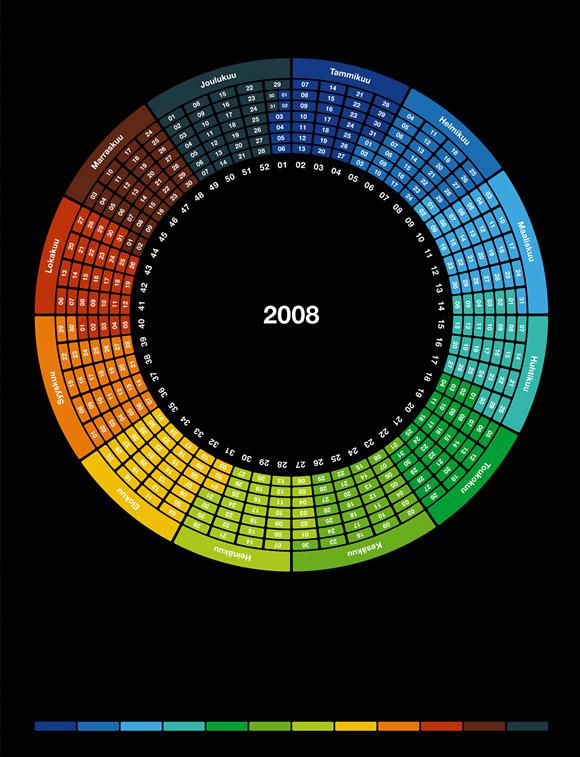 Color kalendarEsche one solution in which each day has its own color designation from the Swiss design genius Moritz Zwimpfer. This attractive calendar a bit like a diary, it is a place for notes and records.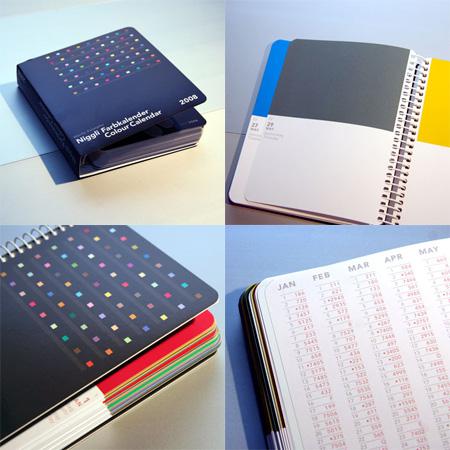 Diagonal kalendarNe most convenient format, a bit confusing and difficult, but very intriguing.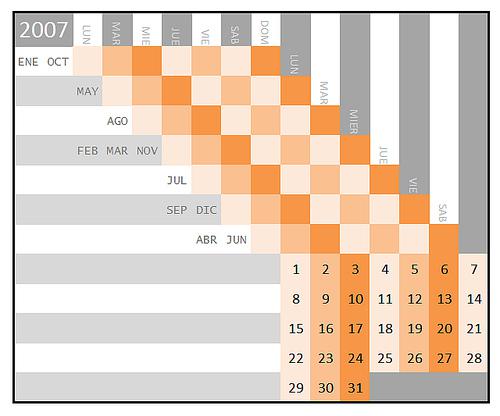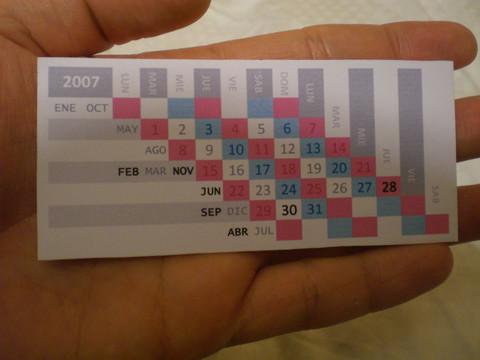 Compact kalendarDizayner by David Seah.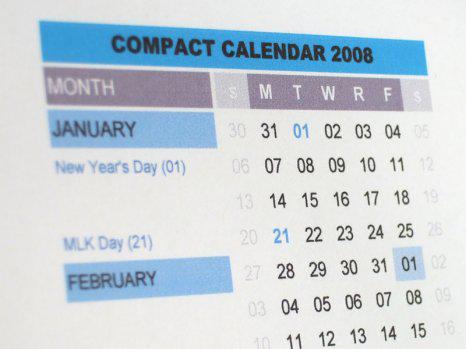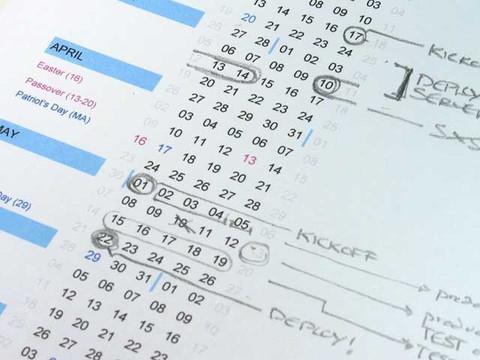 Post-It kalendarKalendar made using stickers. The look and design of the calendar still need some improvement, but the concept is simple and clear. For each day there is a sticker with the date and to-do list for the day. Before you leave home, you come off the sticker on the calendar and put it in your wallet. Author - Andrew Slobtsov.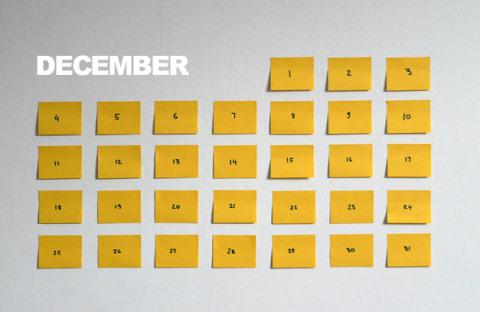 Step kalendarProstota and pleasing design make this calendar a good desktop accessory. Calendar made of wood.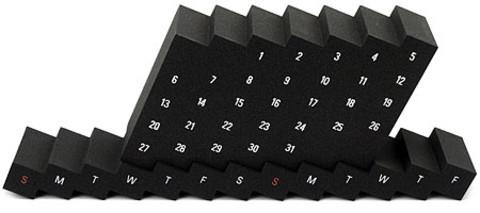 "DyuPontovy" kalendarDuPont asked 40 designers from around the world to create a brilliant and super-functional desk accessories - which mirrors the design capabilities and potential of the material Corian.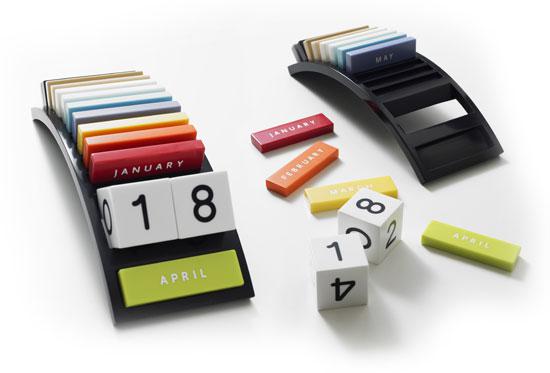 Vintage kalendarKalendar made of wood.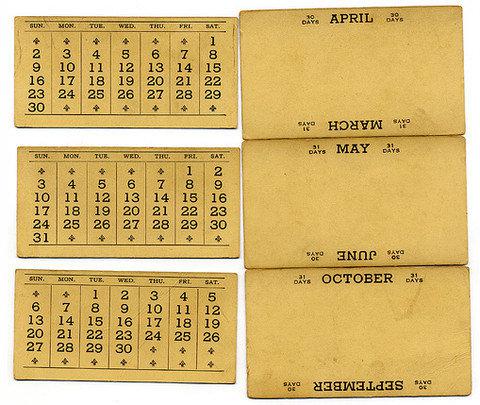 Calendar-SpiralKalendar need not be linear, it could be formed in a spiral shape. However, it is not clear how it can be used. Designer Krizan Design Studio.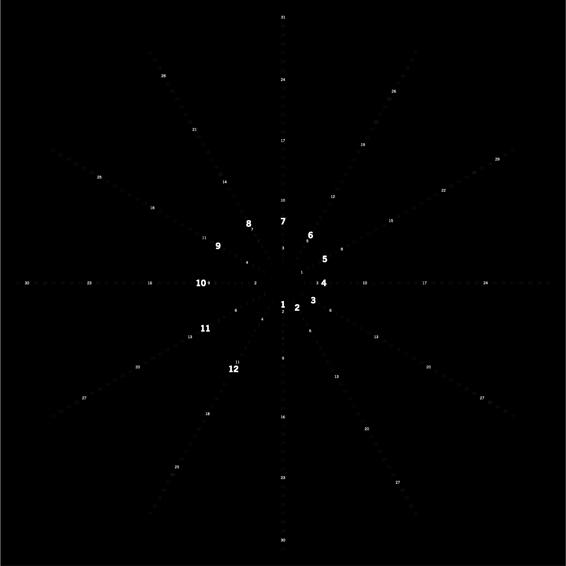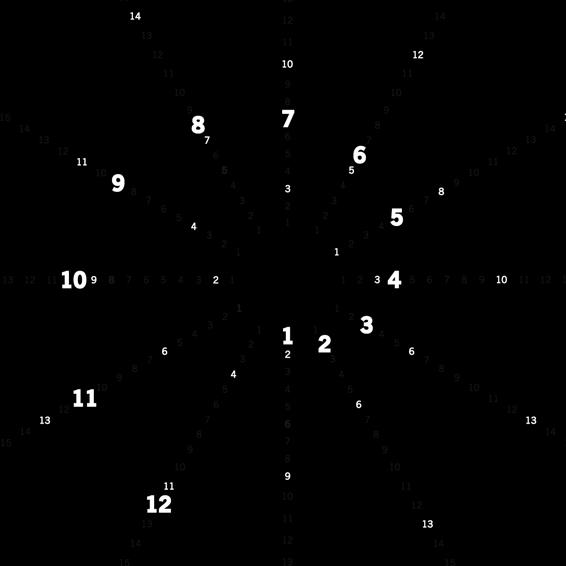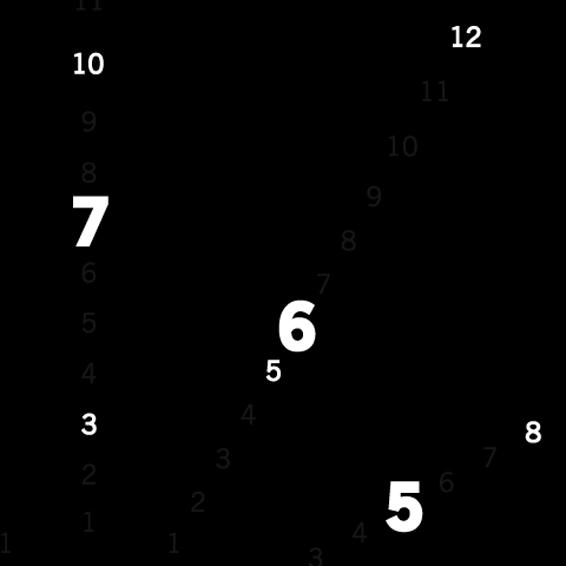 Acrylic kalendarEtot calendar consists of mobile plate acrylic squares, on which were written the days of the week and number. The squares can be adapted to any month.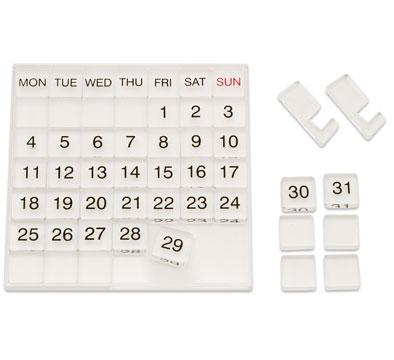 "Box" kalendarKalendar designed for 9 years. Infinity is temporarily stored in a neat box.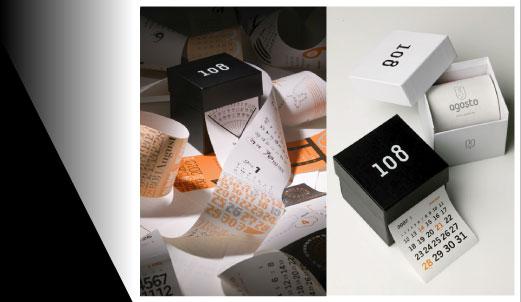 Calendar-BroshyuraDazhe simple calendar should not look like a simple calendar. If desired, it can look like a brochure or booklet. Designer Manuel Dall'olio.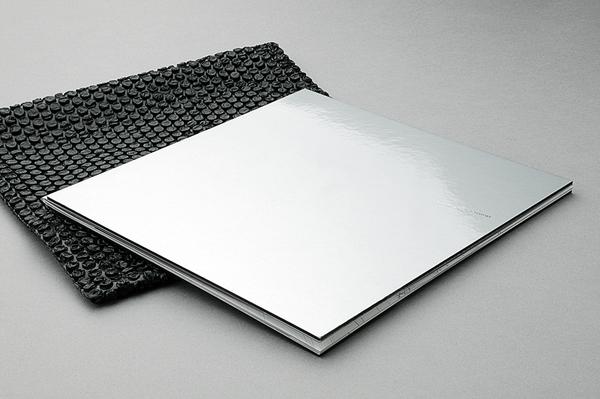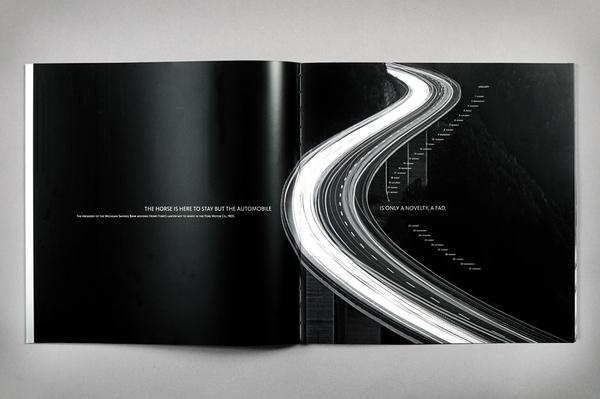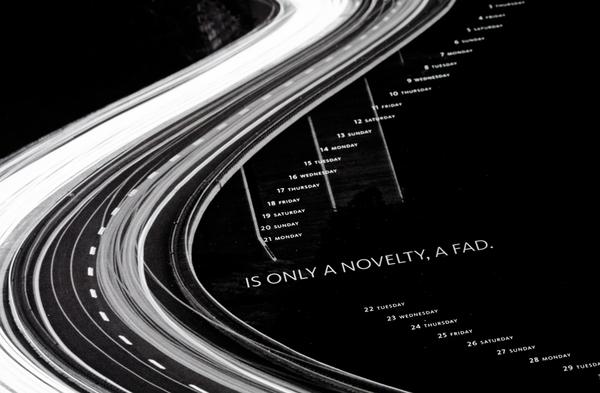 Circular calendar
Designer Entropia.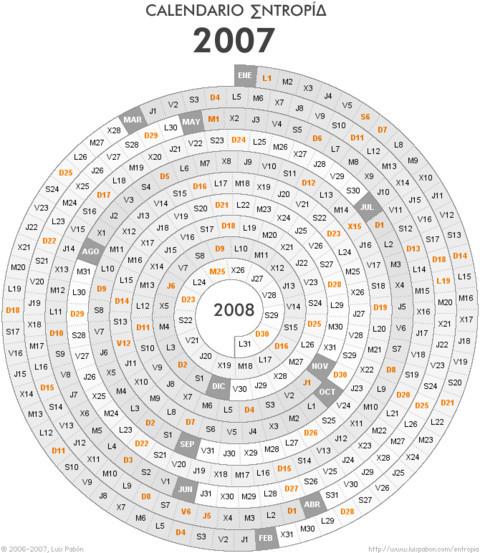 Calendar with personal symbols
The design of this calendar is designed for personal initiative of its users: they are invited to invent their own personal visual code to indicate different events in their lives.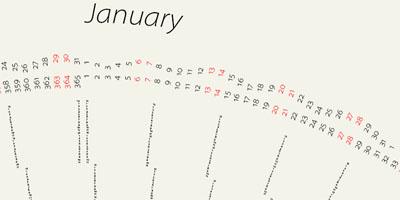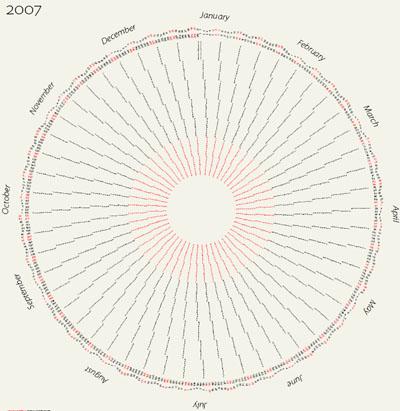 Calendar-ZmeykaPonedelniki highlighted in white. Designer Ben Stevens.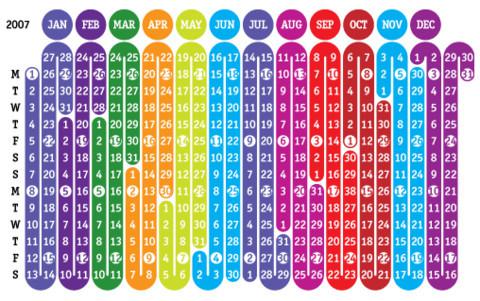 Calendar displays for fans grafikovKalendar lunar, solar and other phases. Roman numerals indicate months.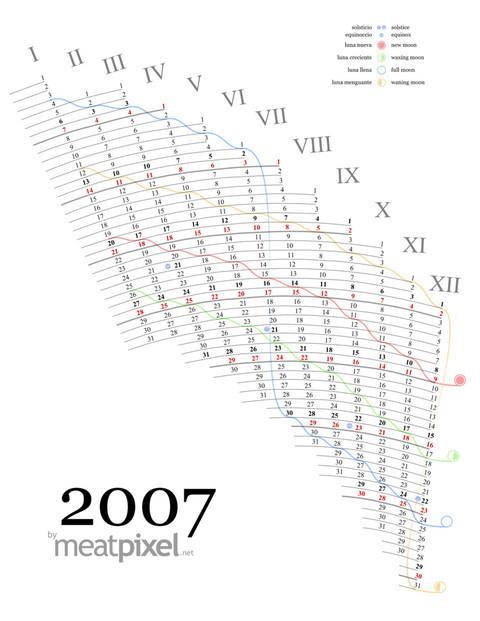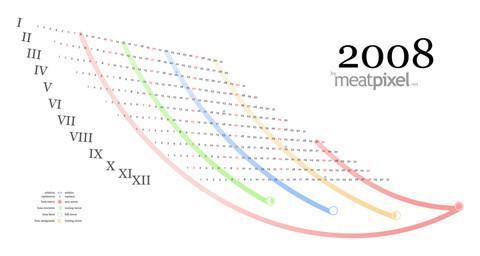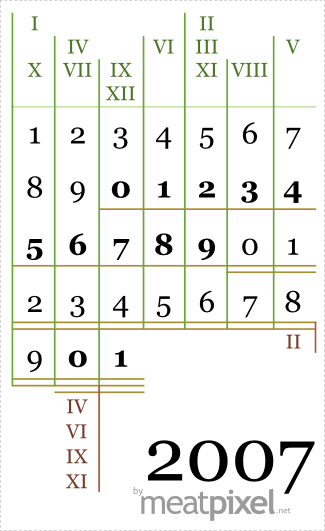 Living, growing calendars
A series of homemade calendars and posters with plants produced by controlling the flow of ink to paper. Designer Oscar Diaz.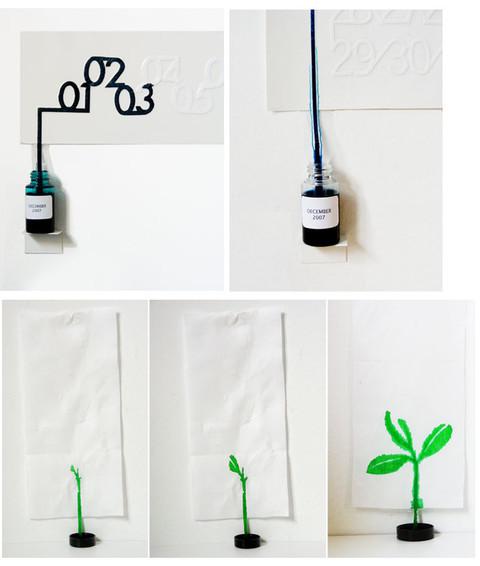 Calendar HelveticaOtryvnoy calendar with 365 stranitsami.Dizayn agency EffektiveDesign.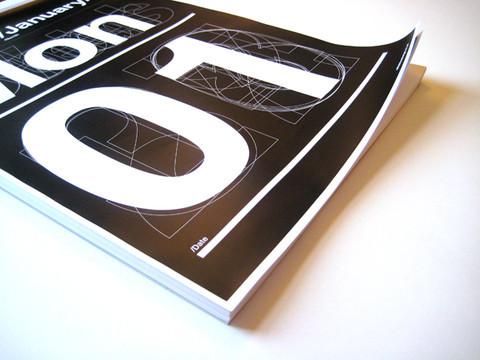 Round Calendar stikerovIspolzovanie these calendars will help you improve self-discipline and self-organization, as well as how to have fun! Features of this calendar are endless!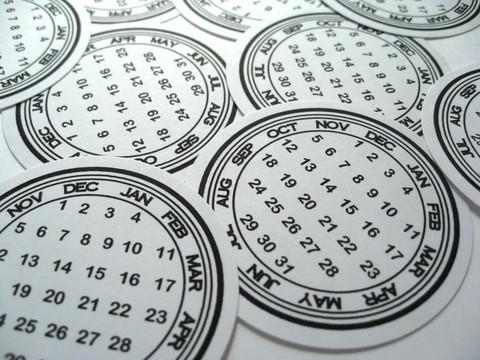 Triangular calendar
Maybe you get something interesting, if you develop this idea further?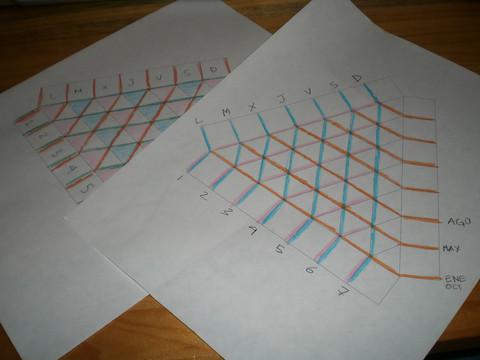 Calendar-oboiNastoyaschie Ninja design create calendar wallpaper. The designer Christiaan Postma.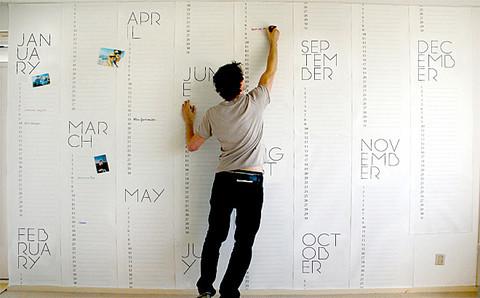 Calendar AtstekovOtlichnaya idea from fellow Aztec calendar.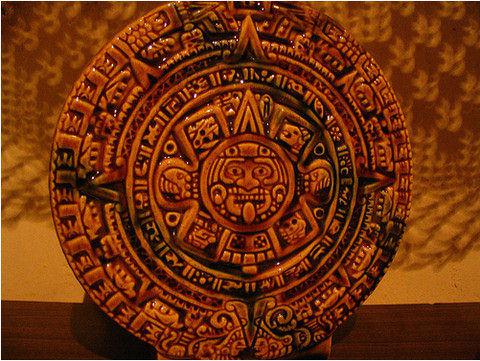 Calendar without numbers and bukvOtlichnoe design solution! No numbers, just pictures. Very decent calendar, but it is not clear how to use it. The designer Cecilie Ellefsen.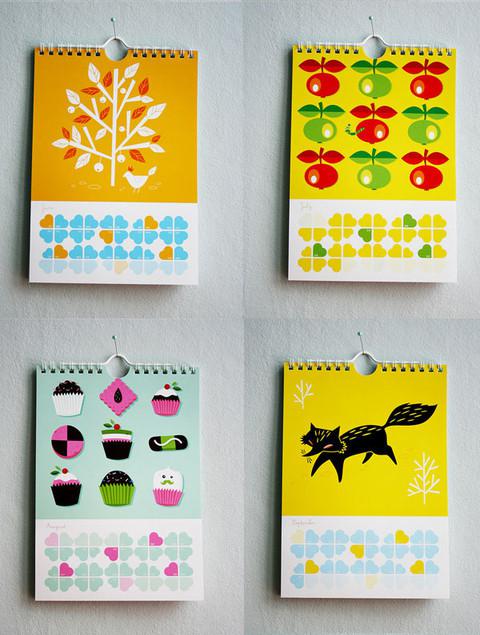 Calendar - board melomDomashny office - ideal for drawing family plans. Calendar size can be increased up to wall-sized.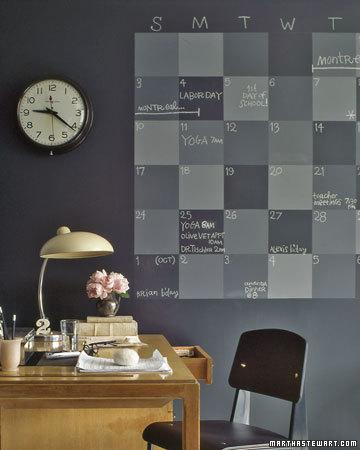 Calendar - coffee mug.

Designer Takeshi Nishioka.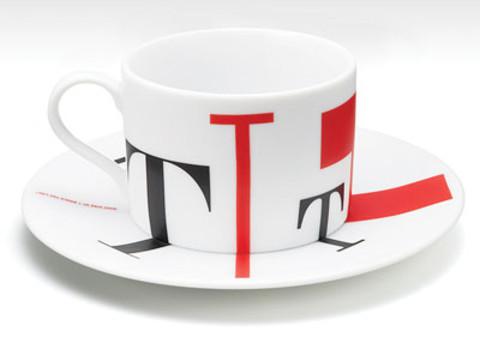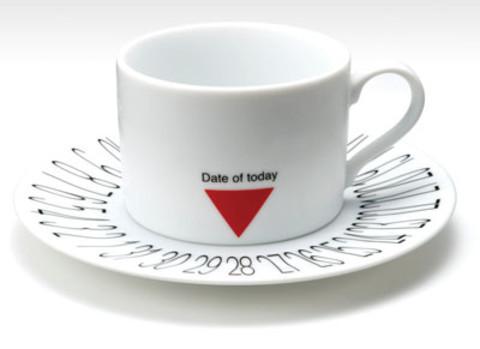 According to the materials: Smashing Magazine

via www.smashingmagazine.com