In this collection are prints and new solutions in outdoor advertising, which seemed website editorial staff and visitors the most interesting, visible and significant.
Printed reklamaAlka Seltzer «solves problems" (+4 print) French agency CLM BBDO revealed how drug use Alka Seltzer solves the problems with the stomach and in general.
The series of prints shows how to save the human stomach.
Slogan: Solve your problems (Dissolve your problems).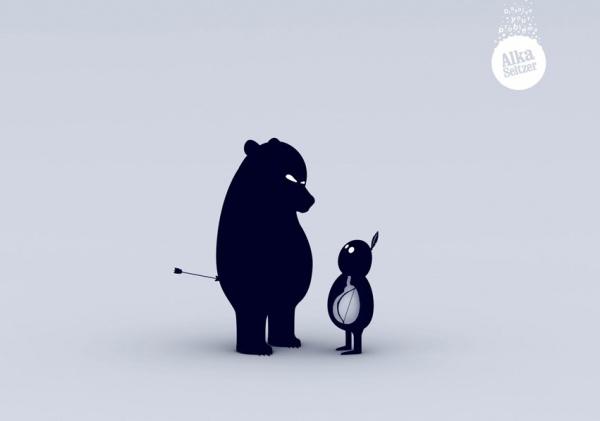 The generation of "Change" (+2 print) Great photographer Vincent Dixon pouchavstvoval new Pepsi advertising campaign from the French agency CLM BBDO.
In each of the prints tell stories like Pepsi can be exchanged for the most valuable thing in the life of a teenager. That which can not be bought even for money.
Boss: That's what mosquitos would be used against other mosquitoes, they do not like (+2 print) Agency Leo Burnett Warsaw (Poland) with humor came to advertising insecticide Bros.
The creative idea is a means Bros as the best choice for kills mosquitoes, in the opinion of mosquitoes.
Tagline: It's something that would be used against mosquitoes to other mosquitoes, they do not like (It's what mosquitos would use on mosquitos they do not like)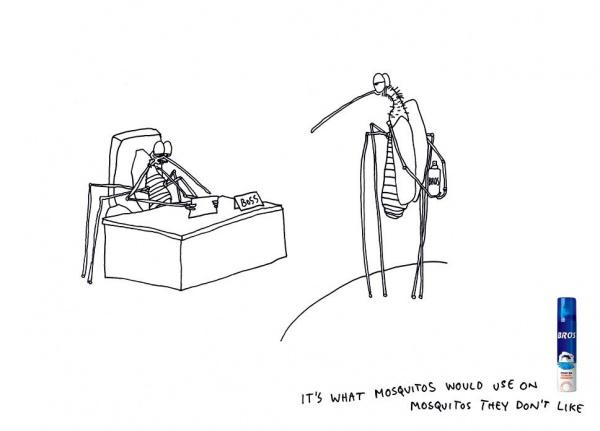 Fuji Quicksnap: Ichthyander camera for the sake of human whims cameras had evolved from land creatures to underwater inhabitants.
It's time to hurry up and grow a person itself any gadget for underwater shooting - such as webbed fingers. The prints created by Ogilvy & Mather Indonesia for Fuji Quicksnap, there are all the usual advertising underwater cameras attributes - underwater world, a diver, the camera close-up. In general, only one notable detail, but what!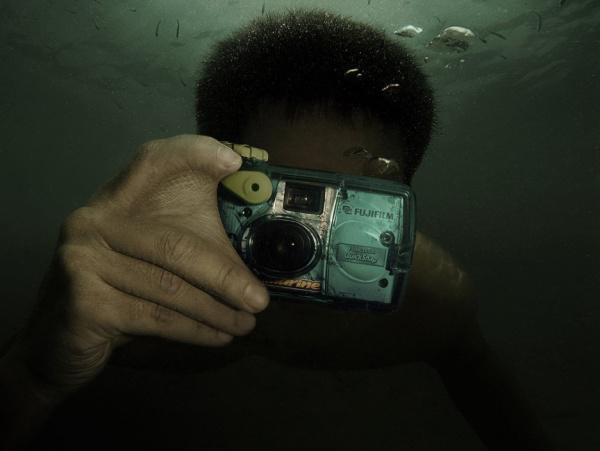 Euro RSCG Life: Stop shivering and defeat Parkinson's disease (+2 print) Chinese branch of Euro RSCG Life touts drug Jin Si Ping, who wins Parkinson's disease, stopping the shaking. The series of prints shows that tremor occurs due to the fragility of available tools, and hence easy to handle. The second meaning - to encourage people to think about the gravity of the situation of people suffering from this disease. Try to bring a spoon to her mouth.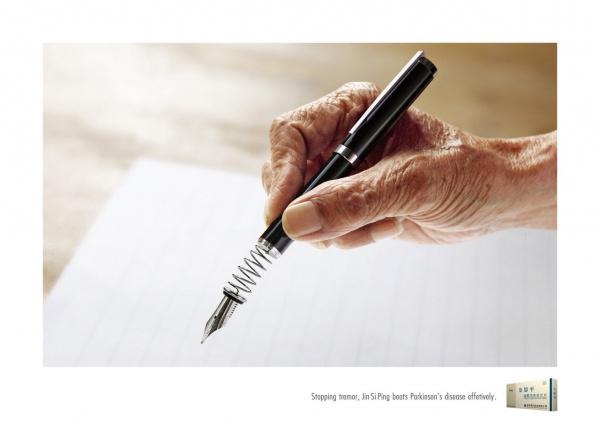 Yogi as a toothbrush Aquafresh (+ 2 prints) Agency Grey Hong Kong has decided to show the flexibility of the toothbrush Aquafresh Flex Direct Toothbrush, comparing it to the master of yoga.
Tagline: Ultra-bendy (super-foldaway).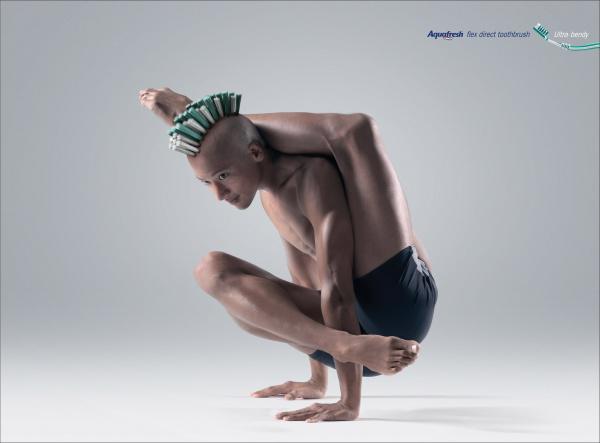 Ask not hurt (+2 prints) Grey Melbourne (Australia) promotes social organization WorkSafe Victoria, fighting for safe work.
The campaign is designed to convince young workers longer asking and seek help until it is too late.
"I think that would look silly if I ask again».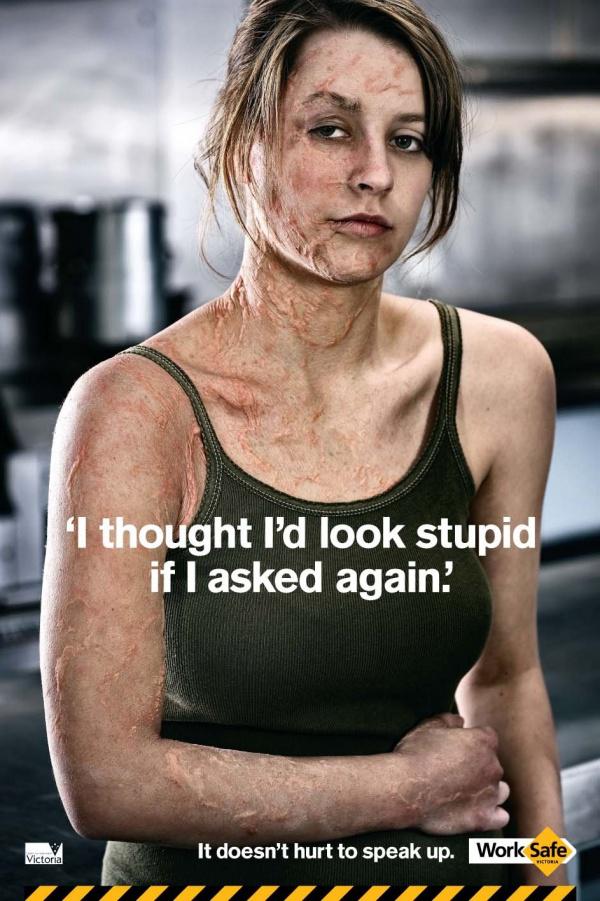 Guides for nightlife Infrarouge: Sleep - sucks! (+2 Print) French edition of the nightlife of Paris Infrarouge zavlet that sleep - it sucks. Super-agency Publicis Conseil and illustrator Craoman presented a campaign under the slogan Sleeping sucks, representing the nightmares of people who are sleeping - and could have fun.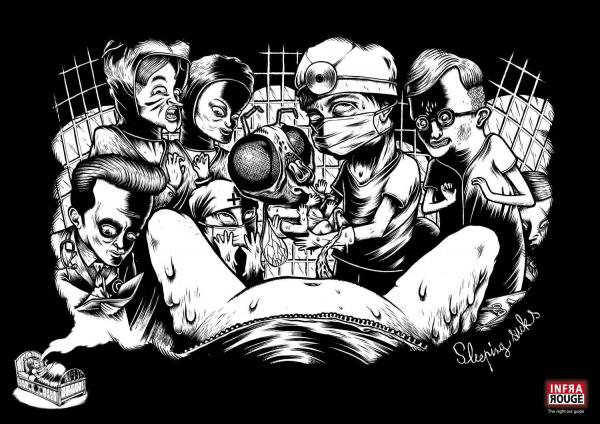 Washington, Napoleon and Robin Hood without pants in advertising cowards Balls (+ 5 prints) German Agency Glow has developed a campaign for a brand of men's underwear Balls. In a series of prints, depicted Napoleon, Robin Hood, Vashingtov and other famous people without pants, but in fashionable shorts Balls.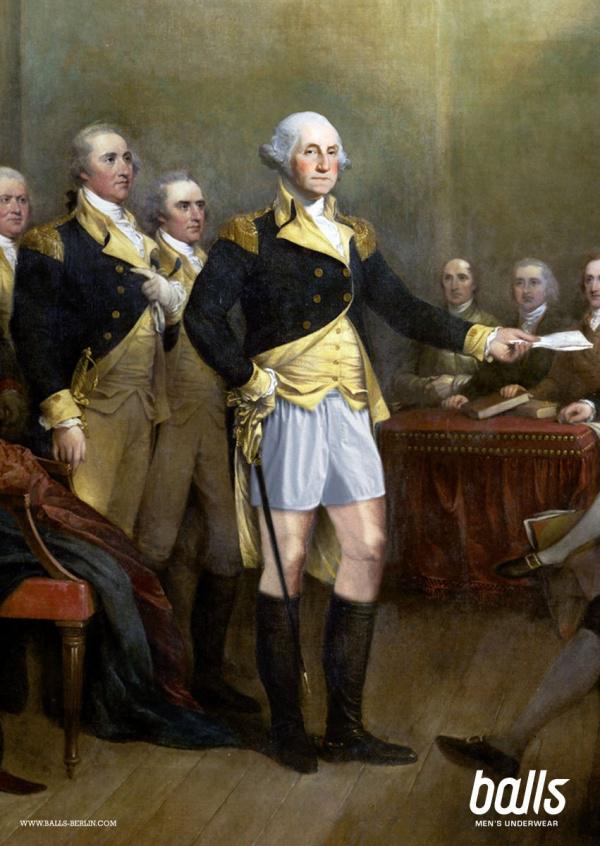 Remedy against the common cold Nasonex: Open your nose! (2 prints) Chinese agency Euro RSCG Life advertises prerarat against the common cold Nasonex under the slogan "Do you want to open your nose?».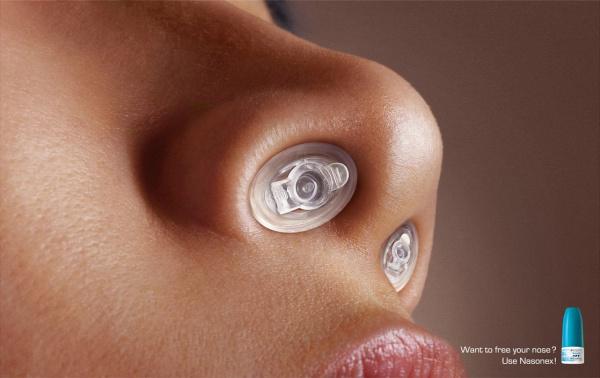 Volkswagen: Do not trust the winter road (+1 print) DDB Milano (Italy) promotes the training of service VW cars for the winter period Volkswagen snow tire service.
With the help of an advertising campaign, the agency service of studded tires on the Volkswagen Group and once again reminds drivers that the road in the winter can be deceptive.
Slogan: Do not trust winter road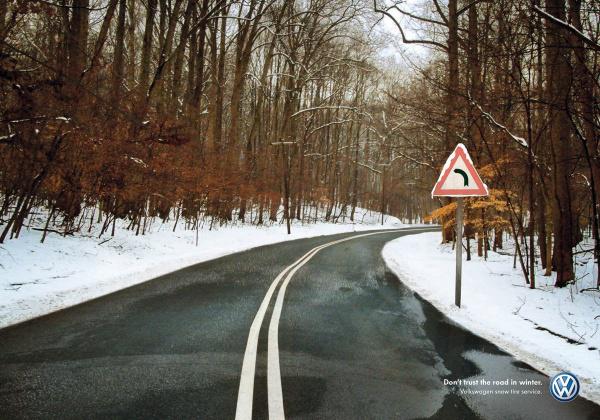 Games with fonts in the Brazilian newspaper advertising (+ 3 prints) Any type designer knows it useful and nemudrenyh exercise - draw anything using the letters.
But designers are designers, and a large audience for which it was harvested in a series of new advertising newspaper Folha De Sao Paulo, will probably be pleasantly surprised.
Authors of advertising - the Brazilian agency Africa, illustrations, and virtually portrait likeness painted Hood Felipe (Felipe Guga).
Amnesty International: Write letters, it helps (+2 print) Agency Saatchi & Saatchi Malaysia informed the people that writing letters of protest - it is an effective measure of support for people whose freedom is limited by the tyrants.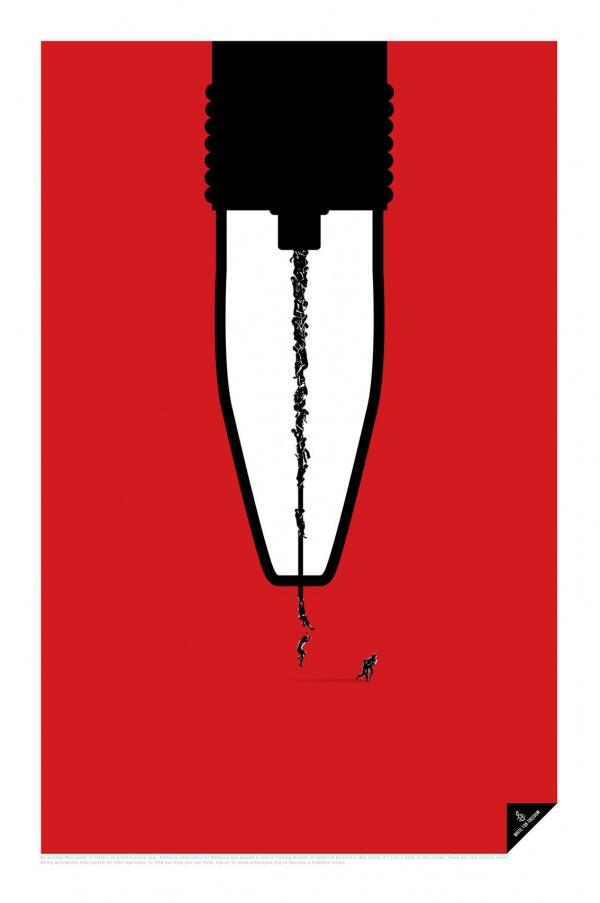 Speed ​​cameras help to reveal the mask (+2 prints) Lowe Bangkok (Thailand) advertises a video surveillance system from the company OGAMI Neonic Evolution. The series of prints shows how behind the masks of honest people may be lurking thieves.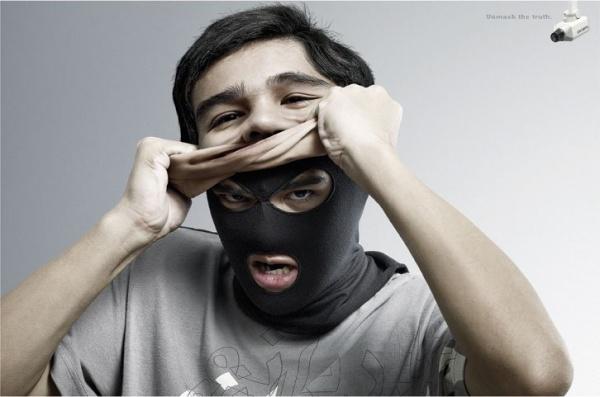 Penises World Stars in advertising condoms Love Condoms (18+ !!!) (+ 4 prints) Belgian Agency Troy showed penises stylized famous personalities, boasting that they had found what had long sought - the condom Love Condom.
During the night ADEATERS in London someone ate a gorilla (+2 print) agency Euro RSCG London advertises "Night of advertising devourers» (AdEaters), offering literally eat the famous advertising characters.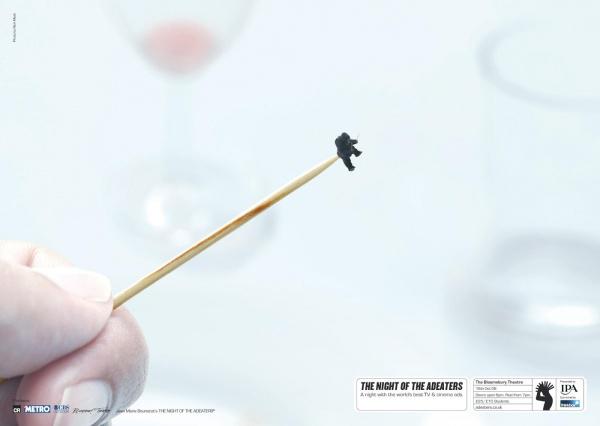 Lomography - when every second has its own history (+2 print) Indonesian Agency Bates141 Jakarta advertises store equipment for Lomography - type of photography in which the artistic value is not every single frame, and the total amount, which can be shown anything .
Slogan: Every moment has its own history.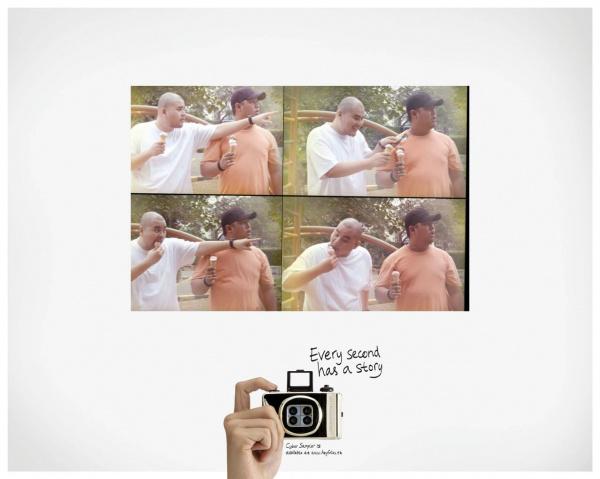 Equipment for bathrooms CWS: play in the design (+2 print) German agency Jung von Matt advertises suppliers of equipment for bathrooms CWS, which allows the client to influence the final design.
Creative idea compares the design of the bathroom with a game of dolls "Barbie", where you can arrange all the items so as you'd like.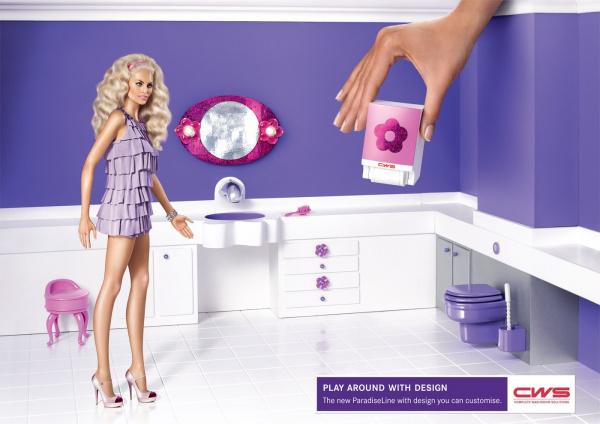 Pork S-Pure: so soft that sags under each pea (+3 print) Thai Agency Contract Advertising touts pork S-Pure, demonstrating its softness and tenderness.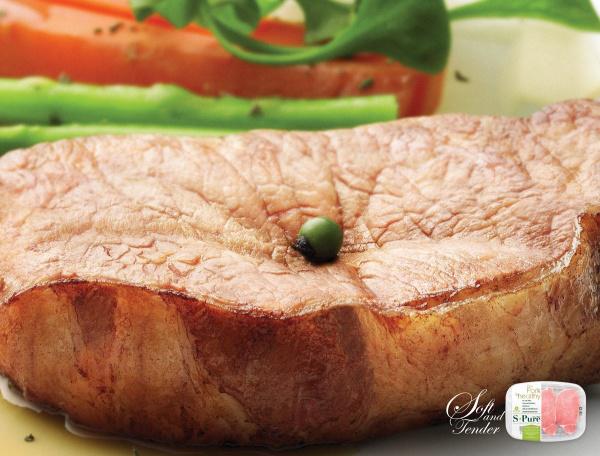 Social advertising breastfeeding: Encourage your child's brain development (+2 prints) DDB Brussels (Belgium) worked for the organization of a social campaign VBBB, to motivate young mothers to breastfeed. The series of prints shows children's books with complicated names such as "Bernie studying polynomials».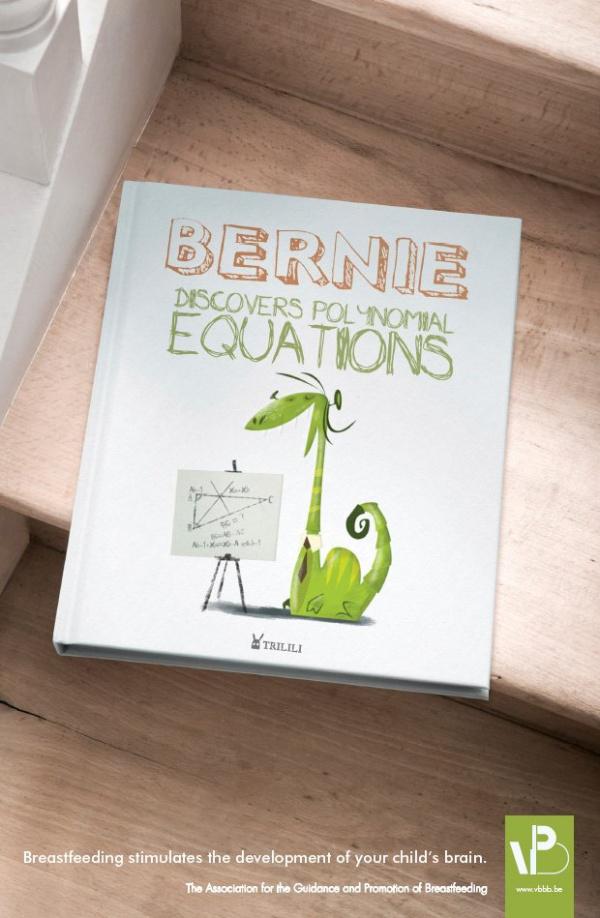 Grey Hong Kong: Clean toilet with Kiwi (+ 2 prints) cleaner toilets Kiwi gets rid of germs that are left over from previous visitors toilet.
Slogan: Because you do not know who else was sitting there
Advertising washing powder Biocorner stylized ecological disaster on water (+2 print) advertising agency Air (Brussels, Belgium) promotes environmentally friendly washing powder Biocorner, which protects the color. Advertising mimics a publicity-governmental organizations fighting against environmental pollution, thus promoting environmental and solicitude with respect to color clothes.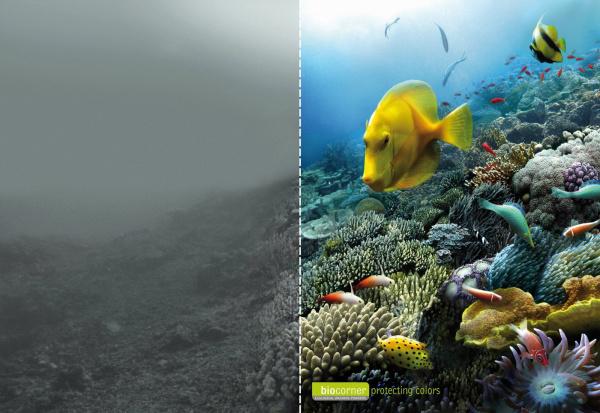 Refrigerators Aucma: maintain freshness (+2 print) Chinese agency LINKSUS BeiJing presented a series of prints for refrigerators Aucma.
Creative idea demonstrates how to use the products received other - "living" products, and more perishable.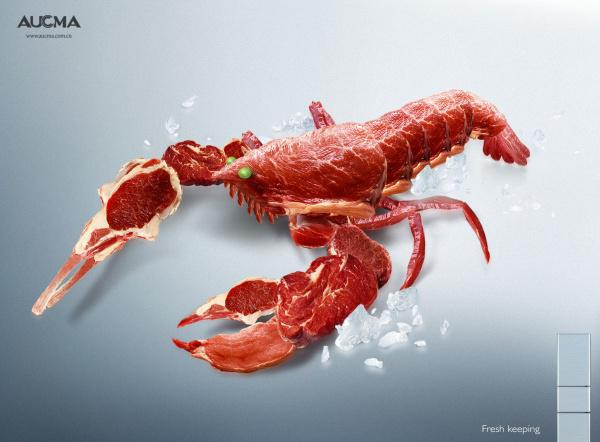 SUV Daihatsu Terios: Boar nervously smokes on the sidelines (+2 print) In the forest, a new hunter by the name of Daihatsu Terios, from which all the animals were terrified.
The German agency advertises SUV Cayenne Werbeagentur, stressing that it was created specifically for hunting. Therefore, animals and birds have to be on the alert, feverishly smoking a pack of cigarettes and a gnawing fear fingernails.
Tagline: In the forest become even more dangerous (The forest will get more dangerous).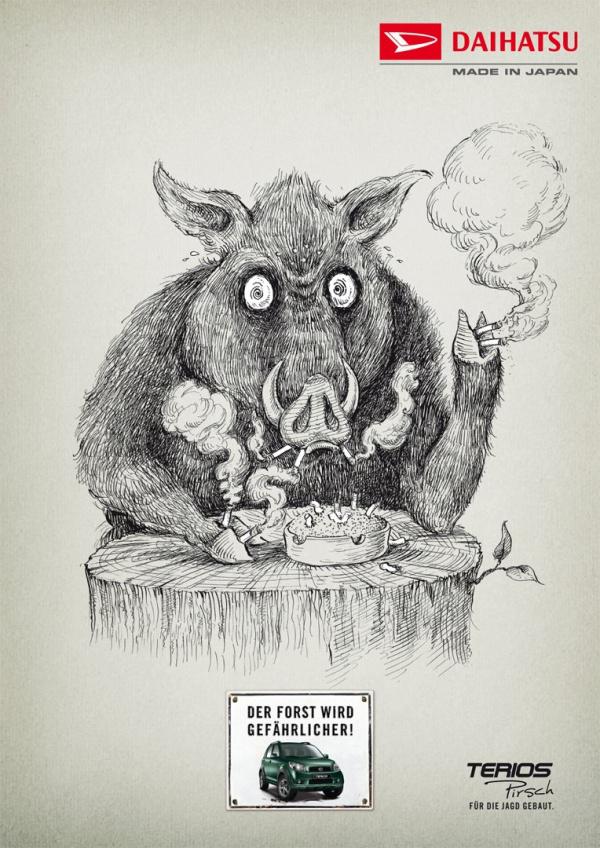 Salute in honor of safe sex (+2 print) Swedish Agency ESTER suit salute in honor of the Stockholm residents who opt for safe sex.
Taglines: Stockholm celebrates sex
Mitsubishi Strakar L200: Welcome to the club of people who have found Atlantis (+2 print) Portuguese Agency MSTF Partners encourages owners of SUV Mitsubishi Strakar L200 become part of the group, "I swear to keep secret the place of Atlantis».
Also, car owners can easily find Shangri-La and El Dorado.
Slogan: Be part of the «I swear to keep Atlantis a secret» group.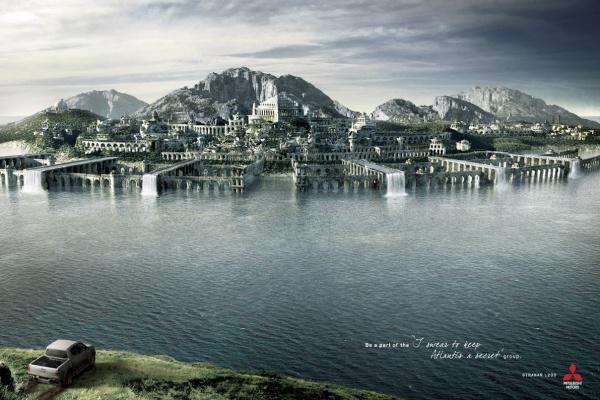 Creativity in the outer reklameDevushka behind a screen at a bus stop touting a new collection agency obuviBrazilskoe Fuego Creative Communication developed unconventional campaign for a new collection of brand shoes Omar Calçados.
On city bus for 2 weeks appeared installation depicting girl undress behind the screen through which you can see only her shoes.
Mannequin, cloth and a few pairs of shoes from the new collection at each stop required the agency to create the campaign. All this has been placed between the panes in a special box set instead of thin glass wall stops and is gaining popularity among the creatives to create here is just such ambient-installations.
Especially good were stopped at night, when includes special lighting, which create a special effect and a romantic silhouette of the girl shone through the fabric screen.
Juices Pascall Fruit Burst: Sheila and explosion on billboards not utaishProdvinutye advertising technologies in outdoor advertising around the world continue to improve the format of outdoor + Internet + Event: New Zealanders because of DDB offered another option of an integrated bundle with a countdown.
In an integrated bundle created by DDB New Zealand for Pascall Fruit Burst, took place outdoor design with an extender in the form of sewing and gradually inflates bubble-strawberry. The post of "expected developments" was appointed time of the meeting and sewed tip bubble with imminent destroem latter. But the main element of the advertising in the bunch was the internet, on a special website offering to bet on the estimated time of the "explosion" and thus qualify for the $ 5,000. The campaign is not over, so you can watch the development of events on the website whenwillthefruitburst.co.nz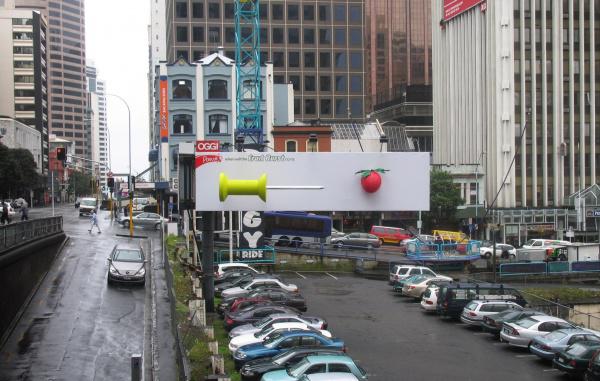 Tide: Billboard, which lightens odezhduGermanskoe agency Leo Burnett Frankfurt presented an unusual job for a washing powder Tide. Outdoor campaign includes a series of billboards, responsive in environmental conditions. To demonstrate the effect of Tide, the agency placed outdoor advertising with visual effects - white blank poster on one of the busiest streets of Frankfurt, with the constant movement of vehicles. The poster was covered with specially treated cotton, which antidust.
Within days, a poster covered with dust, and the places which were made of cotton - no.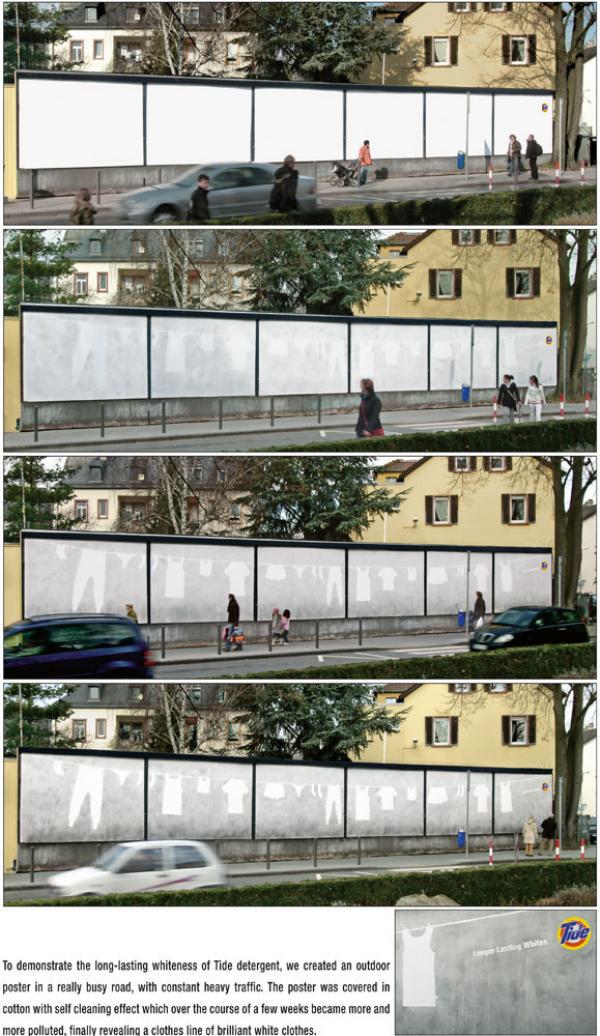 "McCain's Election Program - shit 'designer Greg Beauchamp, co-founder of the California boutique creative Granite Pass, showed the original socio-political initiative in the run-up to the election of a new US president.
Greg for Barack Obama, and very much against John McCain. So against that dared to publicly declare that the entire electoral program McCain - bullshit. In the truest sense of the word.
Greg Beauchamp did little flazhochki the bottom side in the form of arrows, like on the prestigious neighborhood of Los Angeles Venice, the hosts looked unmade dog feces and stuck them in their boxes.
So very clearly establishing simlvoly-phrase: "McCain's Health Care Reform - bullshit", "Economic policy McCain - bullshit," etc.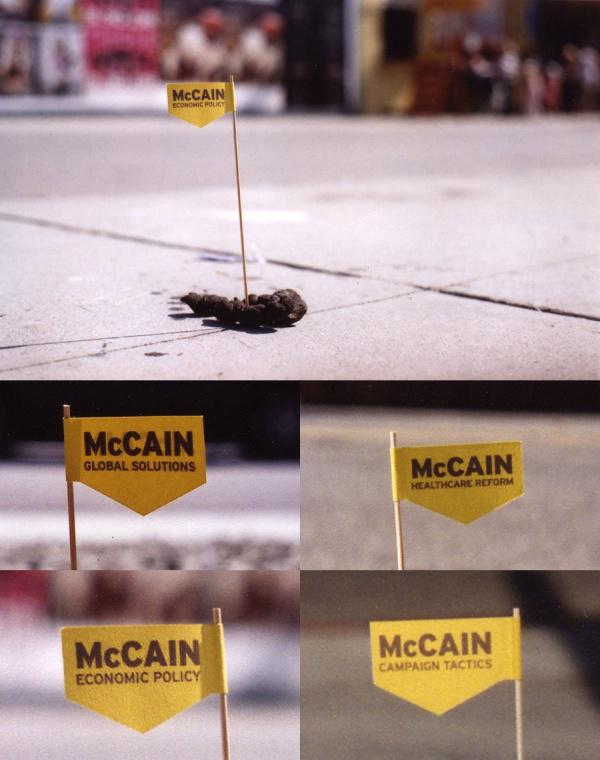 In advertising Diet Mountain Dew borodaNovaya growing outdoor advertising "beard" from the agency BBDO New York - part of the advertising campaign "Amazing Facts» (Suprising facts) of carbonated drink Diet Mountain Dew.Vy know that attractive women make men's beards grow faster?
The agency has proved that, during the 5 months otraschivaya beard of a man on a billboard.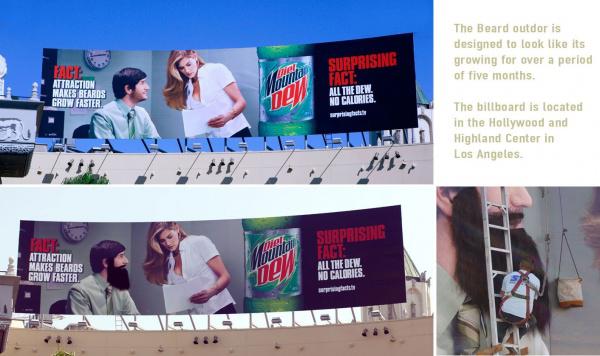 via # image6204705